 Just two weeks out from the games getting underway, Team GB have unveiled their team of 59 athletes for the Winter Olympics which will take place in Pyeongchang, South Korea.
With optimism surrounding the team, a record number of athletes have been selected from British shores, covering 11 of the Olympic disciplines.
UK Sport have piled the pressure on the team, with their target of five medals hoping to better the four they picked up in Sochi four years ago.
Ryding among final batch of names announced
Dave Ryding is GB's best shot at a medal in Alpine Skiing where he has excelled over the past couple of seasons competing against the likes of Marcel Hirscher in the slalom.
The 'Rocket' was among the final 25 athletes named to the team on Thursday, with the skiers and snowboarders added to the other 34 members of the British team.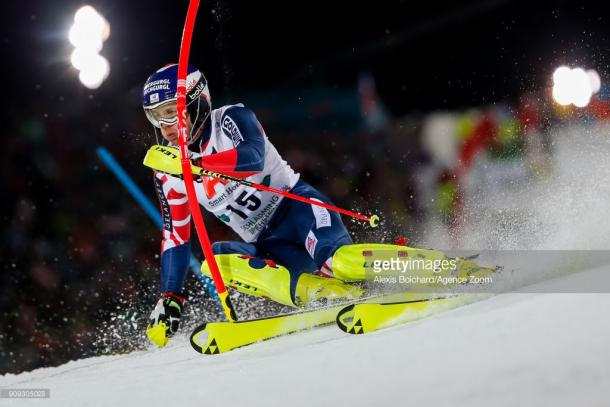 Among the final 25 was Zoe Gillings-Brier who is set to become the first British snowboarder to compete at four consecutive Olympics. The 32-year-old finished ninth in Sochi in 2014 competing in the women's snowboard cross event.
Christie hoping to right previous Olympic wrongs
Having suffered heartbreak in Russia, where she was disqualified from all three of her events, short track speed skater Elise Christie heads to Pyeongchang with some scores to settle.
Christie has won a plethora of World and European Championship medals, and now has the opportunity to put her name up in lights on the world stage once her events get underway.
Team GB squad in full
Skeleton: Lizzy Yarnold, Laura Daes, Dom Parsons, Jerry Rice.
Bobsleigh: Mica McNeill, Mica Moore, Lamin Deen, Brad Hall, Greg Cackett, Joel Fearon, Nick Gleeson, Andrew Matthews, Toby Olubi, Ben Simons.
Curling: Kyle Smith, Thomas Muirhead, Kyle Waddell, Cammy Smith, Glen Muirhead, Eve Muirhead, Anna Sloan, Vicki Adams, Lauren Gray, Kelly Schafer.
Figure Skating: Penny Coomes, Nick Buckland.
Short track speed skating: Elise Christie, Charlotte Gilmartin, Kathryn Thomson, Joshua Cheetham, Farrell Treacy.
Luge: Adam Rosen, Rupert Staudinger.
Biathlon: Amanda Lightfoot.
Alpine skiing: Dave Ryding, Laurie Taylor, Charlie Guest, Alex Tilley.
Cross-country skiing: Andrew Musgrave, Callum Smith, Annika Taylor, Andrew Young.
Freestyle skiing: Izzy Atkin, Katie Summerhayes, James Woods, Tyler Harding, Murray Buchan, Peter Speight, Alexander Glavatsky-Yeadon, Rowan Cheshire, Molly Summerhayes, Emily Sarsfield, Lloyd Wallace.
Snowboarding: Katie Ormerod, Aimee Fuller, Jamie Nicholls, Billy Morgan, Rowan Coultas, Zoe Gillings-Brier.