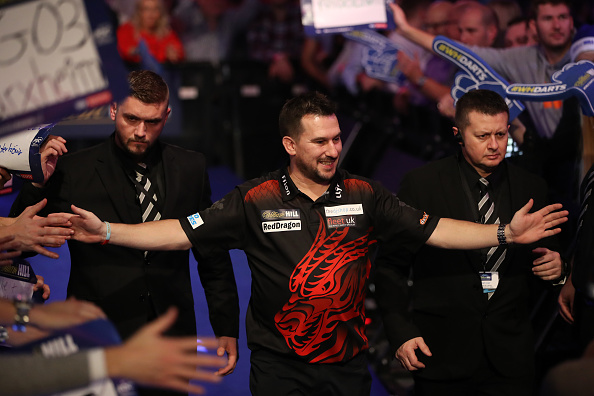 The Premier League returns to the screens today and despite fans still not being allowed to attend, excitement levels remain equally as high.
With the competition being once again disrupted by the Covid-19 pandemic, it has been restructured. Instead of the weekly matches that have taken place in different cities that fans have grown accustomed to, the Marshall Arena in Milton Keynes will host the entire tournament. In addition, the first five rounds of fixtures will take place each day next week, before a 10-day break.
Adding to the drama of the new-look competition, is three fresh faces hopeful of continuing their recent form. José de Sousa and Dimitri Van den Burgh have both shown glimpses of brilliance of late, but perhaps the most in-form player in word darts at present is Jonny Clayton.
The Welshman grabbed the all-important 10th spot on the Premier League circuit, after securing his first PDC Major by winning the Masters earlier in the year. Clayton beat a number of hopeful candidates to the decisive last spot and will be looking to justify his inclusion with more performances of the highest order against the world's best.
Clayton, who knew that winning the Masters would boost his Premier League chances, spoke about the emotions that came with securing the final spot, and said: "I'm looking forward to it big time. It is one of the best competitions in the world of darts so I can't wait.
"We were in the practice room and the talk was whoever wins this can have a chance in the Premier League, we were all talking about it. To confirm was like 'we're in it at last'. I'm in there full-time now, so I am a happy man."
Clayton's success in recent months has been closely watched by his family, who he constantly intends to make proud with his darting career and described the emotions inside the Clayton household when his spot in the Premier League was confirmed.
He said: "The wife was trying to be a bit calm, kids are bouncing off everything, they are all massive darts fans and know what the Premier League is. To be a part of that is a dream come true."
2020 Premier League appearance
However, it will not be the first time that Clayton walks out to the Premier League stage on tonight. The Ferret joined the circuit as a challenger in Cardiff in 2020, losing 7-1 to Michael Smith who was bang in-form that night – a player who Clayton pipped to the all-important 10th spot this year.
"Last year, it wasn't as much as there was nothing on the game," Clayton said. "You always go out to win and try and make your name.
"I am lucky that I have had that experience already, so I've had a taste of it but now being a full-time member, it is going to be totally different because I am playing for points."
The 46-year-old will be confident that the chances of a repeat from that night in Cardiff is highly unlikely, with the Welshman widely regarded as one of the best players in the world right now.
His continued rise and subsequent ability on the biggest stages has not gone unnoticed by any means. In fact, his recent performances have done enough to persuade Phil Taylor that he will be right up there come judgement night on April 22. The six-time Premier League champion spoke about Clayton's work ethic and stamina to justify his claims – something that means a lot to the 46-year-old himself, who still works as a plasterer.
Clayton said: "Yeah it's amazing. I'm not one on social media because I don't look far into things, but when you hear Phil Taylor saying that, probably the best player ever to throw a dart, it puts a smile on your face and I hope he is right.
"I go to work, practice at night and look forward to the next competition. I started playing darts as I was working and I just kept going through.
"There have been massive decisions about giving up work, I don't think that will suit me at the moment. So, I am going to stay in work and enjoy my time on the dartboard as well."
Clayton taking it game-by-game
A high number of players in the past have mentioned setting points targets for the competition, but is not part of Clayton's line of thinking.
He said: "I will be taking it game by game to be honest. Obviously if you keep winning individual games you will climb the ladder of the league.
"I have never played in it before, so I am going to take it as it comes."
Despite being a debutant this year, Clayton finds himself quite high up in the betting lists and whilst he remains grounded about his chances this year, he is confident of his own ability.
"It is amazing [to be considered so highly by the bookmakers], it is obviously nice," he added. "I must be doing something right, if my darts keep going the way they are, who knows.
"I am confident, they are going good. It is a different competition and different pressures. I am excited at the moment, but I know 10 minutes before we go on stage the nerves will kick in."