Team GB's Men's and Women's Eights won gold and silver respectively in the final races of the Rowing regatta on the waters of Lagoa Stadium at Rio 2016.
The men dominated their final, finishing in a time of 5 minutes and 29 seconds, well ahead of World Champions Germany in second.
The women's boat recovered from a laboured start to pull through the pack, finishing second to win GB's first Olympic medal in the event, behind the USA who defend their Olympic title in a time of 6.01.49.
For Andrew Triggs-Hodge and Pete Reed, it is their third Olympic gold and for GB it is the fifth medal of the regatta, with a tally of three golds.
GB repeat win over rivals
The British boat of Scott Durant, Tom Ransley, double-Olympic champion duo over the last two Summer Games, Hodge and Reed, Paul Bennett, Matt Gotrel, Matt Langridge, Will Satch and cox Phelan Hill, led all the way the German boat and gave short shrift to the Netherlands who finished in third.
World champions from Lake Aiguebelette in France last year, Britain pipped the Germans to gold on that occasion by just two-tenths and a similarly tight race was on the cards. Something had to give as the Olympic regatta came to a conclusion.
Expectations pre-race was for a titanic conclusion to the rowing events. GB however were set to stun the pack from the gun and surged out to a sizeable lead at the 500 and 1000m mark, leading by almost a length.
The chasing boats attempted to reel their opponents in, but Britain coasted to a comfortable win and take the gold.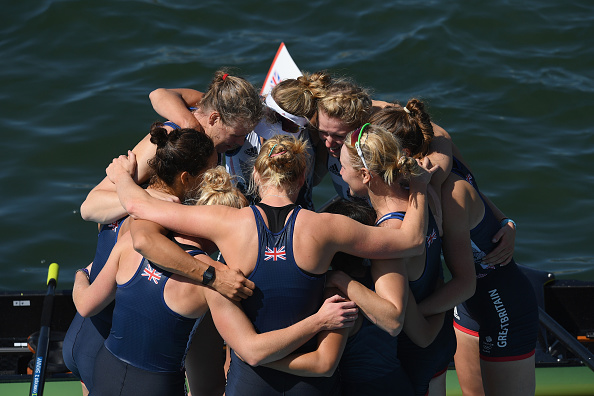 Women recover from shaky start
In the women's race, GB were aiming for their first-ever Olympic medal in the event. The octet of Katie Greves, Melanie Wilson, Beijing silver-medallist Francis Houghton, Polly Swan, Jess Eddie, Olivia Carnegie-Brown, Karen Bennett and Zoe Lee - coxed by Zoe De Toledo - qualified for the final three seconds ahead of New Zealand in their heat. However, the British boat had a task on their hands if they were going to battle for gold with world champions the USA, who themselves finished another three seconds ahead of Britain in qualifying.
The women had endured a worrying start and were last at the 1000m mark. The British eight however, coxed by De Toledo timed their charge well and held off Romania, who took the bronze.