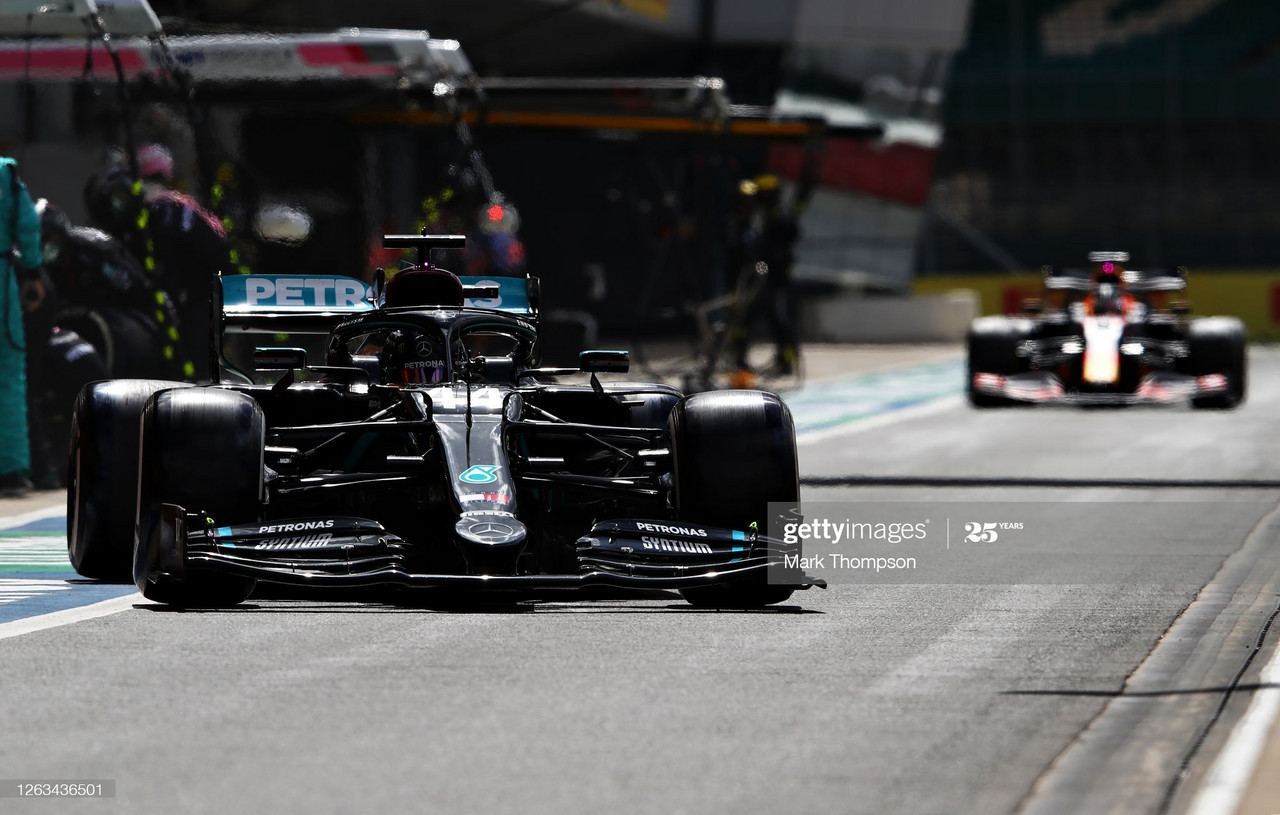 The first of two races to be held at Silverstone this season was looking to be a fairly dull affair, with little in the way of action and unpredictably, bar two crashes in the the opening laps.
But then, with just a few laps remaining, all hell broke loose when Pirelli's infamously volatile tyres started coming apart on the front runners. There was panic, confusion and complete chaos as both Mercedes' and a McLaren suffered late, creating a nail-biting finale that no one could have seen coming.
We'll have to wait and see if next week's 70th Anniversary Grand Prix will be equally as dramatic, so in the meantime take a look at how we rated every driver at the 2020 British Grand Prix:
Mercedes
Lewis Hamilton - 1st
For 51 laps it was fairly routine for Hamilton, who led from the start without a care in the world. But then IT happened. His front left tyre exploded and it took all of the world champions' skill and experience to cruise his Mercedes to the finish line.
There was a bit of luck involved no doubt. Had Max Verstappen not pitted just before, the Red Bull driver would surely have taken an unlikely victory. Alas, we'll never know, with Hamilton taking a third successive victory, as he storms his way to an inevitable 7th title.
10/10
Valtteri Bottas - 11th
As per usual Bottas found himself in Hamilton's shadow throughout the weekend, unable to surpass his teammate but still showing some very impressive pace. His own tyre failure came at the worst possible moment and as a result he went from a nailed on second place, to out of the points in just one lap.
He came close to nabbing a single point but was unable to overtake Sebastian Vettel through the last few corners. With Hamilton now 30 points ahead, the Finn's title hopes are fading fast, as are the chances of anyone catching up with the Silver Arrows this season.
7/10
Red Bull
Max Verstappen - 2nd
The Dutchman started P3 and stayed there for almost the entire Grand Prix. When Bottas' tyre went, Red Bull made the safe call to stop Verstappen for fear of a similar incident.
It allowed him to finish the race and pick up the fastest lap bonus point, but after Hamilton's tyre failure there is a feeling of what might have been had he stayed out.
8/10
Alex Albon - 8th
Albon is struggling. For all his talents, the Thai driver just isn't getting the best out of his Red Bull, qualifying a poor P12, among speculation that his seat is at risk.
His race wasn't without incident either. He collided with Kevin Magnussen on the opening lap, and later received a somewhat harsh penalty for knocking the Haas out of the race.
His fortunes improved however, with a two-stop strategy that dropped him to the back initially, but then allowed him to power through the slower cars to finish a credible P8.
7/10
McLaren
Lando Norris - 5th
Norris is quick no doubt, but he does seem to perform better in qualifying than he does in the race.
He didn't start particularly well and found himself struggling behind his teammate Carlos Sainz Jr., as well as Daniel Ricciardo, although he would later pull off a very good move around the outside of the Renault.
Bottas and Sainz's tyre failures gained him a couple of places, leading to another excellent finish.
8/10
Carlos Sainz Jr. - 13th
After starting P7, Sainz quickly gained a few places before getting caught behind Romain Grosjean of all people (more on that later). He seemed destined for a great haul of points, until his front left tyre gave way on the penultimate lap and he dropped back to finish P13.
He currently sits tenth in the championship with less than half the points of Norris, through no fault of his own. It seems Sainz just doesn't have luck on his side at the moment.
8/10
Ferrari
Charles Leclerc - 3rd
Four races in and we still don't really know how quick Ferrari are. P4 in qualifying seemed to come out of nowhere and for the entirety of the race Leclerc stayed there, unable to challenge Verstappen ahead but unchallenged by the McLarens and Renaults behind.
A podium finish was therefore very fortunate but nevertheless a positive end to the weekend for the Scuderia.
8/10
Sebastian Vettel - 10th
A bit like Albon at Red Bull, Vettel just doesn't seem comfortable in his Ferrari and the gulf between himself and Leclerc is clear evidence of that.
The German wasn't up to much at Silverstone. Scrapping for the final points finish with Pierre Gasly and later Bottas were the only times we ever really saw him.
5/10
Racing Point
Lance Stroll - 9th
His wheel-to-wheel duels with Esteban Ocon were a fine watch, although his car seemed to lose a lot of power in the closing stages, leading to a unspectacular P9.
Stroll's feistiness and raw pace is great to see and it is fair to say he has won over the hearts and minds of fans who doubted him prior to this season.
7/10
Nico Hulkenberg - DNS
The big story going into the weekend was that Sergio Perez had tested positive for Covid-19. The Mexican is now in self-isolation but thankfully has said that he is OK and displaying any symptoms. As a result he did not take part in the GP and will miss out on next week's event as well.
Out of this sad news came some good however, with fan-favourite Hulkenberg returning to the F1 paddock after leaving Renault last year.
Unfortunately his car suffered a mechanical fault on the way to the grid and he didn't even get to start. A fitting end to a roller-coaster of a week for the German, who will hopefully be able to race next week.
N/A
Renault
Daniel Ricciardo - 4th
Like pretty much everyone else, Ricciardo was a beneficiary of Bottas and Sainz's misfortunes. The Aussie was in the thick of it, duelling with Sainz, Norris, Stroll, Ocon and Grosjean, ultimately coming out on top and claiming some much-needed points.
8/10
Esteban Ocon - 6th
Ocon wasn't quite as good as his teammate, stuck behind Stroll for large parts, before finally getting past after the Canadian's car started to suffer.
Regardless a haul of 20 points in total for the French team has put them right back in contention for third in the table, which is shaping up to be the only real battle in Constructors' Championship.
8/10
AlphaTauri
Pierre Gasly - 7th
The junior Red Bull team is neither here nor there on the grid, way quicker than the back markers but far slower than the mid-table.
Any points are therefore a welcome addition and Gasly did very well to start P11, get past Stroll and hold off Vettel and Albon. Could he take back his Red Bull seat in the near-future? Anything is possible these days.
8/10
Daniil Kvyat - DNF
One of only two retirements, Kvyat triggered the second Safety Car, after a huge crash on lap 13. Going into Maggots and Becketts, he lost the rear end rather violently, showering the track with debris.
And it didn't end there, with the Russian taking out his frustrations on the poor cameraman who was filming the aftermath.
2/10
Alfa Romeo
Antonio Giovinazzi - 14th
A rather dull weekend for the Italian outfit. Giovinazzi could have finished higher but a five-second penalty for a Safety Car infringement cost him.
4/10
Kimi Raikkonen - 17th
The Finn was way off the pace, somehow getting overtaken by both Williams and was the only driver to get lapped. To add insult to injury, he also suffered an inexplicable front wing failure towards the end.
2/10
Haas
Romain Grosjean - 16th
A controversial rating perhaps, but for sheer entertainment Grosjean was the driver of the day. While everyone else pitted during the second Safety Car, Haas let the Frenchman stay out, propelling him up the order all the way up to P5.
And after the restart, he somehow was able to hold off the charging pack. The controversy comes from his, let's say aggressive, defending, where he moved under braking a bit too much for the stewards linking. No harm was done however, and in the end Grosjean was second-to-last of the finishers.
Nevertheless a spirited performance.
6/10
Kevin Magnussen - DNF
Hard to really judge Magnussen as he didn't even complete a lap, after getting shunted off at the last corner by Albon. While the Red Bull received a penalty for the incident, the Dane was a fault as well, making a mistake the corner prior and closing the door on Albon far too rapidly.
2/10
Williams
George Russell - 12th
After an impressive qualifying, Russell was forced to start from the back thanks to a couple of penalties. He showed some good pace throughout, in what has easily been his best race of the season so far.
6/10
Nicholas Latifi - 15th
Not much to report for Latifi, who showed considerable improvement from the Hungarian GP.
5/10