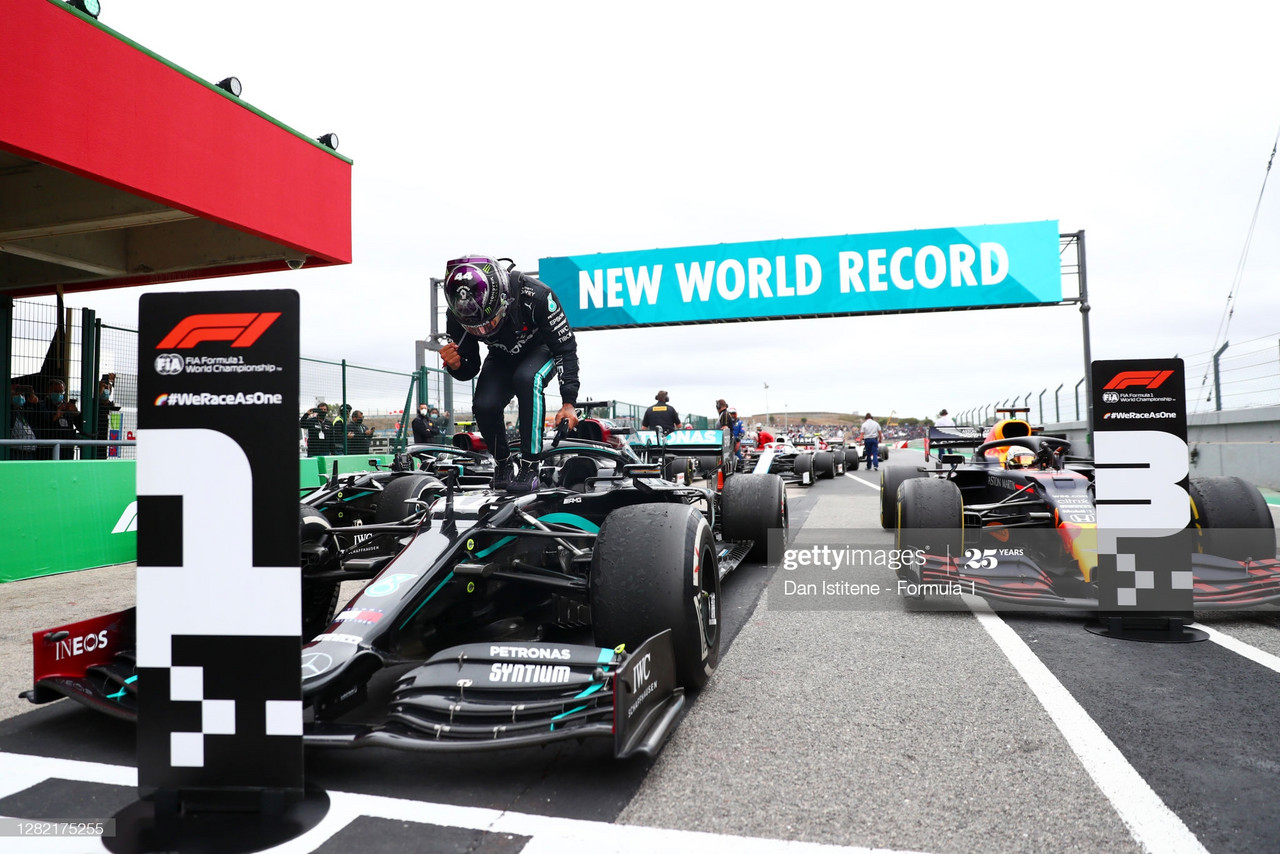 As Formula 1 made its debut at the Algarve Circuit, one of only two tracks the sport has not raced at before, fans were treated to an exciting race with plenty of action to digest.
Lewis Hamilton cruised to another victory as he continues to make history in his pursuit of a record-equaling World Championship.
Here is how the race unfolded.
The Greatest of All Time?
Hamilton made history when he crossed the finish line on F1's debut at the Algarve circuit. The Mercedes Driver achieved the inevitable as he secured his 92nd career win to break Michael Schumacher's win record.
The six-time title winner has certainly cemented himself into the discussion as to who is the greatest Formula 1 Driver of all time and is showing no signs of slowing down as he continues to sign his name into the record books of the sport.
Number Seven in the Bag
Fresh from breaking the win record, Hamilton now has another record in his sights as he chases Championship number seven and the win in Portimao means he now has another record of Schumacher's well within his sights.
The German legend is the only Driver in history to win seven titles, but with Hamilton now 77 points ahead of Mercedes colleague Valtteri Bottas, surely number seven is his firmly in his grasp.
Promising Portimao Delivers
With many changes made to the calendar this season, Portimao was one of the tracks that really got fans excited and it certainly has not disappointed.
The light rain falling onto the track throughout the week provided a challenge for the drivers that made for some exciting viewing. Charles Leclerc, Pierre Gasly, Carlos Sainz and Sergio Perez took advantage of the competitive nature the circuit and conditions provided to finish fourth, fifth, sixth and seventh respectively.
If this race is anything to go by, the Portuguese track should be here to stay in 2021.
Make Way for Perez
An impressive seventh place finish and the honour of Driver of the Day was as good an advert as any for Sergio Perez as he looks for a new team for 2021.
Many are still baffled as to why Racing Point or Aston Martin as they will be known next season, decided to replace the Mexican Driver.
Teams should be queuing up to sign Perez and as he continues to impress, perhaps Red Bull could make a swoop with time seemingly running out for Alex Albon.
Ferrari Bounce Back
This season is already one to forget for 'the Prancing Horse' for a multitude of reasons as they have failed to hit the heights the Tifosi have become accustomed to.
However, fourth and 10th place finishes for Leclerc and Sebastian Vettel is really as positive as it is going to get for Ferrari this season.
Although they should probably just write off this season, if Leclerc can pick up more results like this then there are positives to build on for next season.