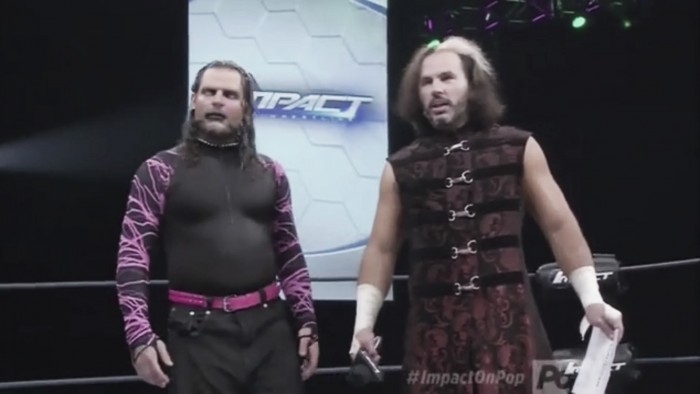 The build to TNA's Bound For Glory pay-per-view, on Sunday evening, October 2nd, has taken some interesting twists and turns over the past several weeks on Impact TV. There have been character shifts, and new champions crowned. Arguably, the company has been producing its best product in years and now has a fairly stable viewership each week on POP TV (approximately 350,000). It will be interesting to see if TNA can further extend their viewership to become a solid #2 player, or if the wrestling fan base has simply been burned by TNA too many times to give them another chance. In any event, here are the major stories playing out in TNA, as the road to Bound For Glory marches on….
Drew Galloway Turns Heel And Begins Feud With Aaron Rex
Murphy's Musing: The turn itself was presented logically, which is essential in any heel turn scenario. The heel has to believe that he or she is in the right. In this case, TNA is telling the story of a disgruntled Drew Galloway who, whether it was accidental or not, was cheated three times out of TNA Championship opportunities, while seemingly being upstaged by the debuting Aaron Rex. While the evolution of the heel Galloway character was well-executed, it might have been premature. For one, TNA has a limited babyface roster as it is, and Galloway played his babyface character very well. The company is taking a risk replacing Galloway with Rex and potentially Moose in their top babyface slots. While both have potential, neither have the experience or the proven ability to perform in main event programs. Their individual matches at the pay-per-view should give us an indication of the path both will be on moving forward.
The Broken Hardys Begin Feud With Decay
Murphy's Musing: The Hardys continue to be TNA's hottest commodity, as evidenced by the "Delete" chants when their names were mentioned on Monday Night Raw two weeks ago. This is proof that fans are at least somewhat aware of TNA and might be interested in tuning in. The current feud with Decay has had the same aura of over-the-top drama and campiness that has made the Hardy segments "must-watch TV." At the same time, it's a bit confusing to know who to root for. Several weeks back, Matt was the villain for treating Jeff as a servant. Three weeks later, is the viewer now supposed to feel sympathy for Matt, as Maxel might be kidnapped? Should the viewer feel bad for Rosemary, who has suffered her own share of hardships, as presented several weeks back? If there would be a clearer presentation of the face-heel dynamic, this intriguing story would be that much better.
Moose Turns Babyface and Begins Feud With Mike Bennett
Murphy's Musing: Similar to Galloway's heel turn, Moose's turn was too premature. In this case, Moose has in-ring potential, but is still very green. Second, while he was in Ring of Honor, viewers often wondered what role Stokely Hathaway played. Viewers received their answer this past week on Impact when Moose cut several short promos. He definitely needs mic work to improve his skills, if he's going to fill a top babyface spot. Otherwise, TNA might have to keep him as a solo heel, while turning TNA Champion Lashley, which would be a mistake, as Lashley has had his best mic work and character development in years. In addition, the turn itself was executed at the expense of burying a build to the pay-per-view's main event between EC3 and Lashley. Lashley continues to look strong, but aside from promos and some mid-card matches, there's been little to no story build to that match. Hopefully, with four Impacts to go before the pay-per-view, there will be some kind of buildup to make the fans care about the match, instead of it being lumped in, as part of other stories.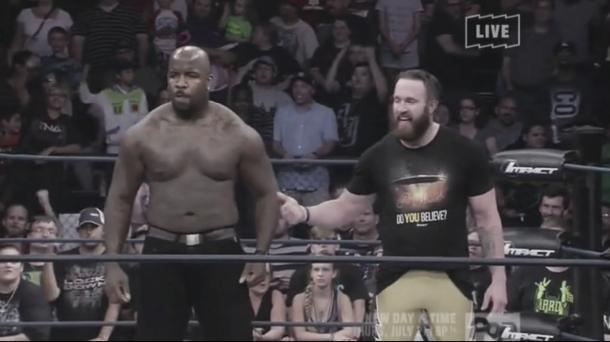 Maria Wins The TNA Knockouts Championship
Murphy's Musing: A non-wrestler winning a championship is never a good idea, but in this case, it's acceptable. Maria plays the obnoxious, power-hungry, heel role so well and it's not like the Knockouts roster has so much depth, that they were doing much with the title. With Maria as champion, there's now two good payoff opportunities. They can either boost Allie, who has become a crowd favorite, presented as Maria's gullible, verbally abused assistant, into a top babyface challenger. Or, they can stay the course and finish the story of Gail Kim, who has overcome hurdle after hurdle to finally get Maria in the ring and win back the title. The latter would be the way to go here, given the time TNA has spent building to it. Allie's time will come, but needs to develop a bit more and not be rushed.
DJ Z Wins The X-Division Championship
Murphy's Musing: If TNA is going to do anything notable to revive the X-Division, now is the time. However, given the way this latest title match was presented, there's not much to be hopeful for. Characters are poorly developed and two X-Division wrestlers feuding with each other one week, will be seen talking together backstage the next week. The X-Division is something that TNA can claim ownership to, so hopefully, this reset will lead to the division becoming relevant again, beyond the opening match spotfest.
Follow me on Twitter: @don424