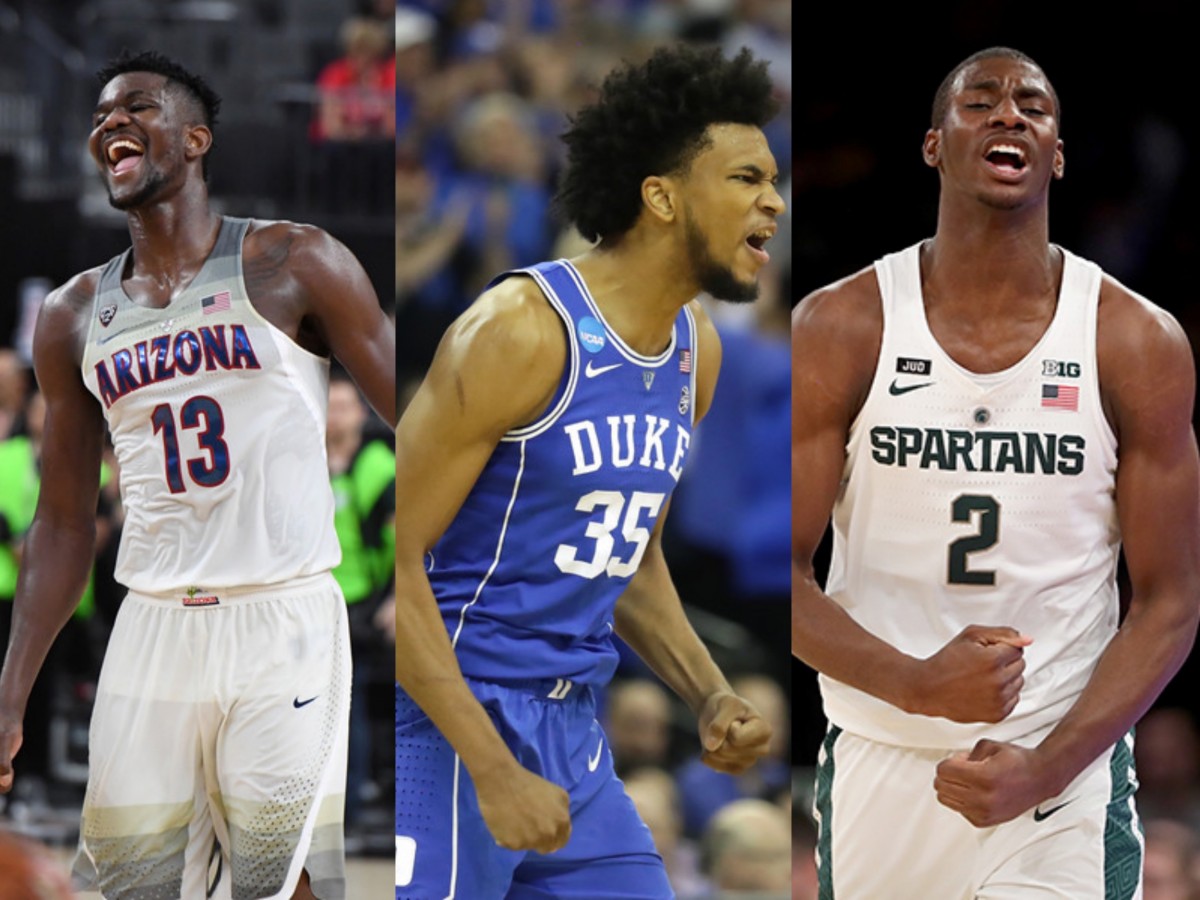 For the third time in the last four years, the Golden State Warriors are the champions of the NBA. Much attention is given to the play of the core three and the inclusion of Kevin Durant. Not much attention is given to how they got there.
Stephen Curry, seventh pick in the 2009 draft. Klay Thompson, 11th pick in the 2011 draft. Draymond Green, selected 35th overall in the second round of the 2012 draft.
In less than two weeks, the NBA will welcome 60 new prospects to the league via the NBA Draft. The proper attention will be given to the prospects they wait to hear their names called on June 21.
Given recent news and events, here is a different look at how the selections could play out on draft night.
1) Phoenix Suns: Deandre Ayton, C, Arizona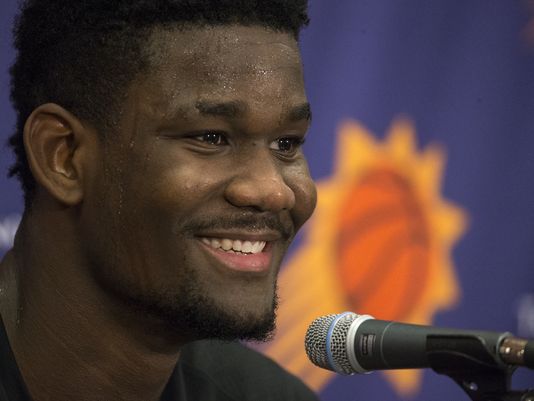 Just a couple weeks ago there was a lot of buzz surrounding a possible trade of the No. 1 pick. Now that the dust had settled, it has become clear that the Phoenix Suns are in love with Deandre Ayton.
Following his workout last week, it was announced that Ayton will not workout for any other team. Fans and media alike fell in love with big man out of Arizona.
What's not to love about Ayton? During his freshman season, Ayton averaged 20.1 points, 11.6 rebounds and 1.9 blocks.
Ayton could be the last draft piece remaining the Phoenix Suns timeline. The prospect of Ayton aligning with Devin Booker is hard to pass on.
2) Sacramento Kings: Marvin Bagley III, PF, Duke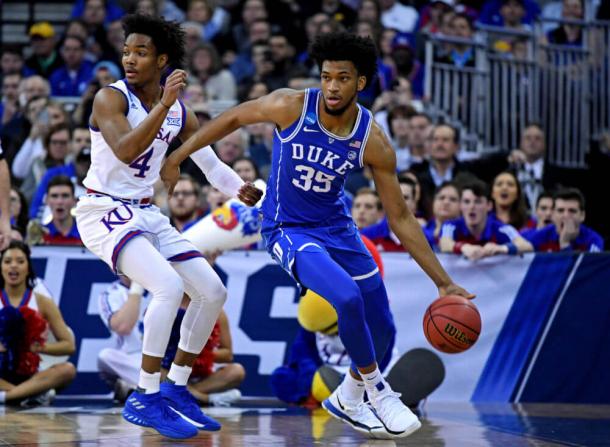 There is no one in the NBA quite like Marvin Bagley. At 6-foot-11 and 234 pounds, he is an athletic forward that can go damage from both in and outside of the paint with the ability to play some center.
With that being said, he would give the Kings plenty of flexibility. Bagley could play the forward and play on the other side of Willie Cauley-Stein or he could play the center next to Zack Randolph.
The prospect of point guard De'Aaron Fox, small forward Bogdan Bogdanovic, Bagley and Cauley-Stein manning the front court, is quite the intriguing lineup.
Bagley averaged 21.3 points and 11.3 rebounds while shooting 61.1 percent from the field at Duke.
3) Atlanta Hawks: Mohamed Bamba, C, Texas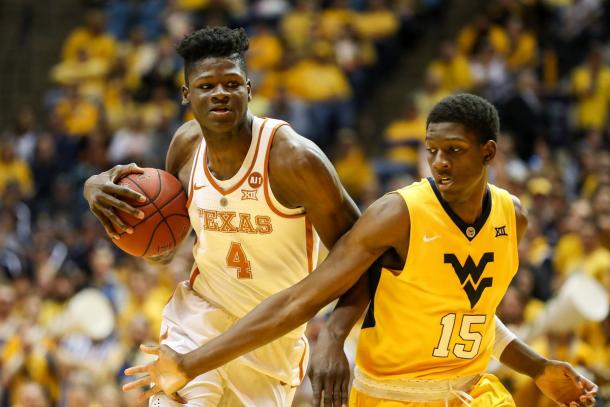 With the Hawks finding their power forward of the future in the 2017 draft, they will select their center of the future with their pick in 2018.
Bamba stands at seven feet tall and weighs in at 225 pounds with a 7-foot-10 wingspan. Bamba has the tools to be a monster at both ends on the floor, with the potential to be one of the best rebounding centers at the next level.
Bamba will need time to develop, but when he does he and John Collins could form one of the best front courts for years to come.
The pick could also convince Dennis Schroder to commit long term to the Hawks.
4) Memphis Grizzlies: Jaren Jackson Jr.,C, Michigan St.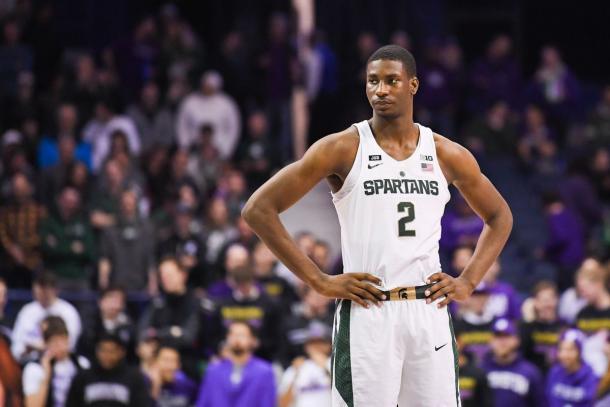 At this point Jackson Jr. would be the fourth big man taken off the board.
With Marc Gasol already on the roster, Jackson Jr. could develop under him and weight in the wings. With his athleticism, Jackson Jr. could slide to the power forward position and grow there. He would be and upgrade over JaMychal Green and Ivan Rabb.
At 6-foot-11 and 240 pounds, Jackson Jr. can defend in space while protecting the rim. On the offensive side of the ball, Jackson Jr. can finish with either hand at the rim and is comfortable shooting outside.
Being the son of Jaren Jackson Sr., Jackson Jr. has been around the game all of his life. He will be a great addition to the Grizzlies lineup.
5) Dallas Mavericks: Luka Doncic, SG, Real Madrid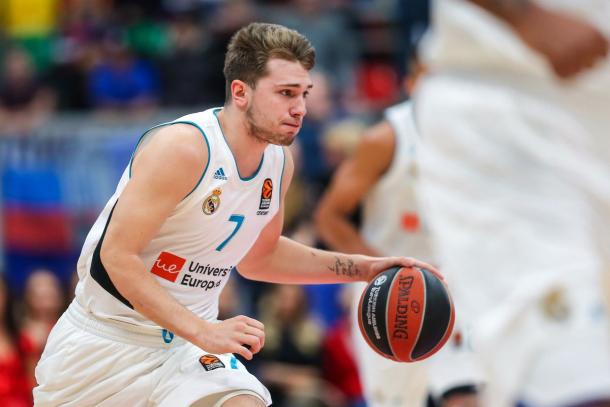 With many considering him to be the best guard in the draft, the Mavs get a steal with the No. 5 pick with Luka Doncic.
Doncic enters the league with an unprecedented résumé for a 19-year-old, enjoying real success in the Euroleague and ACB.
Doncic could be the second foreign player drafted and succeed within the organization. Dallas traded for the draft rights of Dirk Nowitzki back in 1998. Even though Dirk is slowing down now, he was worth the investment 20 years ago.
After drafting stud point guard Dennis Smith Jr. a year ago, the Mavericks will have their back court solidified for years to come.
During the 2017-2018 EuroLeague season, Doncic averaged 14.5 points, 5.2 rebounds and 4.6 assists.
6) Phoenix Suns |trade with Orlando Magic|: Trae Young, PG, Oklahoma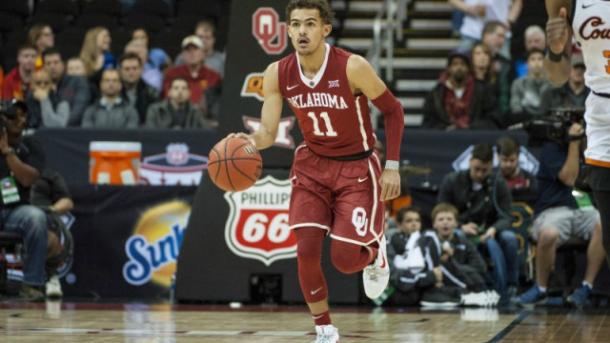 With reports beginning to emerge about the Phoenix Suns possibly trading back into the lottery for Trae Young, this would have to be the spot to do so. Young is high on both the Orlando Magic and New York Knicks wish lists.
In the trade, The Magic would receive the No. 16, No. 31, with Brandon Knight and Marquese Chriss in exchange for the right to draft Young.
Young's high-end shooting ability and unique flair for the game give him some real upside despite a lack of standout physical traits. He's slippery off the dribble and showed flashes of special talent early in the season.
Young can score from deep, initiate offense and find teammates off the drive. Defensively, Young will be a question mark, but if he maximizes his ability to shoot and playmake, it could mitigate that issue.
Going into the 2018-2019 season the Suns lineup could look like this:
PG: Young SG: Devin Booker SF: Josh Jackson
PF: Dragan Bender C: Deandre Ayton
7) Chicago Bulls: Mikal Bridges, SF, Villanova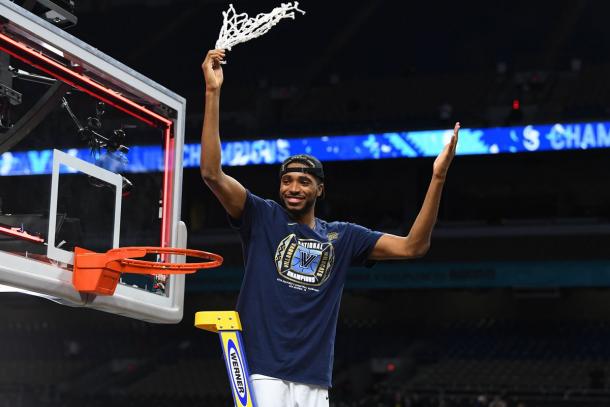 The biggest need on the Bulls roster is at the small forward position. In the midst of a rebuild, they will take the best player available and address a need.
Bridges is a pretty safe bet to become a useful defender and perimeter shooter. He's a smooth athlete whose ability to space the floor and guard multiple positions makes him an easy theoretical fit in any lineup. He will have to work on his game on both sides of the floor to become successful at the next level.
He will have to bulk up and add some strength if he wants to excel at the next level. He will also want to become a more physical player.
8) Cleveland Cavaliers: Collin Sexton: PG, Alabama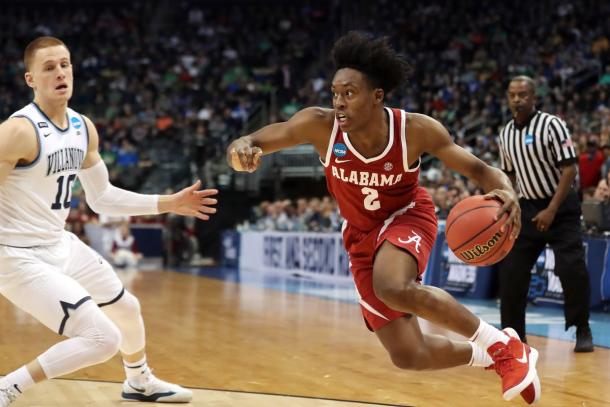 Looking at the Cavaliers roster, the Cavs have a lot of wholes they need to fill. If LeBron James leaves, they will be in even more trouble. Whatever happens, they will have to take the best player available.
The biggest glaring need is at the point guard position. Collin Sexton would be a great addition to the organization.
Sexton could be the successor to Kyrie Irving. He's known as a worker off the court and has a knack for getting downhill and into the paint despite a lack of great size. He'll be able to score at the NBA level, but the concerns stem from how much he can make his teammates better. If he can grow into a lead-by-example type and play efficiently, Sexton should become a productive player.
9) New York Knicks: Miles Bridges, SF, Michigan State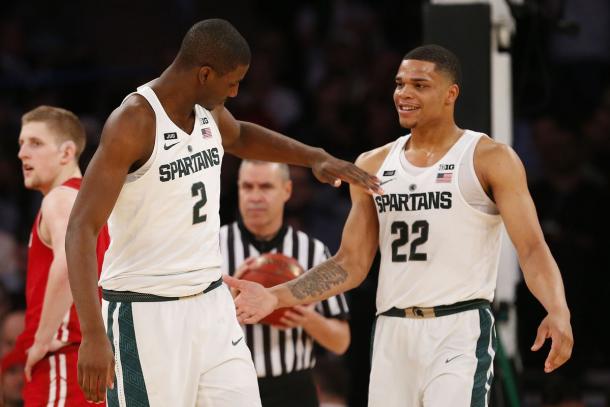 In Bridges, New York will add another playmaker that fits well with the rest of the team.
He is a well-built, active scorer who might be a little bit stuck between positions. Athletically he fits the bill, and he showed some improvement as a spot-up shooter on the wing.
He's limited as a ball-handler and as a shot creator. Bridges' best pro position is probably at the small forward or shooting guard position, where he can better utilize his quickness despite the fact he's built more like a two-guard.
Between him and Tim Hardaway Jr., they could make a good combo at the two and three positions.
10) Philadelphia 76er: Lonnie Walker, SG, Miami
What a run it was for the 76ers this season. The "trust the process" movement paid off this season, with 6ers finishing third in the Eastern Conference and advancing to the semifinals against the Boston Celtics.
With J.J. Redick set to become a free agent, Philadelphia will have a tough choice to make. If they elect not to bring back Redick, Lonnie Walker would be a great addition to the team.
Walker has outstanding physical tools. He has a big, strong frame with ample height for a shooting guard. His big wingspan could give him confidence guarding small forwards. Walker is difficult to contain in transition with a combination of strength, quickness and long powerful strides.
At the next level, Walker will have to become more efficient on the defensive side of the ball and become more consistent with his ball handling skills.
11) Charlotte Hornets: Michael Porter Jr., SF, Missouri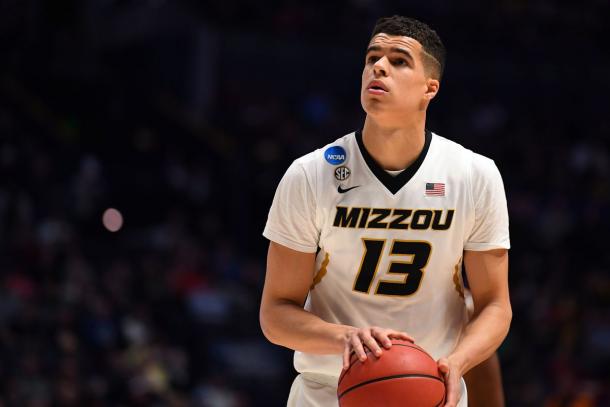 What a steal it would be for the Hornets if Michael Porter Jr. falls right into their lap.
Porter is a capable jump shooter and perimeter scorer with a feel for the basket. Porter will have to show teams that is back is fine after having back surgery. His health may scare of teams but is worth the gamble for the Hornets.
When he reaches his stride, Porter could gel well with Michael Kidd-Gilchrist, Nicolas Batum and Willy Hernangomez.
12) Los Angeles Clippers: Robert Williams, C, Texas A&M
With their first selection, the Clippers elect to go with big man Robert Williams out of Texas A&M. With DeAndre Jordan set for free agency summer of 2019, the pick would not be a bad idea.
His huge (near 7'6) wingspan allows him to block shots and play bigger than his 6'9 height. His 240 pound frame prevents him from being bullied around the rim. Williams moves very well for his size, both with and without the ball. Williams does a good job of anticipating where missed shots will go and is very good and getting position inside.
Williams projects as an athletic, energy guy inside that uses his athleticism to overwhelm less physically gifted players. He still has a lot of development to become a high caliber player at the next level, but if he can expand his game beyond exploiting his physical advantages, he could become a difference maker for a team.
He would be a welcomed addition to the Clippers organization.
13) Los Angeles Clippers: Aaron Holiday, PG, UCLA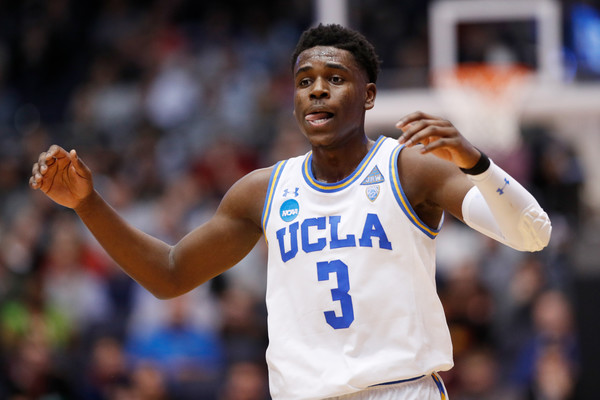 With Austin Rivers and Patrick Beverley on the roster, the Clippers should consider adding another point guard to lead the team in their rebuild. With local product ​Aaron Holiday available, the Clippers should rush the pick to the podium with their second pick.
Being the youngest brother of Justin and Jrue Holiday, Aaron has a natural sense of competition.
He is a really quick guard, capable of penetrating and beating opponents off the dribble. He is tough to stay in front of for defenders. Holiday handles the ball really well and knows how to finish around the rim with both hands. He finishes well through contact and in traffic.
Has really good speed, possessing the capability to run an up-tempo offense. Really thrives in transition, as a quick decision maker on the break. Holiday averaged 20.3 ppg and 5.8 apg (46% fg, 43% 3p, 83% ft) as a junior at UCLA, guiding the Bruins to an NCAA tournament birth.
With time and proper development, Holiday can become the guard that the Clippers had in Chris Paul.
14) Denver Nuggets: Kevin Knox, SF, Kentucky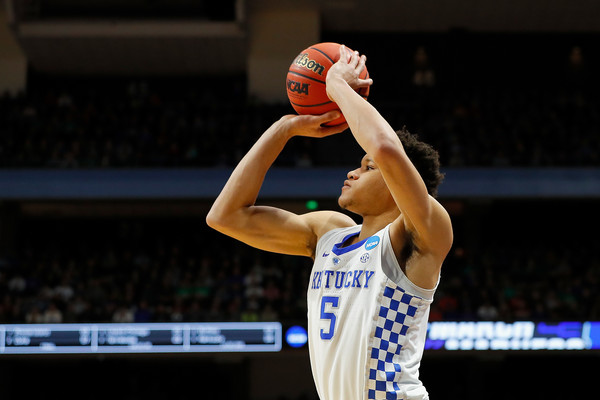 With aging veteran Richard Jefferson an impending free agent and Wilson Chandler listed as the starter, it would be wise for the Nuggets to take the best forward available.
Kevin Knox possesses ideal size and had a solid frame, standing 6'9", 218 pounds, with 7.14% body fat. Size and length can result in matchup problems for opposing teams. 7' ¼" wingspan. 36 ½" vertical allows him to rebound over smaller players with relative ease.
Knox has solid shot mechanics that should translate well to the next level as he already has NBA range. He is very good at scoring going to the basket, especially with one handed floaters that he can get over virtually any defender. Knox can score from the post, allowing for a versatile offensive attack.
In time, Knox can develop into a ​Tobias Harris/Paul George type of player. Pairing Knox and Jamal Murray would be a good step forward in their rebuild.
Rest of the first round: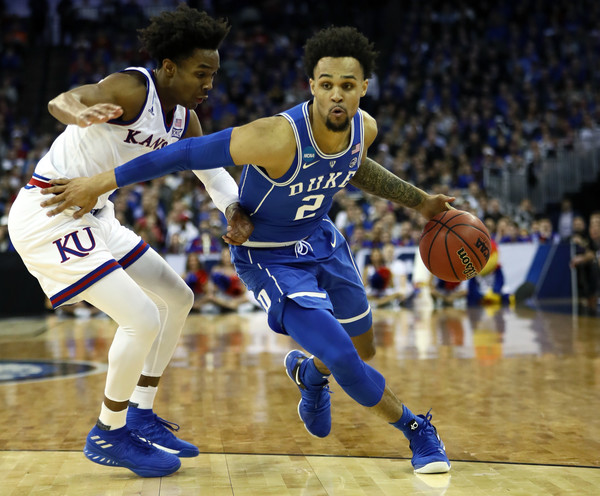 15) Washington Wizards: Gary Trent Jr., SG, Duke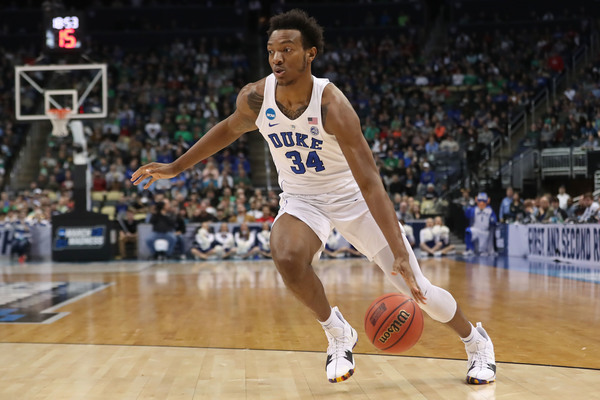 16) Orlando Magic |From the Phoenix Suns|: Wendell Carter, C, Duke
17) Milwaukee Bucks: Donte DiVincenzo, SG, Villanova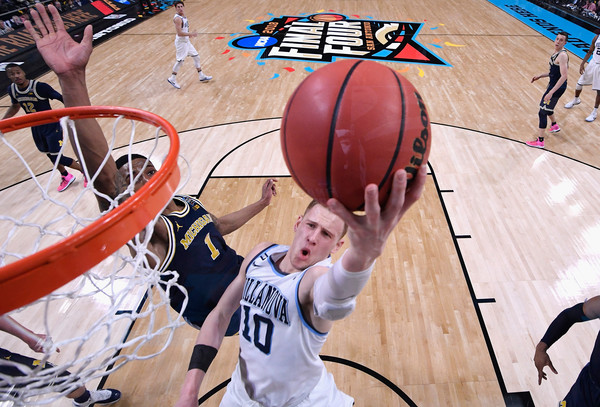 18) San Antonio Spurs: Chandler Hutchinson, SF, Boise State
19) Atlanta Hawks |From the Minnesota Timberwolves|: Khyri Thomas, SG, Creighton
20) Minnesota Timberwolves |From the Oklahoma City Thunder|: Anfernee Simons, SG, IMG Academy
21) Utah Jazz: Troy Brown, SF, Oregon
22) Chicago Bulls |From the New Orleans Pelicans|: Shai Gilgeous-Alexander, PG, Kentucky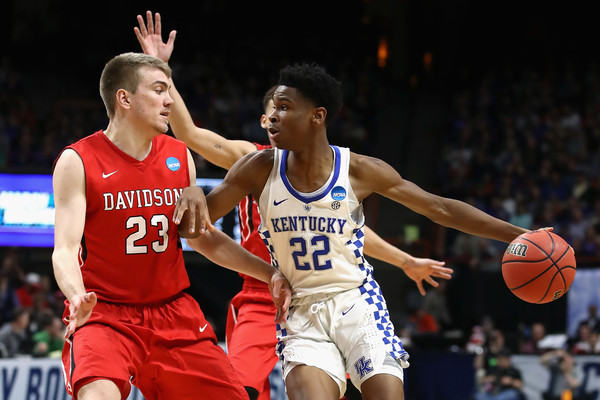 23) Indiana Pacers: Kevin Huerter, SG, Maryland
24) Portland Trail Blazers: Elie Okobo, SG, International
25) Los Angeles Lakers: Mitchell Robinson, C, Chalmette (LA.) HS
26) Philadelphia 76ers: De'Anthony Melton, G, USC
27) Boston Celtics: Bruce Brown Jr., SG, Miami
28) Golden State Warriors: Grayson Allen, SG, Duke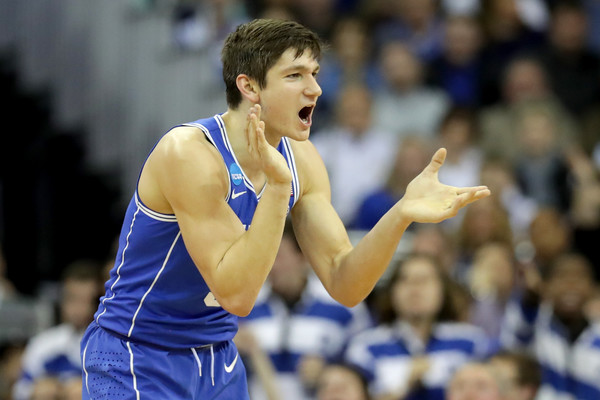 29) Brooklyn Nets: Keita Bates-Diop, SF, Ohio State
30) Atlanta Hawks: Jacob Evans, SF, Cincinnati