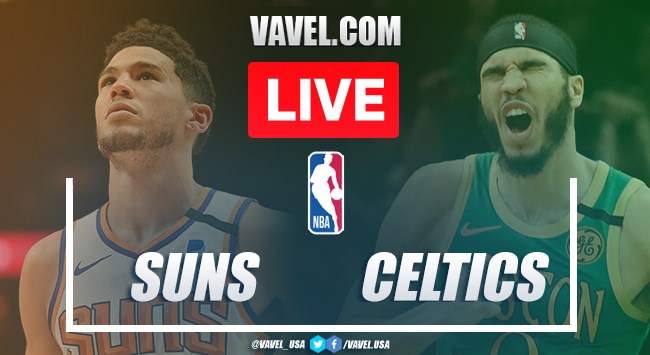 Leading Scorers
Q4 Ends
Q4 - 0:24
Q4 -1:24
Q4 - 3:00
Q4 - 4:19
Q4 - 5:30
Romeo spot-up three
Q4 - 7:02
Mikel playing solid defense
Q4 - 8:49
Q4 - 9:36
Q4 - 10:21
Good finish by Smart
Q4 - 12:00
Q3 Ends
Q3 - 0:35
'JT' DUNK
Handles & Floater
The rookie got up
Q3 - 4:26
Q3 - 6:58
Q3 - 7:24
Q3 - 10:02
Q3 - 12:00
Crazy pass by RR
Q2 Ends
Q2 - 1:41
Jaylen Brown AND ONE
Q2 - 3:03
Q2 - 3:56
Q2 - 4:16
Q2 - 4:59
Q2 - 6:24
Q2 - 7:15
Q2 - 7:23
Q2 - 8:16
JT Doing Work
Q2 - 10:06
Q2 - 12:00
Q1 Ends
Q1 - 0:30
Q1 - 1:26
Q1 - 2:30
Q1 - 3:56
Ayton letting it fly
AND ONE
Q1 - 3:56
Q1 - 5:21
Q1 - 7:28
Q1 - 9:54
Q1 - 10:46
Q1 - 12:00
Last Meeting
Suns 5
Celtics 5
Getting shots up
Coach Brad Stevens hopes that every person on the Celtics bench can find a way to impact the game
Back to his prime?
Grant Williams also supports the league
Devin Booker supporting the WNBA
Live coverage begins!
Sunday full of hoops
'DBook' putting Phoenix on notice
Suns are the 13th. best team in the West at 26-39
Jayson Tatum back in February
Suns defeated Jazz in their scrimmage opener!
Celtics Present
How to watch Suns vs Celtics Live TV and Stream
Welcome!