 On a pouring Tuesday night in RFK Stadium, France sunk the USA's title hopes, won the 2017 SheBelieves Cup, and raised themselves to new heights on the international stage. And it took them just 10 minutes.
Les Bleues scored twice in the opening 10 minutes to put the game beyond the #1 ranked team in the world, who had come into the game needing to beat France to lift the SheBelieves Cup. Instead the US found themselves in the middle of their worst defeat since 2007's 4-0 loss to Brazil in the World Cup semifinals.
France Start Strong
France got off to a lightning-quick start. In the first minute France had an opportunity inside the box when Morgan Brian had a turn-over in midfield that wasn't cleared by the US backline. The US then had an opportunity of their own, with Rose Lavelle, making her second appearance for the USWNT, threaded a ball for Brian. She found Lynn Williams in the box, but her shot was saved by France goalkeeper Meline Gerrard.
Les Bleues put away their next opportunity. The US had another turnover in midfield and Eugenie Le Sommer pounced, running straight through the heart of the US 3-back. She forced Alyssa Naeher to come off her line and as she rounded her the US keeper had no choice but to foul her. Naeher saw yellow, a penalty was awarded, and Camille Abily sent Naeher the wrong way, giving France a 1-0 lead in the 8th minute.
The game had hardly got going again before France struck a second time. In the 9th minute Le Sommer latched onto a long ball from Wendie Renard and took off for goal, easily outstripping Allie Long and sending Becky Sauerbrunn sliding across the wet field on her way to finishing near post for a 2-0 France lead.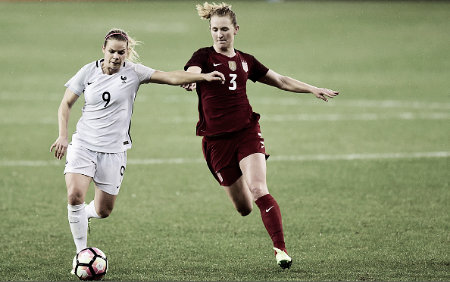 The United States almost got on the board through a free kick by Tobin Heath. Her service just missed Long and Williams, and the onrushing Gerrard, probably impeded by those players' runs, missed the ball entirely. It was Portland Thorns midfielder Amandine Henry who finally cleared the ball as it was about to bounce over the line.
US Flounders in Final Match
US head coach Jill Ellis made two changes at halftime, bringing Crystal Dunn on for Christen Press and Mallory Pugh on for Rose Lavelle. If she was hoping for a spark from either player, it was Godot-levels of late in arriving. The US team as a whole was stagnant, with good individual performances from Becky Sauerbrunn and Sam Mewis not enough to overcome the collectively awful product the US was putting out. France outclassed them in all walks of life, playing freely and urgently although they too were fielding several young players.
One of those young players, Eve Perisset, helped create France's third and final tally. The 22-year-old defender found space on the wing and drove in a low cross that beat Long and Sauerbrunn to be finished first-time by Abily, completing her brace.
The US tried to pull one back before full-time, despite the fact that they looked like they were driving without a roadmap for much of the game. Heath and Dunn put in serious miles on defense and winning free kicks, but the US' possession game petered out under the pressure and the team began resorting to long balls, most of which were easily collected by Gerard. France finished out the game perfectly and kept a clean sheet for the second straight game and deservedly hoisted the SheBelieves Cup trophy.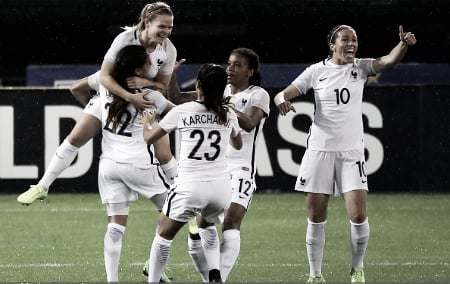 Big Statement by France
This was the most competitive tournament France had ever won. Their only previous titles to their name were Cyprus Cup wins in 2012 and 2014, so the strong results against three top 5 teams may indicate that French football has turned a corner.
For so long France were always the bridesmaids, frequently dominating a match completely but losing at the last gasp or going down early and looking mentally incapable of getting back in it. France disproved both those demons this tournament, tying perennial foes Germany, coming from a goal down to defeat England, and dominating the United States in every category, including, for once, the scoreline.
Although the real work of the Euros lies ahead of them, head coach Olivier Echouafni was thrilled by his team's victory.
"I've got some ideas that I want to share with my players now," Echouafni said. "What they gave tonight, I'm very proud of it and I think this is a great performance, beating USA in front of their public here with this score. We are really happy, but it's just a friendly tournament, so I'm happy, but we have to work. We have three big teams and a lot of matches during just 7, 8 days. It's a very hard tournament. The way that we finish the tournament is very good for the team and for the staff, and is very important for the players in their head. The name of the tournament is 'She Believes' Cup. The world believes in us."
Stats Summary: USA / FRA
Shots: 13 / 12; Shots on Goal: 5 / 6; Saves: 3 / 4; Corner Kicks: 9 / 7; Fouls: 9 / 15; Offside: 5 / 0