After a rainy start to this year's Portland Invitational, the Chicago Red Stars and Houston Dash are ready to face off in their second game of the tournament. The Red Stars come off a 1-0 loss to the hosts while the Dash enter Wednesday with three points after a dramatic last minute 2-1 win over the US U-23 Women's National Team.
Chicago brings reinforcements
In their first game against the Thorns, Chicago was missing a number of their players. With defender Julie Johnston's wedding, a few of the Red Stars' roster went to go celebrate with her. Their lack of true depth showed without his key starters, but now they're at full strength with the likes of Christen Press and Sofia Huerta returning as well as most likely having Alyssa Naeher back in the net. They will be looking to make up for Sunday's loss with a win against the Dash on Wednesday.
If head coach Rory Dames uses all the players he had missing, he's most likely going to have a more experienced starting XI than Houston. He kept virtually all his rostered players from last year, and has added some quality to his roster for 2017. Chicago's team chemistry with their returning players is something to be proud of, and they are able to get the job done more often than not. Press and Huerta, in addition to the likes of Jen Hoy, will be a true test for the Dash's relatively new backline.
Houston looking questionable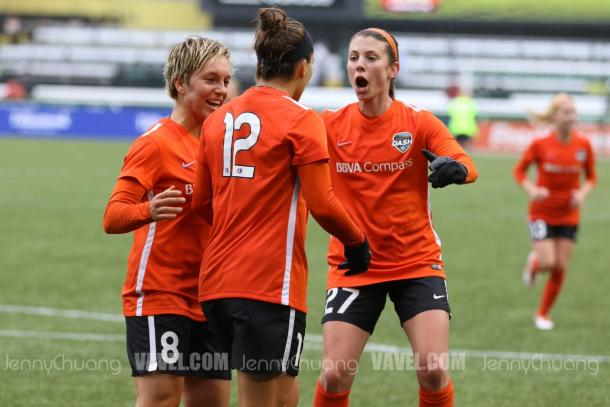 Although they did end up coming away win the win, there are quite a few questions for the Dash. There were thoughts that they'd be immensely better this year, with a strong core group as well as some quality additions. Not only did the Dash not find the back of the net until the dying minutes of the match, but they trailed the U-23s for almost a full 15 minutes before equalizing. Finding the back of the net seems to still be a major problem for the team, especially when playing against a team whose roster changes often and players are coming in and out.
Wednesday's lineup will have to be better, as Chicago's 1-0 loss almost means nothing with their players returning. The Dash will still be able to come away with a win though, much like their home opener last season where they won 3-1 over the Red Stars. Of course, everyone will look to captain Kealia Ohai for goals, but players around her such as Janine Beckie, Denise O'Sullivan, Rachel Daly and Amber Brooks - who scored the equalizing goal for the Dash on Sunday - are able to step up and produce for the Dash.
The Chicago Red Stars and Houston Dash face off on Wednesday, March 29 at Providence Park. Kickoff is at 8:00 pm Eastern Time.