On Thursday, the NWSL announced their broadcast schedule for the 2017 season. The Seattle Reign will be shown four times this season as part of Lifetime's NWSL Game of the Week. Prior to every game, there will be a 30-minute pregame show with kickoff scheduled for 4:00 pm EST.
The Game of the Week will also be available for live and on-demand streaming via the Lifetime iOS and Android apps and online at MyLifetime.com. For international fans that live outside of the United States, you can watch live and on-demand streaming on NWSLsoccer.com.
Jenn Hildreth will serve as play-by-play announcer. She has covered the 2015 Women's World Cup for FOX Sports, college soccer on ESPN and she also called the 2015 and 2016 NWSL Championship games. Aly Wagner will join Hildreth in the both as the networks main analyst. The former UWSNT player has served as an analyst for the 2017 NWSL draft and covered the 2015 World Cup.
For the pregame show, Kate Markgraf will lead things. She was an analyst for NBC and helped cover Olympic soccer in 2012 and 2016. She also covered the UEFA Euro 2016, becoming the first female analyst to work a major men's soccer tournament that aired in the US.
Helping with pregame coverage and providing sideline coverage will be Dalen Cuff. Cuff has covered MLS and the New England Revolution for Comcast SportsNet New England and currently is a college basketball analyst for ESPN and also helped cover the Olympics for NBC.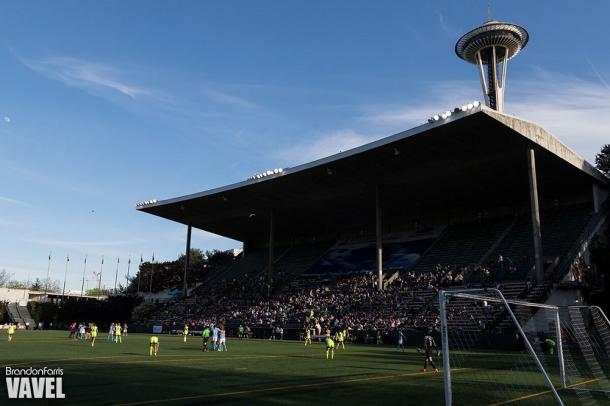 The Reign will have three road games that will be part of the Game of the Week and will have just one game at Memorial Stadium to be shown on Lifetime. That game will be against their Cascadia Rivals, the Portland Thorns FC.
The first Game of the Week for the Reign will take place against the Houston Dash on Saturday, May 27 which is Memorial Day weekend. The Reign will take on the newly branded North Carolina Courage on July 8 as their second NWSL Game of the Week.
Their one and only home broadcast will be against the Thorns on Saturday, August 26. Their last national broadcast will come on Saturday, September 9 when they take on the Orlando Pride.
The Reign will begin their fifth NWSL season on April 15 against Sky Blue FC at Memorial Stadium.