As a stalwart in the U16, U17, U20 and U23 national teams, a key part of the Florida State Seminoles side between 2008 and 2012, and now a full international player and NWSL star, you would be forgiven for assuming that Casey Short's soccer career has been plain sailing thus far. This couldn't be further from the truth however, as three ACL injuries hit Short at vital times in her development. But now, after a stint in Norway's Toppserien, Short is finally back in her hometown of Chicago, three years after originally being drafted into the league.
Making her mark
The athletic full-back endeared herself immediately to the Chicago Red Stars faithful with her determined and intelligent defending, and she immediately became a mainstay in one of the best backlines in the league. As a consistent performer in an up-and-down season, Short lead her Chicago team to the playoff semi-finals - where she provided Christen Press with a sublime assist - but ultimately her team fell to the Washington Spirit in overtime.
"The semi-final game was a heartbreaker. That's obviously not the result that we wanted at the end of the season but I do think we grew a lot as a team. I think we had a slow start to the season and were not where we needed to be but we found our rhythm and sort of went on a bit of a streak. Toward the end we hit a rut like most teams do but were able to pull it together toward the end."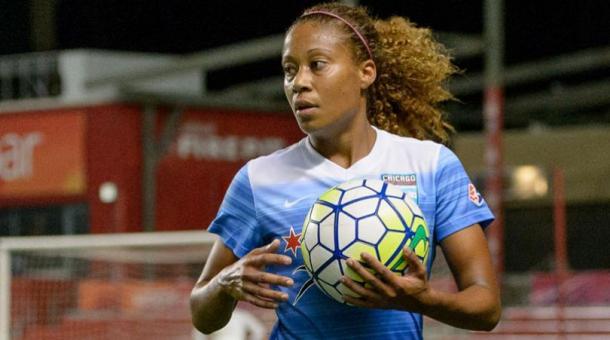 "As far as my individual performance, I'm always going to want to be better and be hard on myself. This league is one of the toughest in the world and I think it took a little while for me to adjust to the transition and pace but it's a great environment to be in to develop as a player."
Despite playing down her stellar first season, it wasn't just the Chicago fans whose attention Short had caught - it wasn't long before national team head coach Jill Ellis was on the phone.
"We were actually in D.C. for the semi-final playoff game, and my entire focus was on that game. I was definitely caught off guard when I got the call [to the US Women's National Team] and I don't think it completely sunk in until after the game when we were back home. But after I got the call, I called my Dad and had an emotional moment with him."
"There's nothing like the full team environment. Anyone who's been in will tell you the speed of play is on a completely different level. If you don't bring your best every day then you won't last and that's what makes this environment so special—you are pushed every single day."
That callup to the matches against Switzerland last October was just the start; despite being one of the older newbies (at 26), she clearly made an impression - she hasn't missed out on a camp since.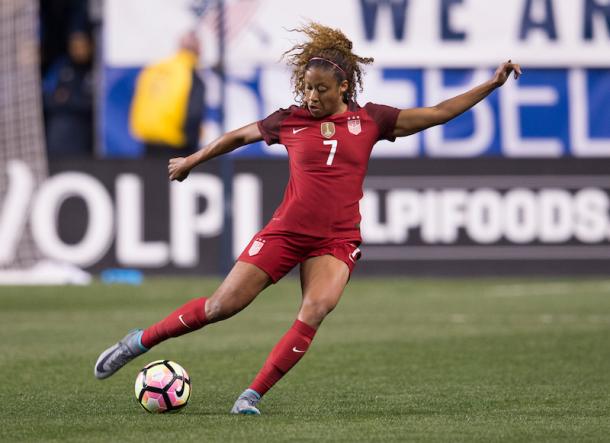 One aspect of Short's game that makes her unique in the current pool of national team defenders is her versatility. Although typically a left-sided fullback in a four, she has slotted into Ellis' new three-back system with ease - but perhaps this is can be credited less to Short's physical attributes and more to her attitude.
"It's a different role than I'm used to and asks for different qualities than when I'm a fullback but I see it as an opportunity to improve in different areas of my game. I'm honestly willing to play in any role that's asked of me if it means I continue to get called in."
This desire to learn and grow as a player is something that is synonymous with Casey Short. The 2017 SheBelieves Cup was her first tournament experience with the full national team, and even the disappointment of finishing last at a home tournament would not stop her looking for positives.
"Any time I am able to put on that jersey and represent the US, I feel incredibly blessed. To be able to do it at the tournament level, playing against the best teams in the world… there's nothing like it. Although the tournament didn't go as we all would have liked, I had a great overall experience and continue to learn so that's all I can ask for."
No-one's place in the USWNT is guaranteed - but it looks like Short might be here to stay.
My Kind of Town
2017 may be an 'off year' for the national team, but for the Red Stars it is anything but. After three 'almost' years, the team is finally striking the balance between youth and experience and this is probably their best chance of winning the NWSL Championship. If their recent showing at the Portland Invitational Tournament is anything to go by, there are plenty of reasons to be positive.
"We're still a pretty young team but the same core group of players is back. A lot of our team went overseas to play in Australia [in the Westfield W-League] for the offseason and they all look very sharp. I'm really excited for this season because I do think this team is capable of going further this year."
"Last season we had a slower start to the season and so we approached this preseason a little differently. Instead of just playing against local college teams, we were able to play in the preseason tourney in Portland and measure ourselves against other teams in the league and I think that's going to make a difference going forward. It's been great to have that chemistry from last year carry over as well as seeing our new girls fit right in and make an immediate impact."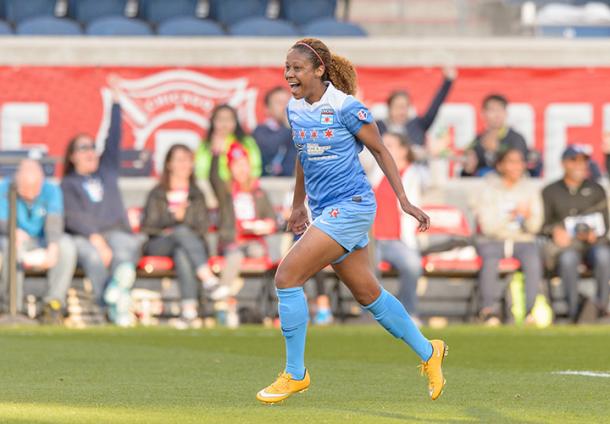 Casey Short's story is one of resilience and hard work. After three serious injuries, many players would have packed it in. But Short refuses to be defined by the lowlights - clearly a wise head on young shoulders, her eyes are firmly fixed on the future.
And the future looks good right now if you're Casey Short. From Chicago, to Florida, to Norway, and back to Chicago, she really has come full circle - and what better legacy is there to write than bringing a national championship home?