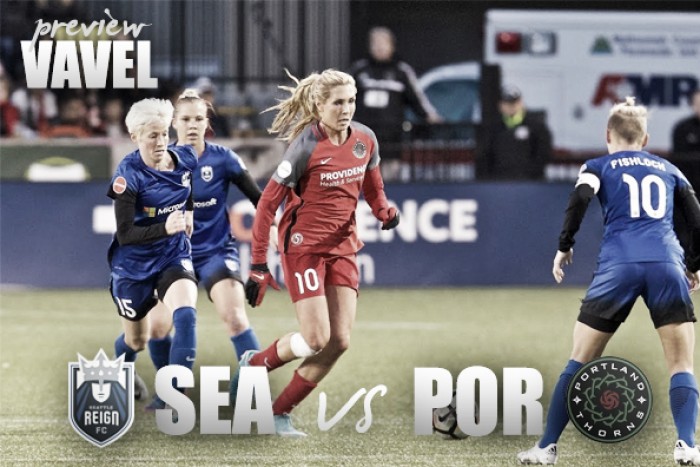 The Cascadia rivalry between the two Northwest teams of the NWSL meets for the second time this season. The Portland Thorns are in Seattle to face the Seattle Reign in a battle at the top of the table. The Thorns sit in third place with 18 points, but the Reign are directly behind them with 17 points in fourth place. The first time these teams met this season it ended in a 2-2 draw. The game will kickoff at 10:30 PM ET at Memorial Stadium in Seattle. The match will be available for viewing via the go90 app and website.
Come from behind team
Seattle has not scored the opening goal in a match since they played the Houston Dash on May 27th; however, they have still managed five points in their last three games. The Reign pulled a come from behind win on Wednesday against the Chicago Red Stars. Megan Rapinoe and her calmness from the penalty spot can be thanked for that. Seattle was awarded two penalties during the match against Chicago, both of which Rapinoe put away. Rapinoe scored her sixth and seventh goals on Wednesday, which put her at the top of league-leading goal scorers.
While Rapinoe has been scoring goals, Haley Kopmeyer has been stopping them. Kopmeyer is another league leader for the Reign. She leads the leagues in saves with 49.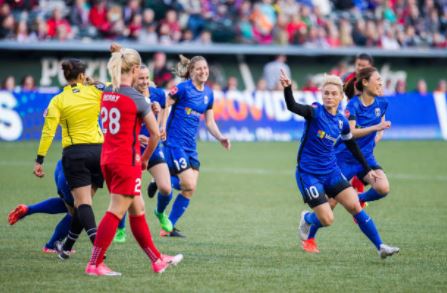 Portland trying to stay on top
Portland claimed a 3-0 win over FC Kansas City, after losing two games in a row. Coming off of the international break the Thorns took a tough loss at home to Sky Blue FC, then took a road loss to the Washington Spirit. Now the Thorns are trying to get back on track if they win and the Red Stars lose they can claim the number 2 spot behind the Courage.
Allie Long, midfielder, is in somewhat of a goal scoring drought. Long has only scored one goal this season, but it came against the Reign. Long has been stuck since that match at the 29 goal mark. If Long can get one past Kopmeyer this weekend, she will become just the fourth player in NWSL history to score 30 goals. Not far behind her is Thorns' captain, Christine Sinclair, who now has 27 goals after her brace against FCKC.