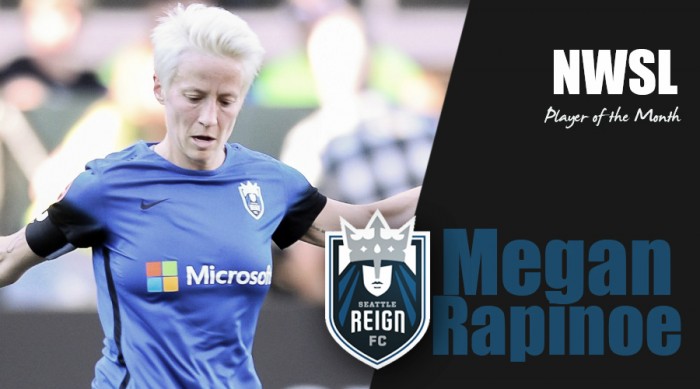 It's been a pretty good week for Seattle Reign FC's Megan Rapinoe. One day after being named NWSL Player of the Week for the second time this season, Rapinoe was named NWSL Player of the Month for the first time in her career.
Rapinoe, 32, becomes just the second ever Reign FC player to be named Player of the Month. It is the fifth time a Seattle player has been named as such but the other four times came from former Reign FC midfielder Kim Little (April 2014, May 2014, July 2014, June 2015).
Rapinoe scored five goals during July, including a hat-trick on July 22 against Sky Blue FC. She began the month by scoring a brace against Portland Thorns FC. She scored the first goal in the 45th minute and completed her brace in the 81st minute to help lead Reign FC to a 2-0 victory over Portland.
Last weekend, she scored on a free kick in the 27th minute, a penalty in the 47th minute and a goal in the 87th minute from the run of play. Rapinoe became the first player in the league to combine those three methods of scoring to score a hat-trick. He also became the oldest player to score a hat-trick in league history and the second player to score two hat-tricks in her career.
She already has 12 goals this season – her previous high was five in 2013 and 2015 – and is just five goals away from breaking the league record of 16 set in 2014 by Little. She is also on the verge of becoming the sixth NWSL player to reach 30 goals in her career. She is also one of just five players to score at least 12 goals in a season -- Little (16 goals in 2014), Crystal Dunn (15 goals in 2015), Amy Rodriguez (13 goals in 2014) and Lauren Holiday (12 goals in 2012).
Reign FC will return to action and hit the road next week as they take on the North Carolina Courage on August 5. Kickoff is scheduled for 7:30 PM ET.
Previous Winners
The NWSL Player of the Month is selected each month of the regular season by the NWSL Media Association, a collection of writers that cover the league on a consistent basis. For more information on the NWSL Media Association.