Having led the league since the second week of play, the North Carolina Courage could finally confirm the first place finish that their play has merited this year. To seal their second NWSL Shield (the first occurring when they were still the Western New York Flash), they would have to beat Sky Blue FC, and hope that Portland Thorns drop points against the Orlando Pride in this week's Lifetime game.
The two meetings between these sides so far this year have resulted in one win each - Sky Blue had the first of just two teams to shut out the Courage frontline this season.
Courage cruising
Needing a four point swing from their last three games, it seems inevitable that the Courage will lift the NWSL Shield. Throughout the year they've proved themselves as the classiest side who have a bit of everything to offer. Goals for Jessica McDonald and Lynn Williams may have slowed down from last year but they've continued their consistent contributions, and rookie Ashley Hatch has also been a bright spark.
The midfield duo of Sam Mewis and McCall Zerboni continue to dominate the midfield in pretty much every game they play, and their relatively young backline continues to play with a maturity beyond their years.
Sky Blue always a threat
So what can Sky Blue do to disrupt this Courage team? Most importantly they'll need to show defensive solidity and organisation to keep out this talented attack. Unfortunately for the New Jersey side, defensive solidity is not something they've shown a lot of this year.
Despite staying in the playoff picture until the final weeks of the season, Sky Blue have the league's worst goals against average, conceding 47 times in their 22 games so far - an average of over two a game. This includes a recent run of 18 conceded in just four games.
Sky Blue do have a wildcard however - Sam Kerr. Inexplicably left off FIFA's final three nominees for their "The Best" award, she will undoubtedly have more motivation then ever - a scary thought that the league's top scorer, who became the first player to ever have a four-goal game in the NWSL just last month, could possess even more firepower.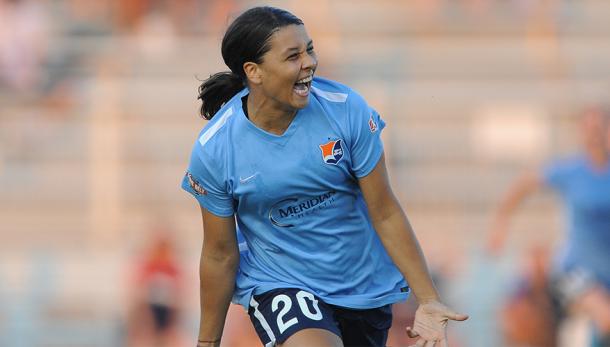 Goals goals goals
Whoever comes out on top in this matchup, one thing is guaranteed - goals. Both teams have incredibly talented and in form forwards, so this game isn't one you want to miss.
Details
The game kicks off in Piscataway, New Jersey at 6:00pm Eastern Time, on Sunday September 24, and will be streamed on the go90 app as well as the NWSL website.