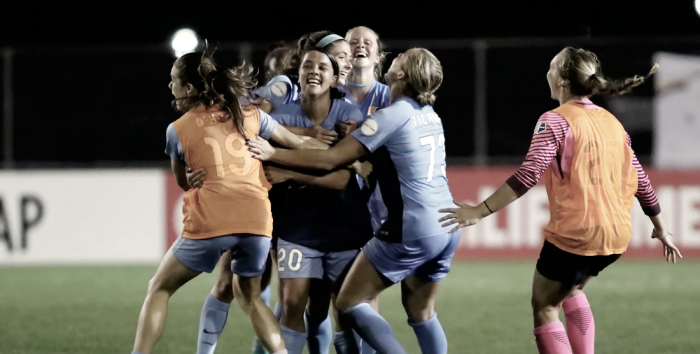 Sky Blue FC had a to remember despite it not ending the way they wanted it to. Sky Blue was a team that had to come from behind to secure points in most games. Their season started in Seattle against the Seattle Reign with a tie decided by two first converted penalties. Sky Blue got their win at their first home game three games into the season against FC Kansas City. Things heated up for the club in early July when they beat the dominating first place North Carolina Courage in North Carolina. The next weekend Sam Kerr scored a second-half hat-trick to comeback from 2-0 scoreline against FC Kansas City. The New Jersey side struggled to keep goals out of their net which ultimately led to their sixth-place finish that could've been a playoff run finish.
The defense of Sky Blue struggled for a few reasons this season. At the start of the season veteran center back, Christie Rampone was the only member of the Sky Blue defense over the age of 24, with the exception of Kelley O'Hara who floated between defense, midfield, and even forward. Everything changed when Rampone announced her season would be ending early due to cumulative injuries.The starting goalkeeper for all but two games this year was Kailen Sheridan, who was just 21 years old at the start of the season. After Rampone left the inexperienced backline became very vulnerable. On top of injuries, the backline also had Erin Simon fracture her foot in July. Simon would not return to action in 2017. Sky Blue ended the 2017 season with a goal differential of negative nine.
Biggest win of the year
Sky Blue's biggest wins this year were only by two goals. On May 13th Sky Blue beat the Houston Dash by a scoreline of 3-1 in Houston with goals coming from Sarah Killion, Leah Galton, and Sam Kerr. However, the more impressive scoreline was that in Portland June 17th coming off a 2-0 loss to the Portland Thorns in the previous game. Sky Blue took a 3-1 win in Portland and scored the fastest goal in NWSL history. Raquel Rodriguez scored in just under 25 seconds into the match. Kerr tallied two goals that night each time after beating Portland Thorns keeper, Adrianna Franch, one on one.
Biggest defeat of the year
Sky Blue's biggest defeat came on August 12th in Orlando against the Orlando Pride. Sky Blue was outscored 5-0 that night. The loss that night deflated many of their playoff hopes and dreams. Goals that night were scored for Orlando by Alex Morgan (2), Marta (2), and Dani Weatherholt.
Team MVP
Sam Kerr, 24, was pure magic this season. Kerr scored 17 goals this season, breaking the previous record of 16. Kerr scored 14 of her 17 goals in the second half of the season, which really lit a fire for Sky Blue. She also now leads in career goals scored at 43, all of Kerr's goals have come in the run of play. Kerr also broke the records for scoring two hat tricks in one season and the first ever four-goal game. The Australian scored five game-winning goals for Sky Blue. She also scored against every NWSL team except the Washington Spirit.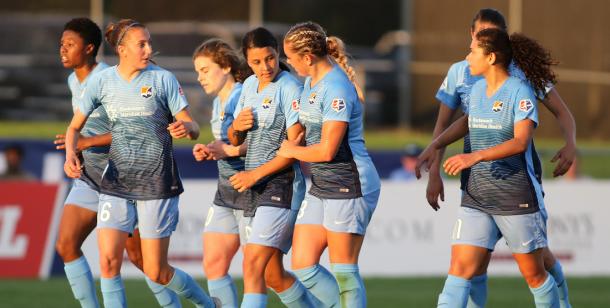 Player with an off year
The 2016 Rookie of the Year, Rocky Rodriguez, had an underwhelming season with some bright spots. Rocky scored the game-winning goal to secure Sky Blue's first win with a late goal over FC Kansas City. Rocky also scored the quickest goal in NWSL in that 3-1 win in Portland. Rocky would only score four goals and tally no assists this season. The disappointing statistics could be due to the position change, as she was in more of a holding midfield role this year. However, her lack of ability to create chances from that position was surprising.
Improvements for next year
While Kailen Sheridan did let in 47 goals this season, she is a bright light in the future of Sky Blue. Sheridan struggled to lead the backline because she was inexperienced herself. The rookie out of Clemson University made 83 saves this, so it is not that she incapable of saving goals rather she did not help from her backline to keep the ball from entering dangerous areas. Sheridan has national team experience with Canada, but with more, she can become the leader that Sky Blue needs. The backline as a whole needs to improve in all areas, but with hard work, they could be something special next season.