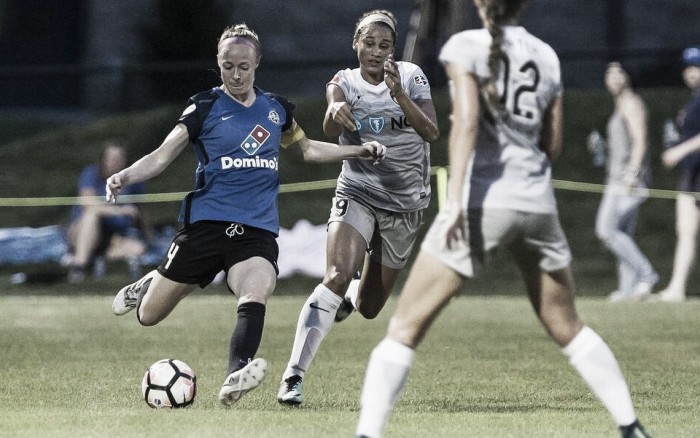 The Utah Royals announced their updated preseason roster that includes a healthy mix of former FC Kansas City players, domestic and international talent to help kick of the teams' inaugural season.

FC Kansas City Signings
After the Kansas City franchise disbanded in November, Utah inherited the roster of the 2017 team. Coach Laura Harvey traded for Diana Matheson from the Seattle Reign and Kelley O'Hara and Taylor Lytle from Sky Blue FC.
The team signed goalkeeper Nicole Barnhart, one of the most consistent players in the league and co-captain for the 2017 season. The team also signed defenders Becky Sauerbrunn, Brittany Taylor Kolmel, Alex Arlitt, Sydney Miramontez and Becca Moros. Midfielders include Katie Bowen, Mandy Laddish, Lo'eau LaBonta, Desiree Scott, Erika Tymrak and Alexa Newfield. Forwards who signed are Amy Rodriguez, Brittany Ratcliffe and Maegen Kelly.
Boston Acquisitions and Draft Picks
The Royals also picked up three players in the dispersal draft for the now-folded Boston Breakers. The team picked up goalkeeper Abby Smith, forward Katie Stengel and defender Brooke Elby.
The two players drafted in the 2018 College Draft and who enter preseason as non-roster invitees include Duke University goalkeeper EJ Proctor and local defender Taylor Isom. Isom, a Logan, UT native, played for Brigham Young University.
International Talent
The three other members of the preseason roster are Katrina Gorry from Australia, Elise Thorsnes from Norway and Guhnnhildur Jonsdottir from Iceland. Gorry played one season with FC Kansas City in 2014, being a part of the squad that one the championship. Both Jonsdottir and Thorsnes are new to the NWSL. The full preseason roster from the Utah Royals website is located below.
Players:
Abby Smith, GK
Becca Moros, DF
Becky Sauerbrunn, DF
Kelley O'Hara, DF
Katie Bowen, MF
Mandy Laddish, MF
Amy Rodriguez, FW
Lo'eau LaBonta, MF
Diana Matheson, MF
Desiree Scott, MF
Taylor Lytle
Brittany Taylor Kolmel, DF
Alex Arlitt, DF
Erika Tymrak, MF
Sydney Miramontez, DF
Nicole Barnhart, GK
Katrina Gorry, MF
Elise Thorsnes, FW
Gunnhildur Jonsdottir, MF
Katie Stengel, FW
Brittany Ratcliffe, FW
Brooke Elby, DF
Maegan Kelly, FW
Alexa Newfield, MF
Taylor Isom, DF
EJ Proctor, GK