The Chicago Red Stars defeated the Seattle Reign 1-0 with a late game-winner from 2017 NWSL MVP and golden boot winner Sam Kerr. Her goal in the 88th minute was enough to life the Red Stars over the Reign. Chicago now remains in fourth place with a 7-4-7 (28 points) record while the Reign remain in second place with 29 points and an 8-4-5 record but the gap between them and first place North Carolina Courage is now up to 16 points.
Kerr scored ninth of the season
Chicago led the match offensively, outshooting the Reign 19-13 with six shots on goal to Seattle's three. Both sides earned three corner kicks during the match and were almost even on possession with Chicago edging out Seattle 50.7% to 49.3%. Neither side, however, was able to find the back of the net until late in the game.
Reign goalkeeper Michelle Betos sent a goal kick to just before midfield. Red Stars forward Yuki Nagasato rose up to the ball first and headed it forward to the feet of Kerr. The Australian-international dribbled the ball into the box and curled it on the ground past Betos for ninth goal of the season. She now leads the NWSL in goals-scored this year and adds to her career NWSL goals with 52. The young forward now has four goals in the last two games.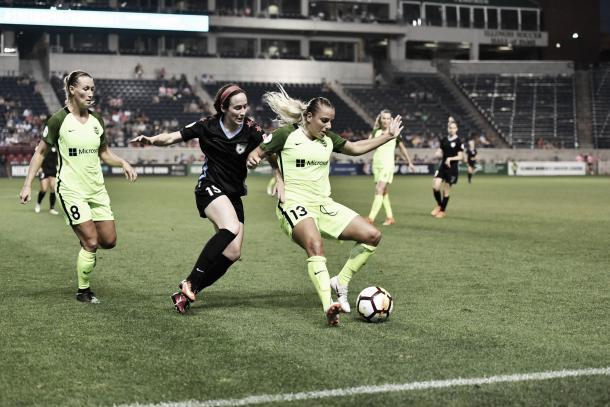 Match hampered by injuries
While only one yellow card was issued in the match to Jess Fishlock in the 35th minute, the Red Stars saw scary moment with two players, resulting in immediate substitutions.
The first moment came right before the card to Fishlock when Red Stars defender Arin Gilliland went up for a ball with Reign defender Steph Catley. Gilliland came down grabbing her neck and went to the ground immediately. Play was stopped for 10 minutes while she was evaluated by the training staff and she was eventually put on a backboard and carted off the field. The Red Stars organization announced that Gilliand was transported to the hospital immediately where she underwent tests for a potential cervical spinal injury. The x-rays came back negative and she will be reevaluated by team doctors.
Chicago was forced to use a second injury substitute after an injury to Danielle Colaprico in the 63rd minute. Fishlock went for a ball and ran into Colaprico who fell to the ground in visible pain. After a few minutes down, Colaprico walked off the field under her own volition and went straight into the locker room for evaluation.
Chicago will have the next week off while Seattle will stay on the road to play the Orlando Pride in the Lifetime Game of the Week on Saturday July 21. Coverage for the match begins on Lifetime at 3:30 p.m. ET.