With the 2018 Tournament of Nations champion being decided on the final day, Australia set themselves up well with a 2-0 win over Japan. It left the United States of America having to beat Brazil by at least two goals to prevent Australia from retaining the title but the Australians made sure to finish their campaign on a high.
Japan dominate the first half but fail to score
The first half was fully in control of the Japanese as they retained the ball well and stopped Australia from getting to them with their speed up top. Each team had opportunities in front of goal but Japan looked the more dominant team for the first 45 minutes.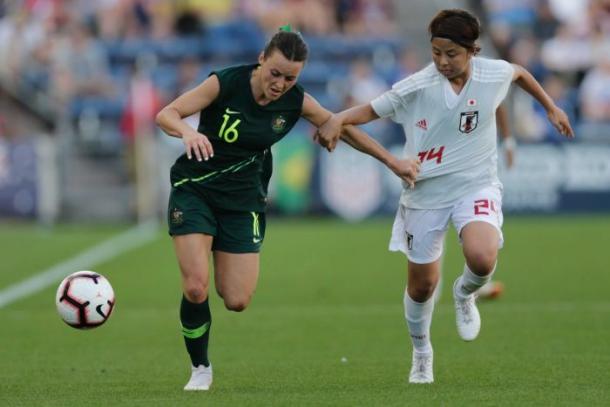 They tested Australia's backline regularly but could not find the final telling pass to beat Lydia Williams in goal for Australia. The half finished with Japan leading the total number of shots but unfortunately for them, they had no goals to show for their efforts. The Japanese are a team in transition and the first half showed just how much work a fairly young team led by Asako Takakura still has to do in order to be ready for next year's World Cup.
Kennedy and Kerr seal the win for Australia
The second half was a different story as Alen Stajcic made the right adjustments to give his team the edge, and ultimately, the win. The passing lanes that weren't there before began to materialize for Australia and they were able to break the monopoly that Japan had on the game.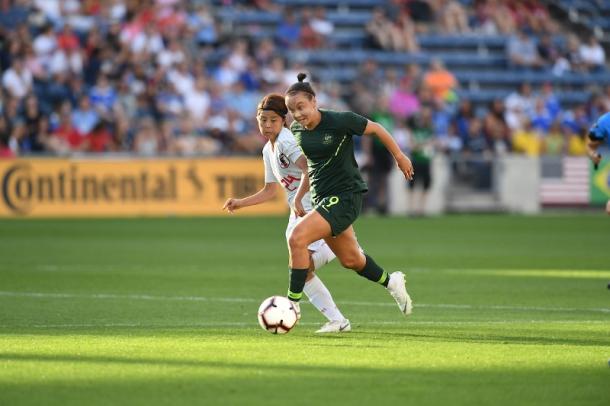 The adjustments made by Stajcic paid off early as Alanna Kennedy put Australia ahead in the 47th minute. Samantha Kerr's run led to a great chance for Chloe Logarzo who was then brought down just outside the area by Narumi Miura. Kennedy stepped up to the spot and blasted the free-kick home, as many have seen her do before for her club side the Orlando Pride. With Japan now racing forward to find an equalizer, Australia could soak up the pressure and then pounce on the counter with the likes of Kerr up top. That was how they managed the second goal of the game in the 81st minute. A long ball was sent over the Japanese backline and Kerr was the first to it. The Chicago Red Stars forward then touched the ball past the goalkeeper and another defender before placing the ball into an empty net.
The game peetered out after that as Australia were content with their two goal lead and Japan could not break them down anymore. After dropping points right at the death to the US, Australia will be pleased with how well they managed this game while Japan continue to try and find a new way of life after dominating the women's game for so long.