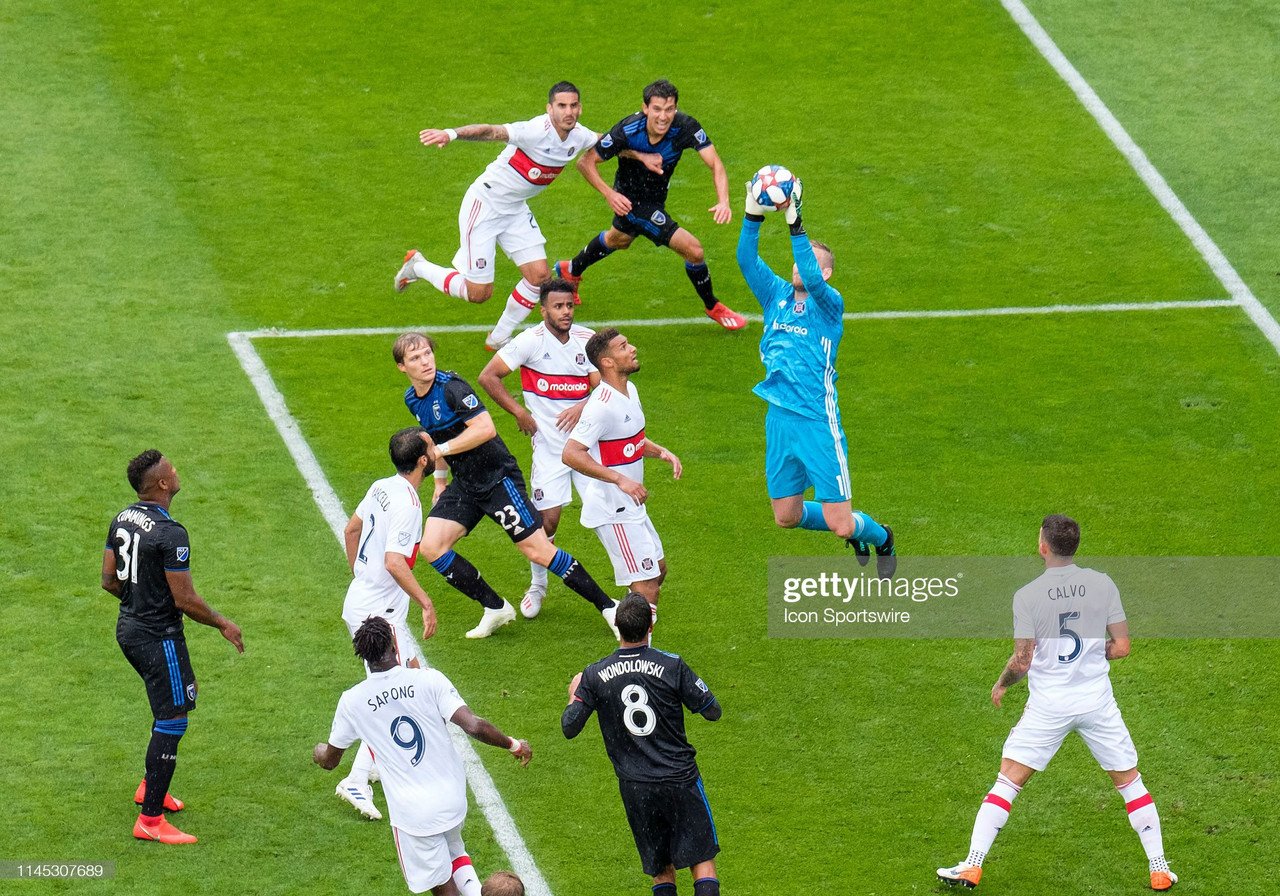 Two teams near the bottom of the MLS standings face off on Sunday night as the San Jose Earthquakes host the Chicago Fire at PayPal Park.
It's been a while since San Jose took the field. Their last game was back in mid-June, and it was an unsuccessful affair as they were beaten by Real Salt Lake. All things considered, their season as a whole has been rough. They've been fun to watch at times, sure, but they've also been quite bad.
Chicago's campaign had been almost exactly the same, but there's a chance they might finally be turning a corner. That is because they've won two out of their last three, with their most recent win coming against the Philadelphia Union, who were at the top of the Eastern Conference. Was the victory incredibly ugly? Sure, but that won't matter to the Fire in the slightest as it gave them three potentially vital points.
Team news
San Jose will be without a few key players, with Francisco Calvo, Cade Cowell, Gilbert Fuentes, Siad Haji, and Niko Tsakiris all set to miss out this weekend.
It's been more of the same on the injury front for Chicago, as the likes of Chris Brady, Kendall Burks, Wyatt Omsberg, Miguel Navarro, and Mauricio Pineda are all still out. However, Jairo Torres might be able to return since he's only listed as questionable at the moment.
Predicted lineups
San Jose Earthquakes: Marcinkowski, Thompson, Nathan, Beason, Marie, Espinoza, Greguš, Remedi, Monteiro, Kikanovic, Ebobisse
Chicago Fire: Slonina, Sekulić, Terán, Czichos, Bornstein, F. Navarro, Giménez, Herbers, Shaqiri, Mueller, Przybyłko
Ones to watch
Jeremy Ebobisse
Jeremy Ebobisse's career has been a bit of a weird one.
On the surface, he's not really a top-tier striker in MLS. His numbers are far from impressive, and he's only ever hit double-digits goals in a season once, with that personal best being 11. He doesn't even pitch in with many assists, either.
However, there's just something about Ebobisse that always catches peoples attention, and he's talked about more often than others with similar figures. Part of it was the fact that he rose through the ranks at the Portland Timbers at a relatively young age, so he's always had his potential attached to him. He's also a former U.S. international, even if he's only ever made one appearance with the first team.
The number 11 might be starting to live up to the coverage he's been getting, though. This season has arguably been his best, with nine goals in 16 league appearances. He's provided an attacking spark for the Earthquakes, which has been crucial since they've been so bad defensively.
It's not been a perfect campaign, though. Ebobisse has scored five braces, and even though that has helped in those games, it means that he's not always made an impact for his side. Either he's a matchwinner, or he's an invisible figure.
The version of him that will show up on Sunday remains to be seen, but if he's able to find the back of the net at least once, then the Earthquakes might just have a chance of winning.
(This whole section was initially about Francisco Calvo, but he's unavailable for selection due to injury, which is a real shame considering the circumstances.)
Xherdan Shaqiri
Xherdan Shaqiri finally looked like Xherdan Shaqiri.
A lot has been said about his time in Chicago so far, but on Wednesday, a lot of the noise went away. That is because the Swiss captain put on a show for the Soldier Field faithful in a performance that was easily his best in a Fire kit.
Only just returning to the lineup following an injury, Shaqiri got involved early and often. He was pinging the ball around, and he could have had an assist in the opening few moments on two separate occasions. His impact on the game didn't really waver much as it got closer to full-time, and even though he didn't end up with a goal or an assist, it was still an excellent showing.
That's what fans had been waiting to see from him for so long. The attacker hadn't really gotten going in the Windy City, mainly due to injury issues and the fact that he was being played out of position. It seemed like it was almost time to worry about his signing, especially since he was getting paid so much to do so little.
However, there's now reason to believe that Shaqiri's performance on Wednesday could be the start of something new. If he can build upon that game with another quality outing here, then the Fire might just have a star on their hands after all.
Last time out
The last meeting between these two sides was at a neutral venue, as it took place at the ESPN Wide World of Sports Complex in Florida during the 2020 MLS Is Back tournament.
A bit of a frantic contest early on, the opening goal wouldn't come until the 55th minute. Chicago were caught too high up the pitch, which allowed Jackson Yueill to easily pick out the streaking run of Cristian Espinoza. At that point it was simple, as the Argentine cut inside before blasting a shot into the back of the net, even though he was helped out by some strange positioning from the goalkeeper.
The Fire tried to find an equalizer before full-time, but the next goal would be scored by San Jose instead. Carlos Fierro wasn't closed down on the wing, so he cut inside and whipped in a cross into the area. His ball found an unmarked Chris Wondolowski, who headed home from just a few yards out.
That moment sealed the result for the Earthquakes, who ultimately went on to win the group the team's were competing in, while Chicago finished last.
How to watch
The match kicks off at 6:00 p.m. PDT, and it will air live on NBC Sports Bay Area for fans in San Jose and on WGN TV and chicagofirefc.com for fans in Chicago. Anyone else in the United States will be able to watch the action unfold on ESPN+.