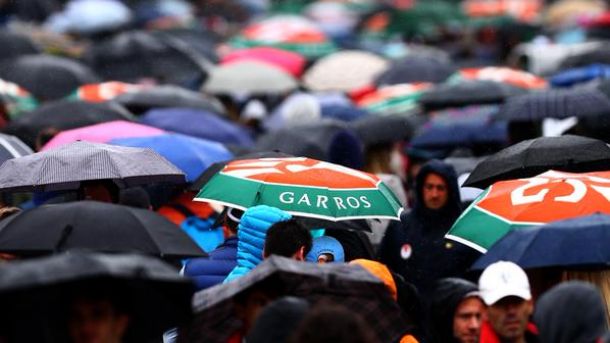 It's an overcast and rainy day in Paris, which is causing chaos on court. Cold, wet and windy conditions are the worst possible for playing tennis, especially when it's essential to wrap up matches at a grand slam. With the US Open developing a roof for Arthur Ashe as we speak, tournament directors are desperate to stop the elements disrupting matches. Players arrived on court at 11am this morning ready for play to begin, but after just a few games, the rain started pouring and umbrellas shot up in seconds. Officials made the decision to halt play and cover the courts until the rain passed, which unfortunately, took a long time.
There will be no play before 1:15pm local time. #RG15

— Roland Garros (@rolandgarros) May 31, 2015
By 2pm in Paris the covers were whipped off and courts were prepared for the players. Svitolina and Cornet managed to finish their match on Chatrier without any further interruptions. Next up it was Berdych and Tsonga walking onto the court ready to battle it out in their fourth round match. After just five games, thick clouds covered Chatrier once more and heavy rain approached. Both players sat on court for a few minutes to wait for the rain to stop, which angered the Czech as he complained that the clay was just too slippery to play on. However, play resumed on all courts shortly after the rain started.
Due to the disruptions today and more rain forecast later on, Roland Garros took action.
The scheduled 4R matches between Sharapova-Safarova & Muguruza-Pennetta have been cancelled for today: http://t.co/4WYlsPFpj6 #RG15

— Roland Garros (@rolandgarros) May 31, 2015
The last match of the day on both Chatrier and Lenglen will be cancelled and postponed until Monday, which is potentially disatrous for the players. The two players that win those matches will play on two consecutive days, giving them a huge disadvantage, as their quarterfinal opponent will have had a whole extra day of rest. When playing a world class opponent at a later stage of the tournament such as the quarterfinals, sufficient rest is vital for the players. Although there's little the tournament can do, it will be hugely frustrating for the players that come through those postponed matches.