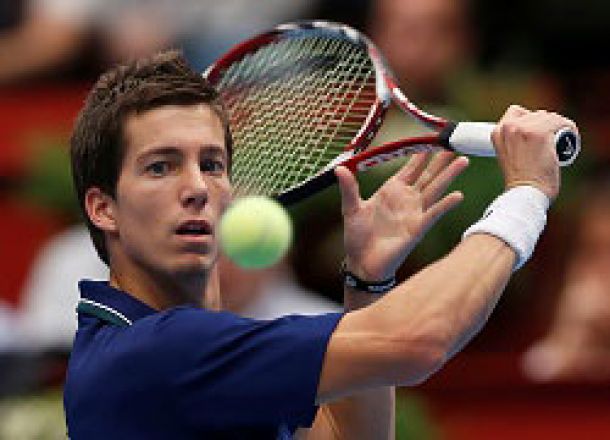 So, whilst we got to the business end of Roland Garros, another important event was taking place here. The Davis Cup committee met yesterday to consider eligibility request appeals from the LTA for Aljaz Bedene, Belarus Tennis Association for Maxim Dubarenco, and Deutscher Tennis Bund for Dustin Brown. The reason these appeals had to be made is because of a rule change that was agreed in September 2014 but would come into force in January 2015, which precluded any player from playing Davis Cup for a different nation if they had previously played Davis Cup before under a different flag.
Dustin Brown had played for Jamaica before he changed his nationality in 2010 to German. Dustin was born in Germany with one Jamaican parent and one German parent but had lived most of his life in Jamaica hence being eligible to play for Jamaica previously. The appeal by the Germans was upheld as the committee agreed that he had met all the criteria for eligibility under the previous rule before 31st December 2014, and that the clerical error of the DTB of not filing before the deadline should stop Brown from being eligible to play for Germany, so he has been cleared to play in Davis Cup for Germany.
Maxim Dubarenco was born in Moldova and played several ties for Moldova before changing nationality to Belarus this year, this would under the new rule prevent him from playing Davis Cup for Belarus. The committee decided that Maxim had not met the criteria required under the previous rule and rejected the appeal by the Belarus foundation.
Now, moving on to Aljaz Bedene (pronounced Ali-ash Bed-eh-nay) who has lived in Britain since 2007 but was born in Slovenia. He played 3 times for Slovenia in Davis Cup, all three were dead rubbers (i.e the tie was already over by that point, Slovenia could not win, or they had already won 2010 against Norway, 2011 against Italy, 2012 against Denmark - 2012 Slovenia won the tie the others they had lost, but all were dead rubbers). This is what is preventing Aljaz from being eligible to play Davis Cup for Great Britain. The committee decided that Aljaz did not meet the previous criteria before the rule change so they rejected the appeal. The LTA and Aljaz all say that once he had decided to make the change of nationality, (which was before the rule change came in) that they notified the Davis Cup committee and had all the paperwork sent off before the deadline.
The Davis Cup committee had told them it had not been submitted in time, and this is why they were appealing. They have 30 days to launch another appeal to the ITF board of directors and if that fails, there is one further option. That is the Conciliation Arbriation of Sport (CAS) who will have the very final say. If this also goes against Aljaz and the LTA, it will preclude him from playing Davis Cup (the team event) for Great Britain. What needs to be further investigated is if this would also preclude other team events (Olympics, etc) or if it is just Davis Cup.
This Davis Cup furor has certainly brought up interesting discussions as there are some people who feel that if someone is not born or at least spent most of their life in one country, that they should not be eligible to play Davis Cup for that country. An example of that is Greg Rudseksi who was born in Canada but never played Davis Cup for Canada. He opted British nationality and played Davis Cup for Great Britain. There were some who were never fully behind Greg playing for Britain. Not just to pick on Britain, Jim Courier, the USA Davis Cup captain, has said publicly that he would never pick anyone for the US team that has not been born and bred in the USA. Others feel that you should be allowed to pick the best team possible so long as the player is a national of the country they should be allowed to play. It's a very intense issue.