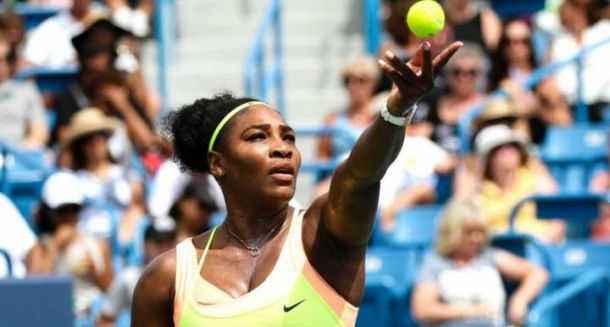 Midday on Thursday at the Western & Southern Open in Cincinnati saw Serena Williams go up against Karin Knapp in a 3rd round matchup on Center Court. Coming in to the tournament Serena holds on to the ranking of 1 in the world, meanwhile Knapp came in with a ranking of 35 in the world. Fans quickly witnessed that the match would be all Serena, as expected. The two players had never met head to head on tour before and that changed as Serena delivered a dominating straight sets victory with a scoreline of 6-0 6-2. The flawless performance from the world number 1 was wrapped up in just over 54 minutes.
As always, Serena has a mindset of winning the title this week in Cincinnati. Today's performance showed Serena has a good chance of defending her title from next year as she barely exhausted any energy. With only 2 losses on the season so far, it looks like it will take amazing play to knock off Serena.
Serena is unstoppable
In the 1st set Serena showed exactly why she is the best in the world. With 100% first service points the American was dominating on every serve. Serena would not face a break point the entire set. She also posted an impressive 75% of total points won in the first set as she would take the set 6-0.
With 3 breaks of serve, the 1st shoutout was complete. Knapp had absolutely no answers as she was moved around the court and unable to cause any problems. An extremely low 48% of first service points won for Knapp did not help either.
2nd set to Serena
Serena would hold serve to start the 2nd set. Knapp's service woes would soon continue as she would get broken again for an 0-2 deficit. Serena then came up with another hold for a clinical 9 straight games won on the trot. It was starting to become evident that Serena was not letting up and a possible 6-0 6-0 victory might be in the cards.
Knapp would hold after a close service game to finally get on the board after 10 games played. Afterwards both Serena and Knapp would again hold their service games for a 4-2 scoreline. Serena's 80% first service points won in the 2nd set showed as she held yet again for a 5-2 lead.
It seemed as if Serena was in a rush to finish as she quickly gained a 40-15 lead on Knapp's serve. It only took 1 match point for the world number 1 to seal the victory. An effortless 6-0 6-2 victory.
What's next?
With the victory Serena continues her title defense with a matchup against Ana Ivanovic in the quarterfinals.