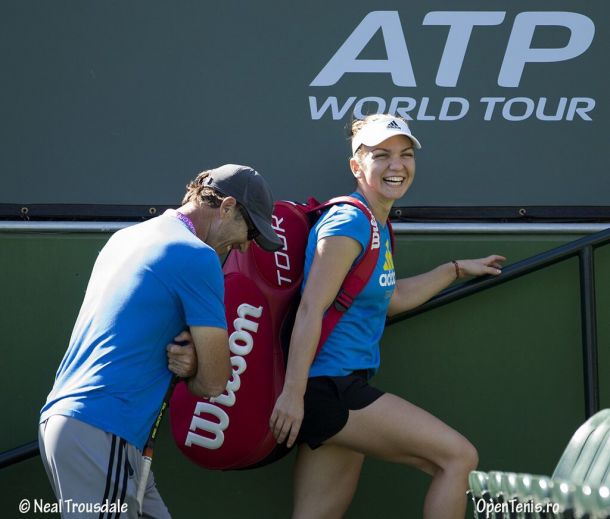 World number two Simona Halep has announced that she has hired Darren Cahill to work with her full-time starting in 2016. Halep and Cahill started working together in 2015 under the Adidas Development Program. As of right now, the program has since been terminated despite being a great success for the sports clothing giant. Under the tutelage of Cahill, Halep won the BNP Paribas Open — the biggest title of her career to date — and she made the semi finals of the U.S. Open for the first time of her career.
In a Facebook post released Friday, Halep announced that she would continue her partnership with Cahill, saying that he will also keep his role as a men's tennis analyst for the Grand Slams on ESPN. However, Cahill's additional duties will not stop him from coaching Halep full-time, said the Romanian.
Darren Cahill has a long history in tennis, stretching back to the days where he used to play professionally back in the 80s and early 90s. After chronic knee injuries and more than ten operations kept him out of the game for a long period of time, the Australian decided to retire with a career high singles ranking of number 22 in the world and a career high doubles ranking of number 10. Since retiring from the tour, Cahill has coached a number of players on both the men's and women's side. Most notably, he was able to guide Lleyton Hewitt to the number one ranking, which made Hewitt the youngest man to ever reach the top of the game. After parting ways with Hewitt, Cahill coached Andre Agassi, whom he was also able to get to number one in the world, making Agassi the oldest man to ever reach the top of men's tennis in May of 2003. After Agassi hung up his racquet, the Australian coach joined the Adidas Development Program, where he's worked with a bunch of big names in our sport. Some of his alumni include Andy Murray, Ana Ivanovic, Fernando Verdasco, Daniela Hantuchova and Sorana Cirstea. With this program, he has also worked with numerous promising juniors around the world. In addition to coaching regularly, Cahill served as the Australian Davis Cup captain from 2007 to February of 2009.
With the help of Cahill, Halep returned to her career high ranking of number two in the world — which the Romanian has attributed to her Australian coach's positive demeanour. "We speak about how to play, technically and tactically," Halep said during the BNP Paribas WTA Finals Singapore presented by SC Global last week. "He's very positive, and that's why I believe more in myself now."
Looking ahead to 2016, Halep will hope that this small decision has big consequences, considering she is still searching for her maiden Grand Slam singles title. After making the semi finals of the U.S. Open, her best result at a major in more than 14 months, the Romanian will be looking to make major waves around the tennis circuit next season at both the majors, and the 2016 Summer Olympics in Rio.