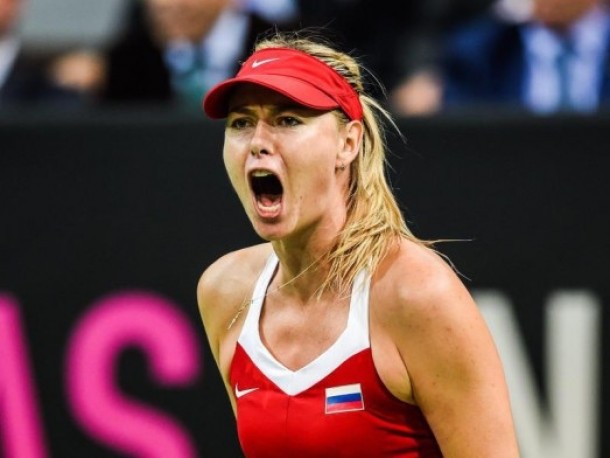 Saturday in a packed O2 Arena in Prague the second match of the Fed Cup World Group Final pitted the top-ranked Czech Republic team against fellow European women's tennis powerhouse Russia. The second match of the tie saw Russian number one Maria Sharapova take on Czech number three Karolina Pliskova in the fast indoor conditions of Prague.
Sharapova takes first set 6-3 breaking Pliskova serve twice
In order for the twenty-one year old Pliskova to have a shot at victory, she needed her serve, considered her biggest weapon, to fire on all cylinders against the Russian who is known for her strong return game. Unfortunately, the Czech player struggled with her first serve percentage, limiting the amount of free points she could win. After lengthy, tight opening games which went on serve Sharapova broke Pliskova to take a 4-2 lead, throwing in an unusual dropshot winner taking advantage of her opponents lack of mobility. Sharapova gave up this break immediately in a game consisting of three double faults, but was able to regroup and win the next two games to give Russia a 6-3 first set advantage in the rubber.
Fighting through service woes, Sharapova finished off the match 6-3 6-4
Early in the second set, it looked like Pliskova would get herself back into the match going up an early break with the Czech crowding roaring in support. Sharapova's performance on serve was less than stellar throughout, hitting nine double faults in total. While her service game was lacking, Sharapova played the important points wonderfully, breaking back with a blistering crosscourt backhand. In another pivotal game, Sharapova was able to save three break points to hold and go up 5-3, saving some of her best tennis for the moments she most needed it. Forced to serve out the match, Sharapova was able to produce one of her best service games to nab the victory 6-3, 6-4.
Maria Sharapova and Petra Kvitova to face-off in Sunday showdown
The two former grand slam champions will face off on Sunday in a match which should see both players gearing up to play their best tennis. Kvitova has an incredible record playing at home and will not want to lose such a high-profile match in front of her home crowd. Sharapova will want to keep her double faults at a minimum, not allowing the big-hitting lefty to gain any free points off the return.