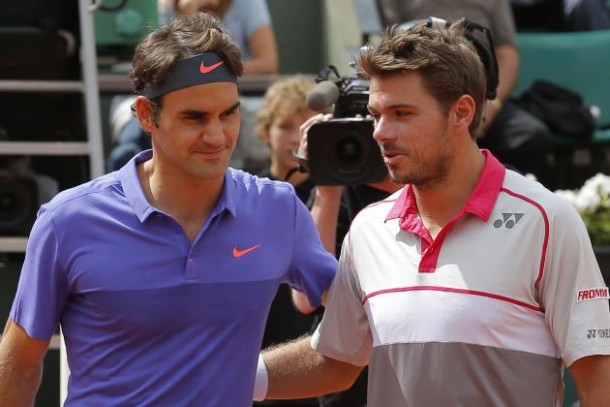 Roger Federer and Stan Wawrinka meet for the 22nd time with Federer still holding a huge 18-3 lead in the series. This is their first ATP World Tour Finals meeting since "Mirka Gate" at last year's Tour Finals where Wawrinka blew a late lead in the semifinals.
(3) Roger Federer - (4) Stan Wawrinka
It's been a big week so far for Federer with a perfect three wins from three matches. The highlight was breaking Novak Djokovic's 23 match win streak in the second round of Round Robin play. Federer took down the Serb 7-5, 6-2 and then followed it up with a highly entertaining three set win over Kei Nishikori to clinch the top spot in the Stan Smith group. For Federer getting to this stage of the Tour Finals is old hat. The third seed has played this year-end tournament 14 times and only failed to make the semifinals one time. He has played in the final nine times with six titles. Both are records at this event.
Stan Wawrinka may not have played his best tennis this week, but he did enough to get to the semifinals for the third straight year. Wawrinka bounced back from a questionable effort in losing his opener to Rafael Nadal to dominate David Ferrer 7-5, 6-2 and then muddled his way through a 7-6, 6-4 win over Andy Murray on Friday to book his semifinal spot. The Swiss fourth seed was far from his best against the Scott has he blew a 5-3 lead in the first before winning in a tie break and then nearly gave up a double break lead in the second set. Murray seemed far off his best form, while Wawrinka seemed to do just enough to enable himself to be in a winning position. His serve was wobbly with ten break chances for Murray, but to Stan's credit he did save eight of those and won when it counted.
Mirka Gate
A year removed from Mirka Gate, the events of last year's Tour Finals semifinal clash between Federer and Wawrinka is sure to be revisited plenty during the match. For those who may have forgotten, Wawrinka had Federer on the ropes in the semifinals with a 5-4 lead in the third set and a chance to serve out the match for a spot in the final. What transpired from there is better than any Hollywood script. The end result on the court was Wawrinka giving up the lead and Federer ultimately winning a final set tie break 8-6 to get to his ninth final at the ATP World Tour Finals.
The off-the-court result was a tension filled post-match meeting between good friends Federer and Wawrinka after the 2015 French Open Champion Wawrinka accused Federer's wife Mirka of calling him a "cry baby" as he tried to serve out the match. Chair umpire Cedric Mourier later confirmed the name calling incident with Wawrinka reportedly telling Mourier that Mirka did the same thing when Federer and Wawrinka met at Wimbledon in 2014.
The top two Swiss players were quick to downplay the incident later as they focused on playing in the Davis Cup final the week after the Tour Finals. Federer and Wawrinka would lead Switzerland to the Davis Cup title over France with both winning a singles rubber and teaming up to win the doubles rubber that swung the momentum of the final.
Fear The Beard
Last year it may have been all about Mirka, but this year it is all about Federer's unshaven look this week. It's a stark contrast from Federer's normal clean shaven look and it has definitely drawn plenty of comments. It was more of a talking point after his win over Nishikori than the match it seemed. When asked about how long he would be keeping the beard, Federer said "If it itches too much, I'll take it off. If my girls can't stand it, I'll take it off. If I look in the mirror and I don't like it, I'll take it off."
The beard is 3-0 this week, so it doesn't figure to be going anywhere soon.
2015 Battles
When the names Federer and Wwrinka appear on the schedule of play for an event, most fans get excited and expect an other worldly experience. Unfortunately, their 2015 matches have been mostly disappointing. They first met in Monte Carlo on clay where Federer dismissed Wawrinka routinely 6-4, 6-2. The rematch came at Roland Garros in the French Open quarterfinals. That match also disappointed for different reasons as Wawrinka blistered past Federer 6-4, 6-3, 7-6. That one was more of a potent display from Wawrinka than anything as Federer could not match his shot making. The last meeting came at the U.S. Open in a total clunker. Federer blasted Wawrinka off the court 6-4, 6-3, 6-1 in the semifinals. It may have been one of the most disappointing clashes in recent memory between the two.
Saturday's Tilt
Getting to the business at-hand of what to expect on the court tomorrow, it should be apparent early whether Wawrinka is going to be in it to win it. In his two match wins this week, his first set has been markedly better from the jump. Against Federer in his current vein of form, that would be the best case scenario for Wawrinka. A slow start could spell doom for the Swiss number two. The fourth seed has the quicker turnaround after playing Friday, while Federer has had a day of rest. That could yield a slight advantage to Federer depending on which way this match goes.
As far as tactics, there is nothing to hide on either side. Wawrinka knows Federer wants to be aggressive and short in rallies. Federer knows Wawrinka will try to punish him from the baseline with shot making from both the forehand and backhand side. Wawrinka's grip it and rip it approach has won him some of his biggest titles and figures to be his best shot on Saturday if he is fully engaged in trying to win. That in itself is sometimes a telling factor in Wawrinka matches. He has at-times this week looked disinterested and there is no telling if memories of last year's match will haunt or motivate him.
That being said, Federer has been the more consistent player of the two this week. His serve has been more stout and his ground strokes a bit more reliable. Wawrinka will need to rev up his game overall to have a shot at scoring the upset in this one. If he can attack the Federer backhand consistently and serve well, there is certainly a chance for Wawrinka to win. Consistency though has been more a Federer strong suit this week and I think in the end that will see him march on without the aid of Mirka this time..
Prediction: Federer wins in three sets.