Vasek Pospisil just cannot seem to find consistency. He has his flashes of brilliance, but for every one of those there is at least one or two poor results to balance it out. You would be hard pressed to look at Vasek Pospisil and not think he could be a top player. He just cannot seem to play at that level week in and week out. 2015 was no different. The Canadian number two had some really good results, including a tie for the best result by a Canadian in a grand slam this year, but a lot of subpar results too. And he fell just short of greatness once again in the doubles. There were lots of positives in 2015 for Pospisil, but not enough to outweigh the negatives.
Win/Loss Record
In singles, which he insists is his priority, Pospisil was barely above .500, going 25-23. He won the same number of matches in doubles, but lost nine fewer going 25-14. He failed to reach a final in singles, but reached four in doubles, winning two. While he finished 21st in the doubles rankings, he and partner Jack Sock finished ninth in the doubles race, one win short of qualifying for the ATP World Tour Finals. He was 39th in singles.
High Points
When a Canadian reached the quarter-finals of Wimbledon, you could be forgiven for assuming that it was Milos Raonic or Eugenie Bouchard. When one of this writer's friends asked me how Wimbledon was going and I responded by saying that Vasek Pospisil had reached the quarters-finals, his response was "who?". It is hard to blame my friend because Pospisil is not a household name. But his run at Wimbledon was incredible. He won three five-setters, coming back from two-sets-to-one down twice and two-set-to-love down once before giving Andy Murray a fight in the quarters. His run at Wimbledon proved what he is capable of. March was a good month for him in the doubles, when he and Jack Sock reached back-to-back doubles finals in Indian Wells and Miami, winning Indian Wells. The hot run saw him rise to number four in the world in doubles.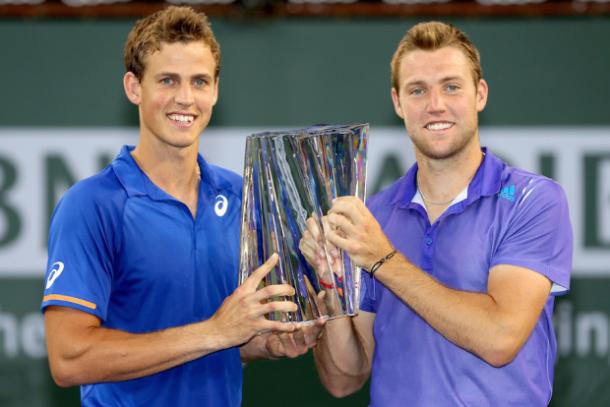 Pospisil (left) and Jack Sock (right) won Indian Wells in March. Photo: National Post
Low Points
However, like compatriot Milos Raonic, Pospisil had his problems with injuries. This year, it was poorly timed cramps. "Every time!" Pospisil yelled to the heavens during his first round loss at the US Open to Andreas Haider-Maurer of Austria. Pospisil was suffering from severe leg cramps that prevented him from moving. The frustration on his face summed up the match, and in a way his career, perfectly. Injuries were preventing him from playing his best tennis. He led that match two-set-to-one, but only won one game in the final two sets. In 2014, Jack Sock and Vasek Pospisil were the Cinderella story of Wimbledon, stunning the tennis world by claiming the title. But their title defence fell flat in 2015, losing 8-6 in the fifth set of the third round to Jamie Murray and John Peers.
Best Results
Pospisil's quarterfinal at Wimbledon was absolutely the high point of his singles season. Indian Wells was the biggest title of his doubles season, but he did well across the board. He added a second title of the year in Beijing, beating compatriot Daniel Nestor in the final. In their final sprint to qualify for the ATP World Tour Finals, "PopSock (Pospisil and Sock)" charged through the draw at the Paris Masters, beating the Bryan brothers in the quarterfinals, only to lose a heartbreaker in the final to third ranked Ivan Dodig and Marcelo Melo. However, their run to the final was a pretty good way to end the season.
Worst Results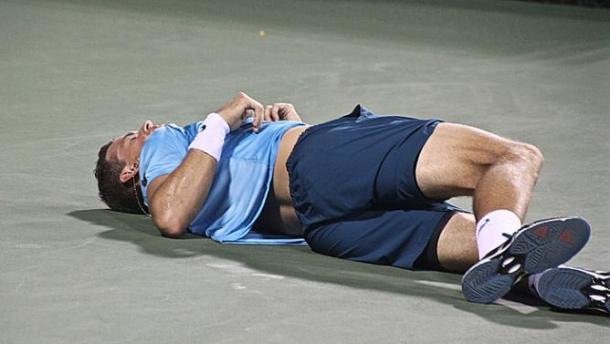 Pospisil on the ground during an attack of leg cramps at the US Open. Photo: Yahoo Sports
What seemed to sum up Vasek Pospisil's year, and arguably career so far, was him sitting in his chair at the US Open with the trainer attending to his legs while yelling at the sky in frustration. It summed up his singles year pretty well. Apart from Wimbledon, there was not much to talk about in terms of singles. But that US Open loss was so disappointing both because he lost to a player ranked well below him, but also because of how he lost and how the expectations were so high after Wimbledon. That being said, it will probably be a doubles loss in Shanghai that will haunt him. "PopSock" were stunned in the first round by the Aussie bad boys Nick Kyrgios and Bernard Tomic, neither of whom were ranked in the top 200 in doubles. Considering their form going into and after Shanghai, the Popsocks should have been able to put up a better result ad perhaps qualify for the ATP World Tour Finals. Instead, they fell just short which was a result of that brutal defeat.
Grade: B-
A solid year in doubles and still maybe one of his better singles years, but he managed nothing spectacular in either. Vasek Pospisil, at age 25, is still waiting to take that next step forward and he did not manage that this year. Part of the problem for Pospisil is that he wants to play both singles and doubles. He claims that singles is his priority, but he has better results in doubles. This choice may be limiting his results in both. While he can certainly succeed in both, and if he finds a way all the power to him, it is very challenging in the modern game. He still has some issues off the court to sort out, which he will hopefully do in 2016.