 Tennis, like any other sport, loves a bandwagon. Its affinity for the 'next big thing' and the 'new Federer' or 'new Djokovic' will never die a death. Without hype, there is no hope. And that will remain no Tennis, like any other sport, loves a bandwagon. Its affinity for the 'next big thing' and the 'new Federer' or 'new Djokovic' will never die a death. Without hype, there is no hope. And that will remain no matter the quality of the sport's youth products and whether the spotlight on a particular youngster is justified or not.
The Next Generation
Milos Raonic will know and understand such a scenario. His generation of players, including Kei Nishikori of Japan, although born on December 29, 1989, is as close to '90s born' as he can possibly get, Grigor Dimitrov, the Bulgarian once christened Baby Federer, Bernard Tomic whom Australia expected much of, and Poland's Jerzy Janowicz, whose random runs to the 2012 Paris Masters final and 2013 Wimbledon semifinals appear more flash in the pan than a permanent arrival as a tennis force, have yet to win even a Masters 1000 and there is only one Grand Slam final appearance from them combined up to now- Nishikori at the 2014 US Open, defeating Novak Djokovic en route (also the only time one of this early 90s born generation has defeated one of the Big Three of Djokovic, Roger Federer or Rafael Nadal in a Slam tournament) which came just after Raonic himself and Dimitrov had reached the Wimbledon semifinals. Despite them not being teenagers or even under-21s anymore, it looked like something of a belated mini-breakthrough for this group of players, albeit a couple of years after one was expected.
Nishikori's Breakthrough
However since Nishikori's US Open run, the group has stalled and in some cases nose dived. Dimitrov suffered a miserable 2015 and tumbled down the rankings, his struggles culminating in a third-round exit from Wimbledon to Richard Gasquet, a solid pro from the generation prior to Dimitrov's own. A disappointing defense of semifinal points for the Bulgarian meant that he entered this year's Australian Open as the 27th seed, drew Federer in round three and abruptly exited. A ray of hope for Maria Sharapova's former beau however, is that his new coach Franco Devin, the Argentine former pro, has achieved big success in Grand Slams with both Juan Martin del Potro and Gaston Gaudio in the not-too-distant past, so perhaps he could be the man to turn Dimitrov's fortunes around given time.
Nishikori himself has had his momentum halted, he lost all of his final points from Flushing Meadows 2014 as Benoit Paire turfed him out in round one in New York a few months ago. Although he generally remained consistent in main tour events, this has culminated in him becoming more of a Tomas Berdych or David Ferrer type with week in week out solidity against those he should beat, but hitting a brick wall against the natural elite at the top. Djokovic himself has slayed the Japanese samurai in every meeting since he lost that 2014 US Open semifinal, for example.
Bernard Tomic
Tomic, with the help of Tony Roche, and his firebrand father taking more of a back seat from the public eye, has at least secured his career high ranking and is eyeing a more realistic goal of a top 10 place after shouting from the rooftops a few years back. However, was a little more expected of him since his junior days? If you add Andy Murray to the Big Three and class it as the Big Four, Tomic's head-to-head record against those four guys reads won 0, lost 15, with only three sets obtained from those matches. After his defeat to Murray in the fourth round in Melbourne on Monday, he suggested he is playing top five tennis at the moment, but the results suggest he may be exaggerating a little too much.
Janowicz, meanwhile, remains title less on the ATP tour. Who would have thought that after his runs in Bercy and SW19? While his playing style is a modicum of hit-and-miss inconsistency, players of that ilk will often have ups and downs and maybe another out of the blue run at a prominent tournament is due for him sometime soon. Again though, is he likely to win big? It could be that the Paris final he lost to Ferrer, who had not won a Masters himself going into that encounter, may well have been his best and only chance to put a notable title on the board.
The Pride of Canada
So this leaves Raonic. Unlike the other aforementioned players, he has a monumental match-winning weapon- the serve. It may turn off some of the sport's purists, it may appeal to those who loved Pete Sampras and Goran Ivanisevic among others. But with it, it gives the Canadian who moved from Montenegro at a young age, hope. Since the turn of the year, he is unbeaten having straight setted Federer in the Brisbane final and now sits in the semis with Andy Murray awaiting. Under new coach Carlos Moya- whose style of play when on tour couldn't be more contrasting to Milos's, the forehand and net play looks better than it ever has. If those facets of his game are in working order, Milos Raonic suddenly becomes a huge danger to those on the tennis throne. The last man to have a lethal serve and a bit more behind it was Andy Roddick, and he became world #1 and US Open champion, and very nearly Wimbledon champion.
Breaking serve has been more common in the Raonic repertoire, too. He hammered Viktor Troicki 6-2, 6-3, 6-4 in the third round, breaking four times, and he won the required three of five sets against the Roland Garros champion Stan Wawrinka by a break in the round after that. Then, in his quarter-final win earlier today against Gael Monfils, a four-set success with again, all three won sets secured by a break. A Raonic capable of breaking his opponent becomes a potential monster even for the likes of Djokovic, who has had problems beating the likes of John Isner and Ivo Karlovic whom lack the firepower off the forehand that Raonic possesses.
Justin Trudeau, the new Canadian PM, has been backing Milos publicly on Twitter, but the caliber of opposition becomes far tougher now- Andy Murray awaits in the semifinals. The head-to-head between the two is 3-3, and a promising sign is that Raonic has defeated the Scot in the past when playing nowhere near as well as his current form implies. Yet on the flip side the one Grand Slam encounter was a straight sets dismantling by Murray en route to the Brit's 2012 US Open success. Whilst this is a huge opportunity for Raonic alone rather than make or break, it's perhaps a make or break moment for his generation, whom some critics have christened the 'lost boys'.
This is due to what appears to be a break in the long-standing tennis chain of new generations usurping the old ones. We saw Sampras lead the charge that ended the Lendl, Becker, Edberg and Wilander era, and also witnessed the New Balls generation phase out Pete and his posse. Not to mention Nadal, Djokovic and Murray power to the upper echelons in the game in 2007 as most of the New Balls themselves bar Federer and on occasion Roddick, began to wilt.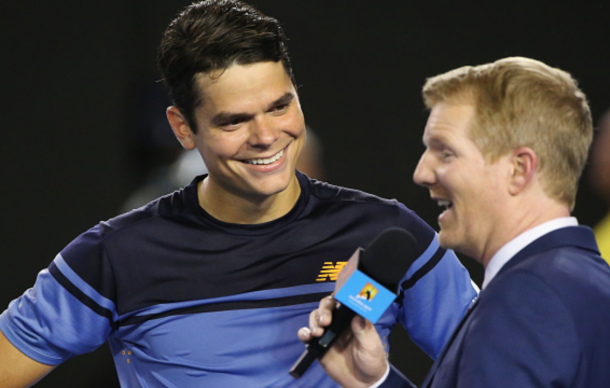 Raonic and his age contemporaries are the first in modern tennis not to have reached the glass ceiling and started toppling the elite whom were in place before them. And it's not just the so-called big four- the makeweights in the top eight like Berdych and Ferrer continue to qualify comfortably for the World Tour Finals ahead of the likes of Dimitrov despite the Czech and Spaniard struggling to lay a finger on the very top dogs.
So, for the sake of the traditional tennis cycle, and those with soft spots for this particular generation, Raonic may well have their future in his hands alongside that of his own. A win over Murray and a Slam final berth may yet give hope to his age compatriots. With the lack of players breaking through properly at the top- only Wawrinka could be classed as a 'glass ceiling smasher' since this decade commenced, the sport could perhaps do with Milos launching a full-blown assault on his own glass ceiling on Friday and maybe even smashing it to pieces after that.