The ABN AMRO World Tennis Tournament has served as a battle ground for the biggest names in men's tennis for almost half a century. Before the 45th edition kicks off next week, we take a look back at one of the strangest incidents in professional tennis.
The Incident
The year was 1984, Ivan Lendl and Jimmy Connors, the top two seeds came into the tournament on a hot streak. Combined they lost only three of the 32 matches they contested in. Connors was looking to win his third Rotterdam title from four attempts. Lendl on the other hand was still searching for his first title of the season. Two runner-up results to John McEnroe had cost the Czech his number one ranking heading into the tournament.
Naturally, both players made their way to the final.
7000 spectators filled the Ahoy Arena that Sunday to see the two face off. Very few would have predicted the scoreboard read Lendl up 6-0 and a service break, but no one could have predicted what the scoreboard would say next.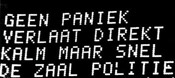 ​The message translates English "Do not panic. (vacate the stadium) Immediately, but quickly." The police ordered the whole venue to evacuate after receiving an anonymous phone call. Claiming to be part of an anti-capitalism movement, the caller said a bomb was planted near center court.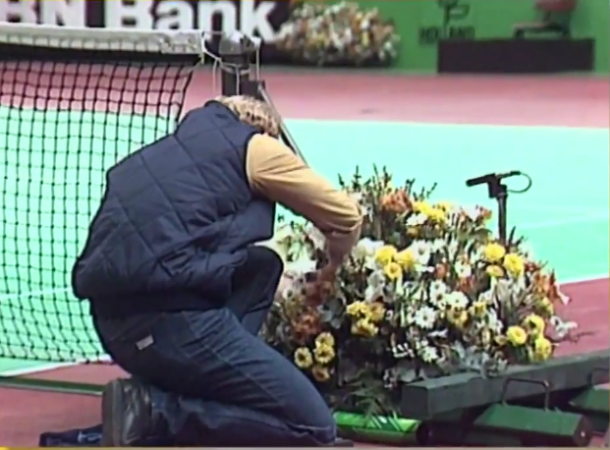 A search showed no indication of any explosives and spectators were brought back to see the rest of the match. However, another announcement was made telling the spectators the match wouldn't be played out.
Apparently, both players went back to their hotel rooms and didn't want to come back. According to tournament director Wim Buitendijk, he couldn't persuade Lendl to come back. He thinks Connors might have been persuaded, but ''Lendl was not prepared to take any risks.''
Peter Fleming, John McEnroe's old doubles partner, recalls a different story.
"If you ask Lendl, even to this day, he still thinks someone from Jimmy's team made the phone call."
Lendl requested that the $50,000 prize money for the winner, and the $25,000 runner-up prize be kept in a vault until the match is completed. The organizers honored Lendl's request.
In the 30+ years since that day, a winner has yet to be determined.