Former champion Rafael Nadal has confirmed he will play the Aegon Championships in June.
Previous Years
The current world number five has played the prestigious Queens Club on six occasions, with the 2008 title being his only success. He marked that year by winning the French Open and Wimbledon. Since 2008, Nadal has only played three times. Last year, he decided to partake in the tournament after a four-year absence, but all did not go according to plan as he fell at the first hurdle to Ukrainian Alexandr Dolgopolov.
"I love playing at The Queen's Club and I am very happy that I will be back this year, "I will never forget winning the title in 2008, it was a special moment, and going on to win my first Wimbledon. It is a very important tournament, very well organized and on some of the best grass courts in the world"
"Holding that trophy again would be amazing although I am well aware of the difficulties because the tournament always has so many good players."
"With Wimbledon just one week after, it is also important to be playing at Queen's because it offers the perfect conditions and allows me to be with the British fans who always have given me great support."
Andy Murray who has been a regular at the club for many years will also be joining the Spaniard after winning the title the past two years.
Stephen Farrow, Tournament Director added "For Rafael Nadal to join our field of players so early is a huge boost to the Aegon Championships. He is one of greatest and most popular players that has ever picked up a tennis racket."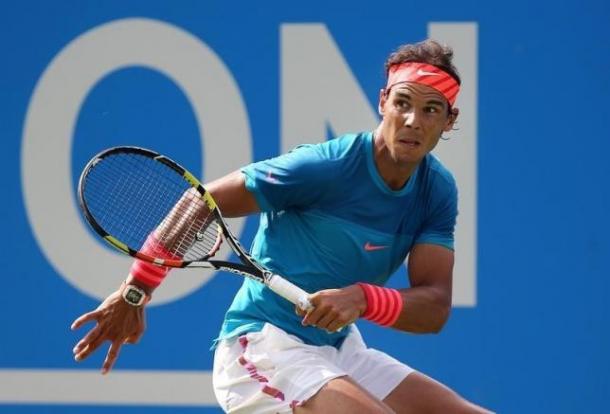 Aegon Championships history
Queens Club is an annual tournament for ATP players, held on grass in West Kensington. Queens is the oldest tournament tennis has to offer, and it serves as a warm-up for Wimbledon. Andy Roddick, Lleyton Hewitt and Andy Murray have all won the trophy four times. Andy Roddick called the tournament "arguably the best in the world".
During the 2004 singles tournament, Andy Roddick set the then world record for the fastest serve at 153 MPH (246.2 km/h) during a straight sets victory over Paradorn Srichaphan.
Eight men now hold four titles each, which is a record. They are: Major Ritchie, Anthony Wilding, Roy Emerson, John McEnroe, Boris Becker, Lleyton Hewitt, Andy Roddick and Andy Murray. Murray will be looking to set a new record of five titles when he enters the field in June.
The tournament will take place from June 13-19.