Former Grand Slam finalist Dominika Cibulkova defeated Caroline Wozniacki 6-4, 7-5 to reach the quarterfinals at the St. Petersburg Ladies Trophy. It was Wozniacki's first match in St. Petersburg. The loss for the Dane is her second straight first match loss, after losing in the first round at the Australian Open.
Cibulkova Gets Crucial Break In First Set
Both players held serve for the first four games of the match to get the set to 2-2. In the fifth game, Cibulkova gained a crucial break to go up 3-2. Both players held serve from there and in the 10th game, Cibulkova served the set out 6-4.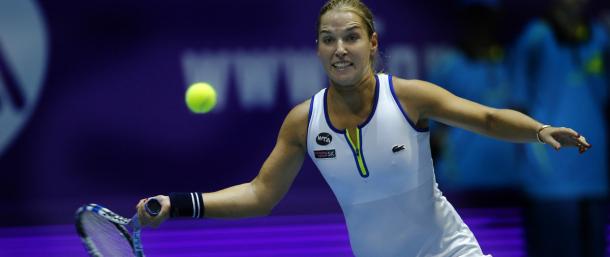 Cibulkova Seals The Deal In The Second
Both Wozniacki and Cibulkova played very high level tennis at the beginning of the second set, with both players holding serve through the first six games. In the seventh game, Cibulkova broke the Dane to go up 4-3, putting the former Aussie Open finalist in a terrific position to win the match. Cibulkova held serve to go up 5-3, inching ever closer to a spot in the quarterfinals. Wozniacki held serve to stay in the match, putting the pressure on Cibulkova to serve for the match at 5-4. Wozniacki then played a brilliant game to gain her first break of the match, keeping herself alive in the encounter. At 5-5, Cibulkova kept pounding away at Wozniacki and eventually broke the Dane to go up 6-5. That gave her another chance to serve for the match. This time, Cibulkova made no mistakes and closed it out at 6-4, 7-5.
Cibulkova Behind The Numbers
Cibulkova put on a brilliant serving display, winning 67 percent of both first and second serve points. Cibulkova faced only two break points throughout the match and was only broken once. The Slovak's brilliant serving performance was definitely the key to her win over Wozniacki today.
Cibulkova Discusses The Match
"The tactic was always the same against Caroline: be as aggressive as I can and go for my shots. She gets back so many balls and is waiting for your mistake; if you play shorter, she's going for it. I had to be aggressive every single point, no matter the score," said Cibulkova following the match. "That's what I did and that's why I won."
When asked about how well she knew Wozniacki's game after 12 meetings, Cibulkova said, "We know each other really well. You're not going to change anything just for this match. It's always about the way you play on a given day. Caroline is mostly a defensive player, I am more of an offensive type. It's just about who of us has a better day. Today I was playing really well."
Wozniacki Discusses The Second Round Loss
"I think she served pretty well and she was playing good rallies on her first serve and obviously the return is one of my strong sides. Though I could return better than today," Wozniacki said on the loss.
Wozniacki continued by saying that she still thought she could get her way back into the match somehow, "Yeah, I always believe in that. You know I was fighting to the last point. The whole time I believed I may come back," said the Dane.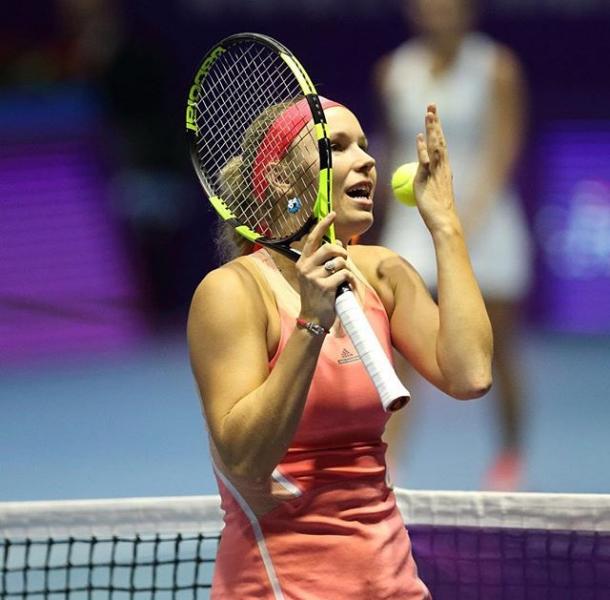 Next For Cibulkova
Up next for the Slovak is Russian rising star Daria Kasatkina. Kasatkina is ranked 63rd and has never played Cibulkova.
When asked about her next match, Cibulkova said, "We're in the quarterfinals of a big tournament. Do every opponent at this stage is dangerous. I'm getting used to playing young players. I saw 1-2 games of her match against Flipkens, but I don't know much about her. It's gonna be a good job for my coach to find some more information about her game and to talk about it with me before the match."
"I never saw her play, so it's going to be another tough round. I'm just going to be focused and ready, and I'm just going to hope for another match like this."