Coming into the week, no one expected much from Taylor Fritz. After all, he was only playing in his third tour event. Ranked 937th in the world one year ago, Fritz's ranking climbed all the way up to 145th as he received a wild card into the Memphis Open. He proceeded to defeat Michael Mmoh, Steve Johnson, Benjamin Becker and Ricardas Berankis on his way to the final before losing the championship match to Kei Nishikori 6-4, 6-4. After the title match, the youngest ATP Tour finalist since Nishikori in 2008 sat down for an interview with ESPN's Matt Wilansky:
What were your expectations heading into Memphis?
Fritz: "I really just wanted to win a match, get my first victory. After that first win, I felt the pressure was off me, so I was able to play more freely and make it to the final. Didn't go my way [Sunday], but I am happy with how the week went and how my game came together".
Considering how fast you have progressed, what are your immediate goals moving forward?
Fritz: "I'm just focused on breaking into the top 100. I want to have good enough results to make sure I stay there. I don't want to make predictions beyond that right now. Hopefully, I can keep improving and keep my ranking as high as I can. It was only one tournament. I am happy with my result, but I am going to take it one step at a time from here."
How much do the new crop of top Americans push each other?
Fritz: "Yeah, we push each other a lot. If one of us does something well, the others see that. If one of us can do it, we think, 'Why not the rest of us?' We push each other to achieve as great results as we can and give each other confidence that we can be successful on tour."
What kind of pressure does the long U.S. men's title drought in Grand Slams put on you?
Fritz: "No, it doesn't really put any pressure on me. I am not playing for everyone who wants me to win and end this drought. I am only playing for myself, and it's my own expectations that I am most critical of. I always say, I do this for myself; I want to improve for myself. The only person I feel I can let down is myself."
What veteran or former players do you consult and what's their advice?
Fritz: "I talk to James Blake and Mardy Fish quite a bit. Mardy worked with me a good amount during the offseason. We agree on a lot of the things I need to work on and what we're trying to achieve moving forward."
What part of your game do you think you need to improve on most?
Fritz: "First priority is to work really hard in the gym and improve my movement. This will help my transition game and get to the net. I also want to improve my serve a lot. I want to get it to the point where I am holding all the time -- to an elite level that will take pressure off the rest of my game."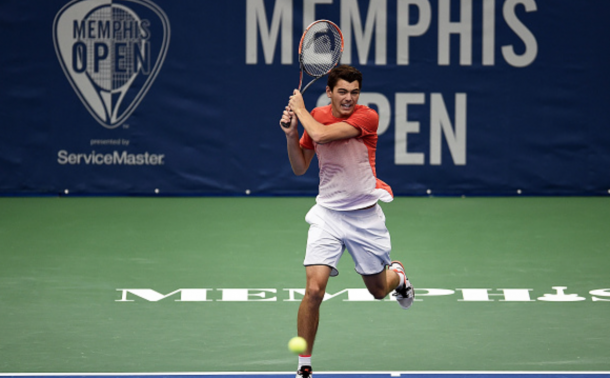 Fritz has a good head on his shoulders. His stated goal of getting into the top 100 is going to quickly become a reality as he enters this week 103rd in the rankings. He'll surely get wild cards into upcoming events to show his immense talent. The 18-year-old Fritz already was the youngest American since Michael Chang won Wembley in 1989 at the age of 17 to reach an ATP Tour final and was trying to join Chang as a winner in just his third career ATP event.
An American teen hadn't reached an ATP final since Andy Roddick in 2002 in Montreal and a teen hadn't won on tour since Marin Cilic in New Haven in 2008. Powerfully built at 6'4", Fritz already has weapons: a big serve and groundstrokes. He also has the demeanor to succeed as evidenced by his close wins over Johnson, Becker and Berankis, also showing a mental toughness not often seen in 18 year-olds.
The key for his immediate future is managing expectations. If he can handle the pressure that comes with his newfound stardom (he reached the finals of a tour event on his third try. By comparison, Roger Federer and Novak Djokovic reached their first tour final in their 21st and 24th event, respectively), he should flourish in the coming years. Support is key and Fritz has David Nainkin as his coach. Nainkin has previously worked with Mardy Fish, Sam Querrey, Sloane Stephens in his role with the United States Tennis Association and was also the personal coach of former top 10 player Wayne Ferreira.
Having Nainkin by his side shows Fritz is eager to learn as does his consultation with Fish and Blake. With all of these qualities and for a country that is starving for it's next great champion, Fritz has proved he is ready to break out of the young generation and become America's next superstar.