Petra Kvitova parted company with long-term coach David Kotyza at the end of last month. The pair lasted seven years together and won two Wimbledon Grand Slam titles.
The number four from Czech is flying solo this week in Dubai and has sighted the reason for splitting with Kotyza is because her game had stopped improving. Now without a coach, the Czech is learning more about herself.
Kvitova and Kotyza partnership
Kvitova first started working with Kotyza in 2008 when she was just 18 years of age. They announced they were ending things earlier this month, which came as a shock to the tennis world and the 25-year-old does not have any sights set on hiring a coach anytime soon.
The Czech is currently in Dubai and is keen on enjoying some peace and quiet, where she is aiming to win a second title where she captured her first with Kotyza.
Kvitova told Dubai reporters, "It was a long relationship and I just felt I needed some new input into my game and that's what I did," I split with David but we are still pretty close. It's not like we're not talking with each other but of course he's not my coach anymore. Now I don't have any coach, I'm by myself and I'm kind of enjoying this thing and I hope that those kind of things will help my game. I just feel this step is important for me to find out what I want, what I need to do, and how I can play well again so I think it's a good word: evolution. I didn't feel that I'm improving so that is why I made this change (to split from coach) and I hope it is going to help me. I think that I can play better than I am playing right now. I think physically I can be better again. I think it's many things in my game that I can reach."
Kvitova, who is currently on her own, is also looking for a hitting partner for the upcoming Masters 1000 in Indian Wells and Miami.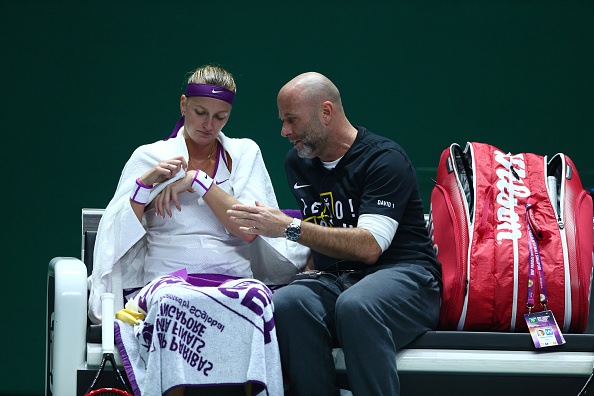 2016 season
The two-time Wimbledon champion has only played four competitive matches this year on tour, having fallen sick at the start of the year.
In her first match, she retired in Shenzhen and fell in the second round to Daria Gavrilova at the Australian Open. She also lost both her Fed Cup matches to Romania but insists she was happy with her form during her three set loss to Simona Halep.
The Czech ace knows she is lacking consistency in terms of making deep runs in every tournament throughout the season and believes it is an area she can definitely improve upon.
She will now play Madison Brengle after she defeated Russia's Ekaterina Makarova.