After 11 months sidelined with wrist problems, Juan Martin Del Potro returned to action on Tuesday. The Argentine blasted Denis Kudla 6-1, 6-4 at the Delray Beach Open to record his first win since last January.
Del Potro Comes Out Firing On All Cylinders
After missing nearly a year of action, there was no telling what sort of form Juan Martin Del Potro would find upon his return to the court on Tuesday. As he settled in against American Denis Kudla, it was apparent early that Del Potro was going to have a good night. The Argentine held at-love to open the match and then quickly dug into Kudla's serve for a break. Within ten minutes, Del Potro was out to a dream start at 3-0. After an exchange of service holds pushed the first set score line to 4-1, Del Potro again was all over the Kudla serve. The Argentina was in position quickly to take another break as he secured the first three points of the sixth game. The American would bring it all the way back to deuce as he fended off three break points. Del Potro would not be wasteful again when he saw a fourth break point as he converted and then served out the first set at 6-1.
Del Potro was efficient with his serve, winning 16 of 20 points. That included 10 of 11 on first serve. He was all over Kudla's service games, winning 10 of the 18 points put into play off Kudla's racquet. The set would be done in just 24 minutes.
Del Potro Breaks Early in Second Set, Rolls to Victory
If there was any worry about Del Potro getting complacent after a nearly perfect opening set, that was quickly put to rest in game one of the second set. Del Potro saw a break point in the opening game and again made good on it as he worked to a 1-0 lead. He would consolidate that break to 2-0 and then roll through the remainder of the set with nothing but service holds. For the set, Del Potro won 20 of 26 service points as he again was nearly flawless on first serves. He won 14 of 15 points there. He did not face a single break point in the match.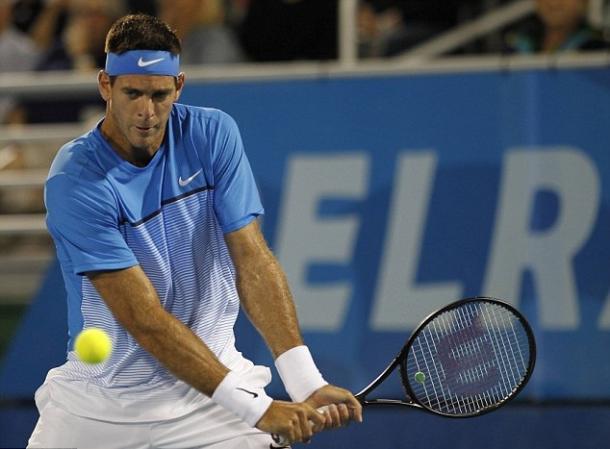 Happy to Win, Eager For More
Following the match, Del Potro was excited with his performance, but said the night started out with plenty of nerve, saying "I was nervous before the match and excited to see how my forehands and serves were going to be on court. I'm still working and improving to have a very good backhand to compete in this level. For me it's like winning a very important match in my career."
Even though it is just a single victory, Del Potro says he feels like he is on top of the world, but ready for the challenges that still lie ahead, "I think winning a match after 11 months is the gift of the tournament for me," said the Argentine. "I'm so excited to keep working because I'm feeling if I do well and if I stay healthy my tennis will be behind me and maybe I can be dangerous one day again."
Next Match
Del Potro will get a day of rest before playing his second match this week. He will see Aussie John Patrick Smith in the second round. Smith stunned defending champion and third seed Ivo Karlovic in the opening round on Monday.