Juan Martin del Potro made in three straight victories to open his 2016 campaign with a 6-2, 6-3 victory over fifth seeded Jeremy Chardy of France at the Delray Beach Open. Del Potro returned to the ATP World Tour on Tuesday and in his first match in over 11 months, he defeated Denis Kudla in straight sets. Coming off of another season dealing with his habitual wrist issues, the Argentine continued his great form on a windy Friday evening as he moves into the semifinals. His backhand continued to improve, a key to his success moving forward.
As similar to most of the tournament, the windy conditions continued to swirl on Friday night in Delray Beach. This was a real issue for Chardy, who struggled at time with his shots. Del Potro, currently sitting at a ranking of 1041 in the world due to his long absence from the tour, was very successful serving, winning 73 percent of his first serve points, as compared to only 61 percent for Chardy. In his career, del Potro, the former US Open champion, has never lost a set in Delray Beach. He'll look to keep that streak going into his semifinal match.
Del Potro Uses Powerful Forehand To Seal First Set
Early on, both players stuck to their respective game-plans. Del Potro focused in hitting forehands, as his backhand is still weak as he recovers from hid wrist surgeries. Chardy knew he needed to go to the Argentine's backhand and come to the net. Early on, both of these worked. In the sixth game of the set, however, del Potro finally was able to make a dent in the Frenchman's service game, breaking the fifth seed to go up 4-2.
With a strong backhand return, clocking-in at 85 MPH, Chardy netted the return, gifting the Argentine the break. Del Potro has been easing his backhand back to form after his many wrist surgeries and he had success with the shot all night long. Moving forward, this is a very positive trend for the Argentine. The former US Open champion easily consolidated the break to go up 5-2. Despite starting off strong, Chardy fell into a funk after being broken, particular on his forehand. In that eight game, on his fourth set point opportunity, with another great backhand, the former world number four took the first set, 6-2.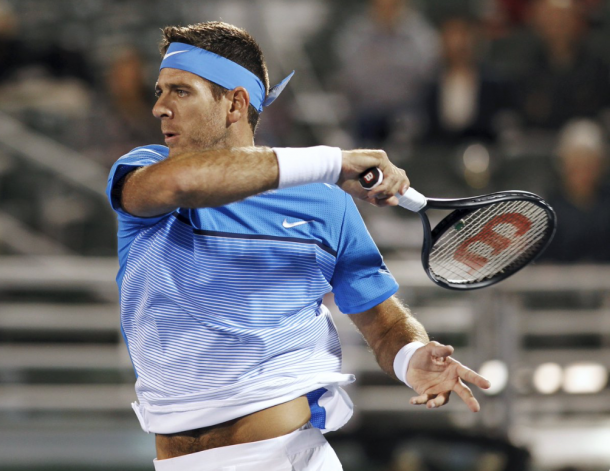 Argentine Powers Into Semifinals
The trends of the first set carried directly into the second set. Del Potro held comfortably and immediately broke the French number six to go up 2-0. Chardy continued to have incredible issues with his shots. The fifth seed was out-of-sorts as he simply couldn't find the court. However, as every indicator pointed to del Potro running away with the match, Chardy broke back at love to get back on serve. Just when it seemed that this match would follow a particular path, once again, the tide turned. The fifth seed again lost his rhythm again, and after a 22-shot rally, the Argentine broke back, taking a 3-1 lead. After three straight games of the server being broken, the 27-year-old Argentine broke that streak, consolidating the break at go up four games to one.
In the seventh game, as the winds picked back up, so did Chardy's level of play. Del Potro fought off three break points before holding to get within one game of the semis. Chardy's level of play was normal once again and fought off one match point before holding, getting to 5-3. At 30-all in the ninth game, del Potro served up his fifth ace of the match to set up his second match point. Chardy hit the ensuing forehand return long, sending del Potro into the semifinals.
Del Potro To Face Sam Querrey In Semifinals
Del Potro will face the 28-year-old world number 61 in the semifinals. Querrey defeated fellow American Tim Smyczek in a marathon quarterfinal, 6-7(1), 7-6(4), 6-4. Del Potro came through in one hour and 20 minutes, while Querrey's match lasted two hours and 30 minutes. His fitness will be a key in this semifinal match.