Earlier this week in Marseille, Nick Kyrgios talked about his playing schedule this year. The Australian said that he wants to play a lighter schedule this season. The reason for Kyrgios wanting a lighter schedule this season is that he wants to spend time at home and wants to be at his best for the big events rather than trying to pick up points in consecutive tournaments each week.
Kyrgios' Hectic 2015
The former Wimbledon quarterfinalist was not too busy to start the season last year, only playing in three events in the first three months. However, once the clay season hit, the world number 41 became extremely busy. After missing out on two Masters 1000s, Miami and Monte Carlo, the Aussie needed a run of tournaments to continue his move up the ranks.
Barcelona was his first destination in a stretch where he played six tournaments in six weeks. The following week saw Kyrgios reach his first tour-level final at the Millennium Estoril Open, losing to Richard Gasquet. The 20-year-old picked up a signature win at the Mutua Madrid Open over Roger Federer, before he limped to disappointing results in Rome and Nice right before the French Open. The draw at Roland Garros wasn't too kind as he drew Andy Murray in the third round, and the Brit dispatched him with ease.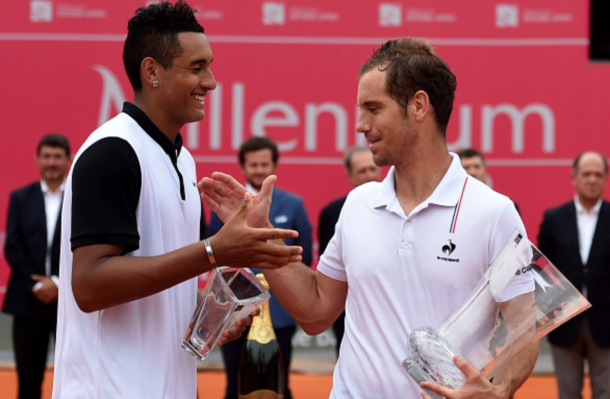 The final part of Kyrgios' 2015 schedule also saw a long stretch of tournaments for one of tennis' next stars. The Aussie played four tournaments in a five week span to end his season, beginning in Malaysia. His semifinal run at the Malaysian Open was followed by a quarterfinals appearance at the Rakuten Japan Open. He finished off his season with back-to-back losses, losing to Kei Nishikori in Shanghai and then to Daniel Brands in Valencia.
Light Schedule So Far For Kyrgios
So far this season, the Aussie has kept his schedule light and simple just like last year. Unlike last year however, the 20-year-old is playing in a tournament in February, as he is a currently a finalist at the Open 13 Provence where he will face Marin Cilic in the final. The Australian number one has only played two other events this year, the Hopman Cup and the Australian Open. Kyrgios and his partner, Daria Gavrilova, won the Hopman Cup this year for Australia, playing as Australia Green.