The Abierto Mexicano Telcel, one of 13 ATP World Tour 500 series tournaments, switched to blue hard courts in 2014 after 20 years on clay. In 2015, David Ferrer became the first player to win the tournament both on clay and hard courts
ATP Acapulco Tournament Preview
David Ferrer is back as this year's top seed. Kei Nishikori is seeded second, followed by Marin Cilic and Dominic Thiem to round out the top four. Seeds five through eight feature Bernard Tomic, Ivo Karlovic, 2014 Acapulco Champion Grigor Dimitrov and Jeremy Chardy. The winner takes home 500 rankings points and $321,625.
There have not been a ton of early upsets in Acapulco the last two years. In 2015, all seeds passed their first round tests and just two seeds fell in their first matches in 2014. Seeds have made up a large part of the back-end of the Abierto Mexicano Telcel in the two years on hard courts. There have been at least five seeds each year in the quarterfinals and three of the four semifinalists in both years have been seeds. The finals in both 2014 and 2015 involved seeded players. Here is a look at this week's seed report.
Seed Report
1. David Ferrer
The Spaniard is 7-1 in Acapulco since the surface switch to hard courts. Last year, he beat Nishikori in the final in straight sets.
2. Kei Nishikori
Nishikori took well to the hard courts in Acapulco last year with a finals run. It was his first visit to Mexico since 2012, when the tournament was still on clay. Nishikori comes in hot with wins in eight of his last nine matches.
3. Marin Cilic
The Croat will have to shake off a finals loss in Marseille on Sunday to Nick Kyrgios. This will be a tricky situation for Cilic as he has never played Acapulco and faces travel from overseas.
4. Dominic Thiem
Thiem's eight match win streak came to an unexpected end in the Rio semifinals to Guido Pella in straight sets. The Austrian now must switch surfaces. He played qualifying in 2014 in Acapulco, winning one and losing one. Thiem is 5-3 on hard courts this season.
5. Bernard Tomic
The Aussie made the quarterfinals here last year, losing to Ferrer in three sets. He comes in with a lack of form though as he lost his first hard court match outside of Australia at Delray Beach last week. Tomic dropped his opener to Rajeev Ram and in a twist, he'll face Ram again in round one in Mexico.
6. Ivo Karlovic
Karlovic heads to Acapulco with an 0-3 mark on the season. He has taken to these courts since the switch to the hard surface with successive quarterfinal runs in 2014 an 2015. Karlovic will hoping that kind of form will be found to help him get his first win of 2016.
7. Grigor Dimitrov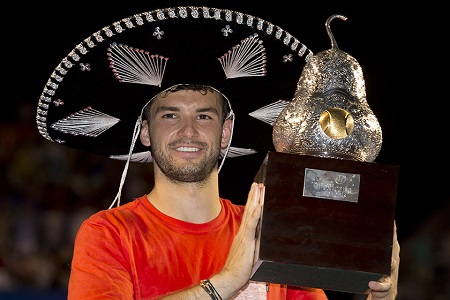 Dimitrov is 6-1 in Acapulco in its two years on hard courts. He won the title in 2014, but crashed out in round two last year. He comes with good form after a semifinal showing at Delray Beach, but the loss to Ram was a disappointing end.
8. Jeremy Chardy
The Frenchman has played two matches in Acapulco since the hard court switch with a 1-1 mark. Both came in 2014. He has made the quarterfinals of three out of the four hard court tournaments he has entered so far this season.
Quarters Preview
First Quarter: David Ferrer (1)
Ferrer has a fairly difficult draw. He opens against John Millman. The Aussie has fallen off a bit from his good early season form with losses in two of his last three matches since hitting North America. That could help Ferrer get away to a winning start. The winner takes on either Alexandr Dolgopolov or Steve Johnson. That will be one of the highlight first round matches. Johnson won their only previous match which came last fall in Vienna.
The bottom of the quarter seeds 6th seed Ivo Karlovic open with Aljaz Bedene. Both players are on three match losing skids, so this is a big match for one of them to get. The winner advance to play either wild card Luis Patino or Robin Haase. Patino is a native Mexican who will be playing his first ATP-level main draw match. Haase has lost four of his last five overall, so Patino might feel as if he has a chance.
It would not be a huge shock to see the seeds struggle in this draw. Ferrer has a tough road early and Karlovic has had trouble securing wins. If Ferrer falls early, either Johnson or Dolgopolov could be a potential dark horse.
Second Quarter: Marin Cilic (3)
Cilic's travel from France will be a concern, as well as his first round draw. He gets Ryan Harrison to open. Not that Harrison has beaten anyone of note in years, but he has qualifying under his belt. That served the American well here last year with a semifinal run. Should Cilic battle through, he will face either qualifier Tommy Paul or Illya Marchenko. The bottom of the draw sees Tomic as the 5th seed. He gets the replay against Rajeev Ram a week after losing to him at Delray Beach. It's difficult to beat the same player in successive weeks, plus Ram will be disappointed of the title loss in that tournament. The survivor plays either wild card Tigre Hank or Adrian Mannarino.
The winner between Tomic and Ram could have a leg up in this quarter with Cilic having to travel and do the quick turnaround from losing the title match in Marseille. This quarter looks like it could go several different ways, but look to the bottom where Tomic, Ram or Mannarino might be the one to get through.
Third Quarter: Dominic Thiem (4)
This looks like an ultra competitive quarter with Thiem as the lead seed. He opens against Damir Dzumhur. Thiem has been in better form, but has also played a lot of tennis over the last two weeks. Still, his game should suit the surface a bit better. An upset won't be a total shock though. The first round match opposite of them is Sam Groth against Dmitry Tursunov. Tursunov hasn't won a main draw ATP match since June 2014. Groth has struggled too, so this is a toss up.
The bottom of the quarter is led by 7th seed Grigor Dimitrov. The Bulgarian starts with Denis Kudla. Kudla is nowhere near the form that saw him get some notoriety last summer, so Dimitrov should expect a win. The winner gets Gilles Muller or Donald Young in round two. Although outdoor conditions are sometimes trickier for Muller, his form trumps Young. Muller could certainly give Dimitrov a run, so this quarter is hard to call. Give Dimitrov a small edge as he has played well here in the past.
Fourth Quarter: Kei Nishikori (2)
Nishikori gets a nice opener against Thiemo de Bakker, which should afford him a winning start. He could face Sam Querrey again in the second round. Nishikori and Querrey played a tough three set match in Memphis earlier this month. Querrey opens against Dudi Sela and comes in fresh off winning the title at Delray Beach. Sela does have a few wins over the American, so upset watch will be in effect.
The other half of the quarter sees 8th seed Jeremy Chardy against American Taylor Fritz. Fritz has been on the receiving end of a lot of publicity for his stellar play and deservedly so. He will pose a big threat for Chardy in round one. The survivor from that match will see either Victor Estrella Burgos or wild card Lucas Gomez. The Chardy-Fritz winner should have an excellent shot to make the quarterfinals.
This looks like a winnable quarter for Nishikori.
Doubles Draw
The top seeds are the red hot duo of Jean-Sebastian Cabal and Robert Farah. Cabal-Farah have won titles in two straight weeks in Buenos Aires and Rio. The surface switch will be something to watch and they play Thiemo de Bakker and Robin Haase, who made the draw in qualifying. An opening round upset is a possibility. The other seeds in the top half are Max Mirnyi and Treat Huey. They are in the more difficult part of that half with dangerous teams like Steve Johnson and Sam Querrey or Memphis champs Mariusz Fyrstenberg and Santiago Gonzalez possibly in their way.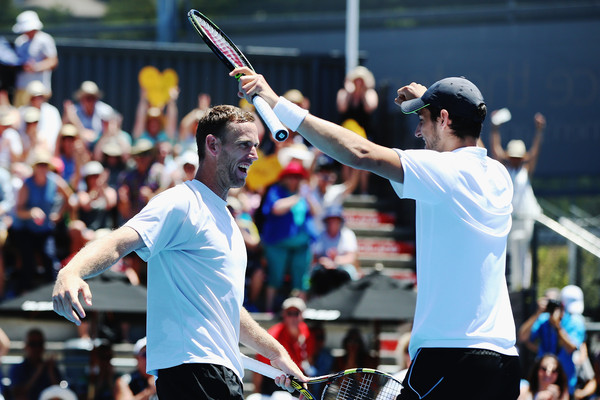 The bottom half of the draw is led by second seeds Raven Klaasen and Rajeev Ram. They have a difficult opener against Eric Butorac and Scott Lipsky. The other seeded team in this half are third seeds Alexander Peya and Philipp Petzschner. The team to watch could be Mate Pavic and Michael Venus. They have nine straight wins and title wins in their last two tournaments in Montpellier and Marseille. Overall, they have quietly gone 12-2 this season with three titles. Pavic-Venus will open against the team they beat for the Marseille title in Jonathan Erlich and Colin Fleming. This stacked half also has Leander Paes and Jeremy Chardy along with Oliver Marach and Fabrice Martin who stunned the Bryans in the Delray Beach final on Sunday.
Predictions
Semifinals: Ferrer def. Mannarino, Nishikori def. Dimitrov
Final: Nishikori def. Ferrer