 Sam Querrey has had a mixed start to his 2016 season, but he is committed to getting better with each match.
2016 Results
In the 2015 off-season, Sam Querrey underwent surgery on his right knee, and he wasn't prepared to go into January as he withdrew from Brisbane, the first tournament of the year. A week later he decided to travel to Auckland and play the ASB Classic, but struggled, as in his opening match against Aljaz Bedene of Britain he saved five match points, and in the second against fellow American John Isner, lost 7-6 (8), 6-7 (4) 6-4.
At the Australian Open the American lost in the opening round to Dusan Lajovic from two sets up. On the hottest day in Australia during the tournament, the American was forced to retire due to cramp, but ultimately this would lead to a better February.
Querrey arrived in Memphis having not had a great start to the 2016 season, but he made the semifinal pushing Kei Nishikori to three sets, then he went to Delray Beach and won the title, three and a half years after his last triumph.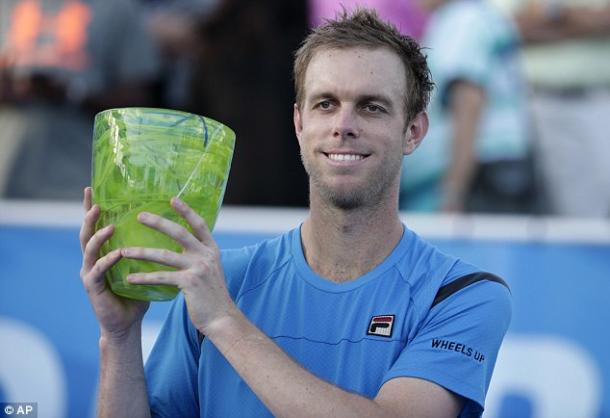 In his current tournament at the Telcel ATP Mexican Open, Querrery started off with a win against Dudi Sela of Israel in two sets, then a couple of days later he faced Nishikori, a rematch of the Memphis final. He managed to avenge his defeat by beating the seventh seed in straight sets, 6-4, 6-3.
In an interview with ESPN.com, Sam Querrey said he was "pretty excited to raise the trophy at the end in Delray, "I was pretty stoked."
Credit Boyton on Sam Querrey
Sam Querrey's new coach, Credit Boyton also spoke with ESPN.com and had a few things to say, "Let me put this the best way I can," he continued. "Sam's being a lot more resilient and a lot more positive in looking forward. He's taking care of the task at hand more than worrying about the opportunity lost.
"What does it take to get confidence? Everybody has a different process. Winning, of course, creates confidence. And according to Querrey, it's also the way you win."
"It was windy at Delray," he said. "No one played that well. A lot of matches I won by fighting and grinding through, winning some ugly sets and points. A lot of times that gives you confidence."
Credit Boynton, Isner's former coach also works with 34th-ranked Steve Johnson. That gives him charge of the third and fourth ranked American men, behind number 11 Isner and number 23 Jack Sock.
"He's eager, he's motivated," Boyton said. "Sam has always had the tennis piece. It's been a matter of getting to the bottom of some of the issues that were sticking points. We're building bricks from the bottom up."