Jelena Ostapenko reached the second and biggest final of her career as she defeated Andrea Petkovic 7-5, 1-0 when Petkovic was forced to retire with a leg injury.
Petkovic Races Out to Huge Early Lead, Collapses to Hand Ostapenko First Set
The German was in her usual grinding mode, breaking Ostapenko's serve in the fourth game of the match that ended when the Latvian dumped a backhand into the net. Earlier in the set, Ostapenko had saved three break points in her opening service game which lasted 19 points. Petkovic further asserted her advantage when she broke Ostapenko a second time to move within a game of the opening set, 5-1. Little did she know that would be the last game she'd win in the match.
After breaking Petkovic on the third opportunity to stay in the set, she held, saving a break point in the eighth game, which went to three deuces. At 5-3, Petkovic was given a second chance to take a set lead, but failed as Ostapenko nailed a down-the-line backhand winner to claw back on serve. Now down 5-4, Ostapenko served to stay in the set a second time and was able to do so. Now back on even terms at 5-all, the Latvian broke Petkovic for a third straight time and for the first time in the match, Ostapenko had the lead 6-5. She served out the set to 15 with her first and only ace of the match to win the set 7-5.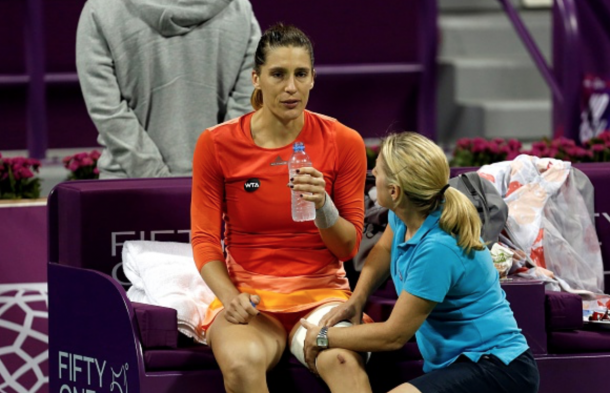 Petkovic Retires After One Game
After seeing the trainer twice, after the eleventh game of the first set and after the first set ended, Petkovic had her upper left leg heavily taped. She decided to continue on and dropped serve to open the second set, serving on one leg. She then decided to shake hands with Ostapenko and retire from the match, the Latvian into her second career final, having made the finals of Quebec City last year.
Ostapenko Talks About her Victory, Looks Ahead to the Final
Now in a Premier 5 final, Ostapenko spoke about her victory: "I'm really happy with how I played today," she said in her on-court interview. "I'm sorry for Andrea that she had to retire. It's not nice after reaching the semis because she's great player. I'm really happy that I could fight from 5-1 and win the set "I'm really happy to play the finals tomorrow."
​In the final, Ostapenko will face Spaniard Carla Suárez Navarro, a 6-2, 6-0 winner over Agnieszka Radwańska In the first semifinal. She spoke about facing the eighth seed: "She has been playing great this week; she had some really great matches and I hope I can show my best tomorrow. I'm looking forward to it."