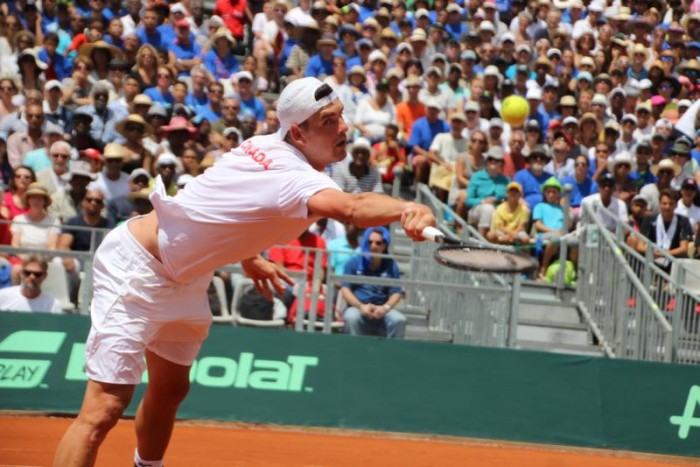 With France 4-0 up in the tie, Yannick Noah decided to change his nomination from Gilles Simon to Jo-Wilfried Tsonga, while Martin Laurendeau kept faith in Frank Dancevic for Canada. The French will face Czech Republic in the quarterfinals after they defeated Germany 3-2 in a thrilling tie. Canada will have to go through a relegation match to keep their World Group status.
Dancevic wins Canada's first set of weekend, retires with shoulder injury
Canada have failed to win a set this weekend, though they have Pospisil to thank after he blew a 5-0 lead against Simon in the opening match. Both players started the set by holding their own serves. At 2-1, Tsonga had two chances to break the Canadian, but Dancevic held to level at 2-2. Tsonga then held his next service game to take a 3-2 lead. At the change of ends Dancevic took a match time out to get treatment on his right shoulder that has caused him problems throughout the set, he also seemed to be suffering from the flu.
After getting treatment, it was Tsonga who came out the traps the quicker and immediately put pressure on the Dancevic shoulder and asked the question. The Canadian answered by fending off break point and holding to level at 3-3. Dancevic continued to get treatment on his shoulder throughout the change of ends. Both players then held serve to take the opening set into a tiebreaker. Tsonga started the breaker in fine form by quickly establishing a 4-1 lead, but Dancevic came back to level at 4-4, despite concerns over his shoulder.
At 5-6 in the tiebreaker the Canadian had chance to seal the set, but it was Tsonga who came back and brushed off set point. Tsonga also had set point of his own at 7-6, but Dancevic saved. The breakthrough came a game later with Dancevic forcing Tsonga to make an error. The Canadian took the opening set 7-6(7) to give Canada their first set of the weekend. Despite winning the opening set, Dancevic retired not wanting to make the injury any worse and France won the tie 5-0. They will face Czech Republic away from home in July.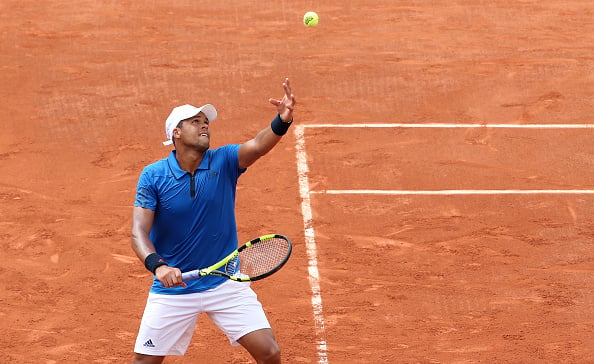 First set stats
Tsonga found success on his first serve winning 90 percent of points, while on his second he was equally as impressive winning 85 percent. The Frenchman had nine unforced errors and a total of 10 winners to his name. Dancevic won 79 percent of points on his first serve and 83 percent on his second serve. The Canadian had double the amount of unforced errors with 18 and hit 17 winners in the opening set.