 Fresh after her exit from Indian Wells in the second round in the hands of Yulia Putintseva, Kristina Mladenovic gave an interview for French newspaper, Le Parisien. The Frenchwoman was not afraid to speak openly about the Maria Sharapova matter and was the first player to outwardly speak against the Russian.
Mladenovic's Reaction On The Failed Drug Test
The Frenchwoman was clear from the start that she did not approve Sharapova's actions and her reasoning. "It's disappointing and I don't like this mentality of trying to be the best by playing by the rules," quipped the 22-year-old.
The drug in question, Meldonium, was added to the list of banned substances just this year and Sharapova has come forward to declare she has been using it for the past 10 years. Mladenovic, however stood firm on her stand. "She cheated. Even it was not forbidden before it's the principle." Mladenovic even went on to question Sharapova's success over the years. "Of course you doubt and you think that she hasn't deserved all that she won and did. It's dreadful, but it's good that it's finally out," said the Frenchwoman.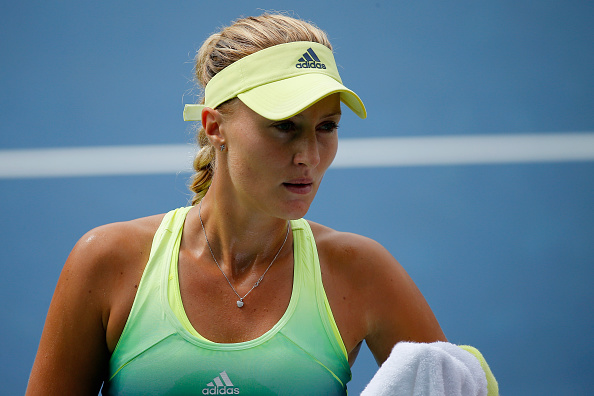 Mladenovic further reiterated her view that consuming drugs when one is not sick is wrong. "As far as I'm concerned if I take a doliprane I think ten times about it before, so thinking she took a serious drug for ten years and hearing some saying she's not even sick... She has played with the rules, saying: it's not on the list so I'm gonna take it," added the Frenchwoman.
When asked if Sharapova should be punished, Mladenovic was all for it. "That's obvious she must be punished. That's very serious, and it's lasting since ten years," was her response.
'We All Think And Say Here She Is A Cheater'
She doesn't mince her words as goes on to add that Sharapova was not a well-liked person on top of her comments regarding the fail drugged test. "I respected her for her career, but not for the person that she is because she wasn't polite nor nice, let's be honest," revealed the candid Frenchwoman.
Mladenovic did not hold her tongue in the interview and bravely added that everyone else felt the same way she did. "I'm a bit harsh, but we all think and say here that she's a cheater," confessed the Frenchwoman and her comments have since sparked a lot of outrage from those who back the Russian.
With most players expressing disbelief at Sharapova's situation and choosing to believe her reasons, the take by Mladenovic has been a little shocking but has given us the view from the other side.