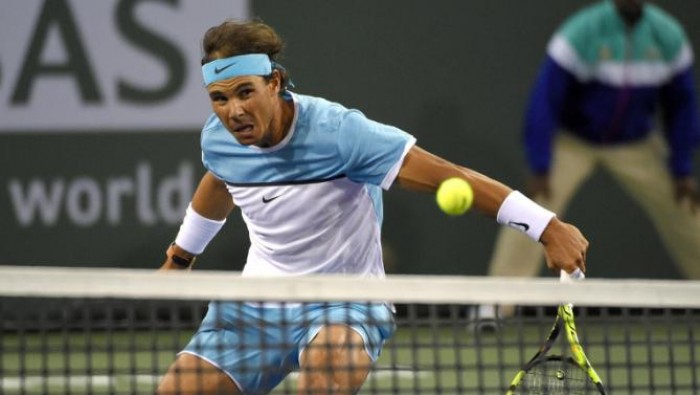 Rafael Nadal, despite slow start to 2016, was able to knock off a difficult opponent in Gilles Muller 6-2, 2-6, 6-4 in the 2016 BNP Paribas Open. It took him three sets and two hours and eleven minutes, but Nadal showed why he is still the lefty to beat in ATP play. Meanwhile, he even found a way to make baby blue iconic as he had a young doppleganger watching from the crowd.
Nadal Finds The Important Breaks
Although it took six games, Nadal found his way to a love-40 advantage with a triple break. Unfortunately for the Spaniard, he was unable to capitalize on any of those three break point opportunities, and Muller tied the score up at deuce. After four deuces and a total of six break points, Nadal pulled out the break to take a 4-2 lead.
Two games later, Nadal ended the set with a break at thirty, pulling out to a one set lead. A key to that was some incredible play in service games by Nadal, but it was the 50% to 26% return points won percentage differential that gave the Spaniard the edge he needed to win.
Muller Breaks His Way Back Into the Match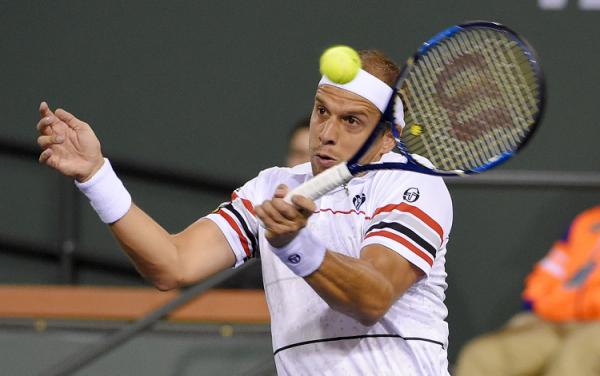 With three straight points, the Luxembourger jumped out to a love-40 advantage in Nadal's first serve. Rafa was able to claw back to deuce, but he could not hold on any longer as his next two shots went long, and he was broken for the first time in the match. The Spaniard then responded with an array of forehand and backhand winners to break back and tie the second set at 1-1. However, Muller was far from finished. He broke Nadal for the second consecutive time, taking a 2-1 lead that would quickly turn into a 3-1 lead after a service hold.
Nadal was nearly broken for a third consecutive time, but he fought off four break points through four deuces to win his final game of the set. Whether it be age or fatigue or a combination of the two, Nadal looked sluggish as he was broken for the third time in four services. The Luxembourger had taken all of the important points in that set, and he finished the second set with a 6-2 win.
The advantage for Muller was the eleven break point opportunities. Nadal saved eight of them, but the three he couldn't save were more than enough for the 45th ranked ATP player to win comfortably.
A Timely Break Ends It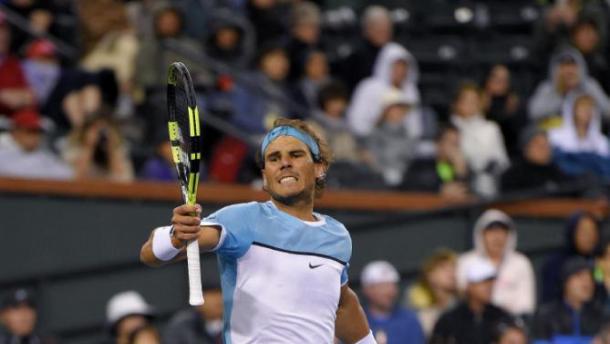 The beginning of the set foreshadowed good things to come for Nadal. He started out a perfect 7/7 on service points and 8/9 in his first two service games. Both players held until the fifth ranked ATP player lead 5-4.
The final game began with a throwback as Nadal hit a Jimmy Connors sky hook volley to grab a love-15 lead. A perfectly placed backhand by the Spaniard, followed by a rare double fault from Muller, gave Nadal three match points to close the match out. The Luxembourger fought hard, winning the next two points on unforced errors from Nadal. However, Nadal is a 14-time Grand Slam winner, and 14-time Grand Slam winners don't often squander opportunities. With another backhand pass, Nadal emerged victorious.
With Lady Luck not smiling on him, Muller coughed up his first double fault since the first set, and it was the difference in the match. He also gave up one more break point opportunity than Nadal, and it cost him in the end.
By The Numbers
Statistically, Nadal was dominant on his serves, and it proved to be too big of a gap for Muller to overcome. While the percentage difference was only 64% to 63% on first services won, in Nadal's favor, the Spaniard won twelve more first service points and got 18 more in. That lead to a 75% to 64% first service percentage, also in Nadal's favor. The main advantage Muller held was in the aces column where he had six aces to Nadal's one, but that was not enough to get him over the line in the end.
Nadal will now move on to play his doubles partner and fellow Spanish lefty Fernando Verdasco in the third round of the BNP Paribas Open, whom he lost to in the first round of this year's Australian Open. Verdasco advanced after his opponent Martin Klizan retired in the first set.