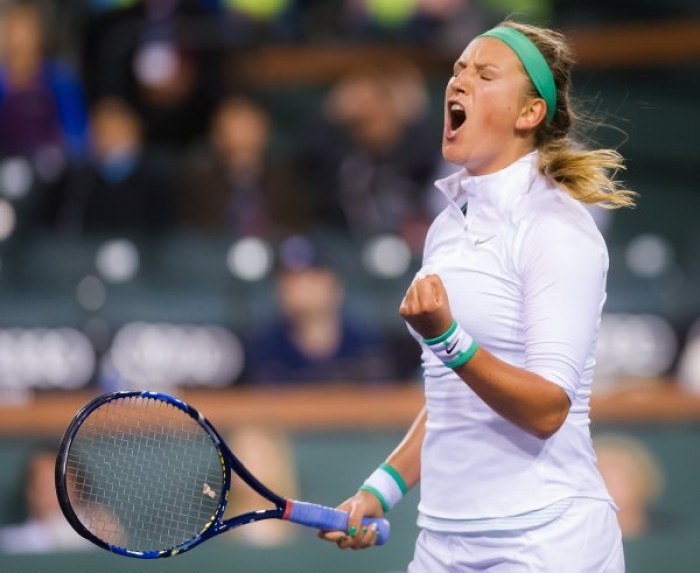 Victoria Azarenka and Zhang Shuai clashed for the first time for a place in the round of the 16 at the BNP Paribas Open. Zhang was looking to continue her wildcard run while Azarenka was hoping to make it to the second week for the fifth time in her career.
It was a slow start by both as they exchanged a succession of breaks before the Belarusian edged the first set. As Azarenka found her groove in the second set, Zhang could do little to prevent the 2012 champion from recording a straight sets victory.
Topsy Turvy First Set Which Azarenka Edges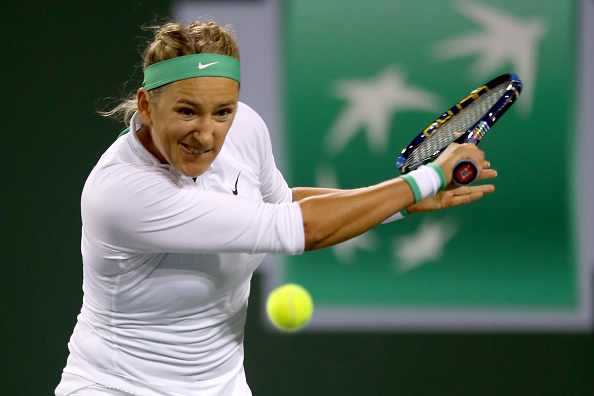 It was a topsy-turvy start with neither player holding their serves in the first four games under the chilly conditions. And the players' trouble with their service games continued as Azarenka got herself another look on the Zhang serve. The Chinese though played some wonderful tennis to fend off the Belarusian saving four break points in the process, becoming the first player to hold serve in the match. Azarenka followed suit with a hold of her own to tie the set 3-3.
Just as Zhang looked comfortable to seal the seventh game from 40-15 up, some explosive returns and an untimely double fault handed Azarenka break point. And the Belarusian fired away to grab the game and the lead for 4-3. As the match tightened up, there was some delightful tennis on display from both players. Zhang kept within touch but was unable to find any breakthrough as the 2012 champion eventually clinched the first 6-4 in 48 minutes.
Azarenka Proves Too Strong
The former world number one tightened up her service games considerably in the second set. She kept up the pressure on Zhang attacking the Chinese's second serves while holding her own service games with relative ease. That aggressiveness paid off as the Belarusian got an early break for a 2-1 lead.
As Azarenka raced to a 3-1 lead, the pressure was telling on Zhang. The Chinese though kept her cool and survived a long fifth game to stay in the match trailing 2-3. However, there was no stopping the fully fired up Belarusian. And before long, Zhang was serving to stay in the match at 5-3 down. Azarenka kept piling on the pressure and the Chinese netted her forehand presenting the Belarusian with her first match point. Zhang saved it well but vintage Azarenka knocked on the doors again before closing out the match 6-4, 6-3 in style.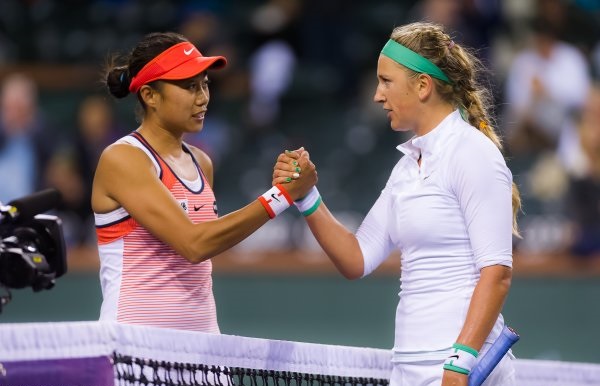 The Match By The Numbers
Azarenka could still improve her serves as she got in 56 percent of her first serves whereas Zhang did slightly better in that aspect landing in 68 percent of them.
The Belarusian unleashed 27 winners to Zhang's 13 and hit lesser errors than the Chinese. Azarenka was also more effective than her opponent at the net winning 11 of her 16 points.