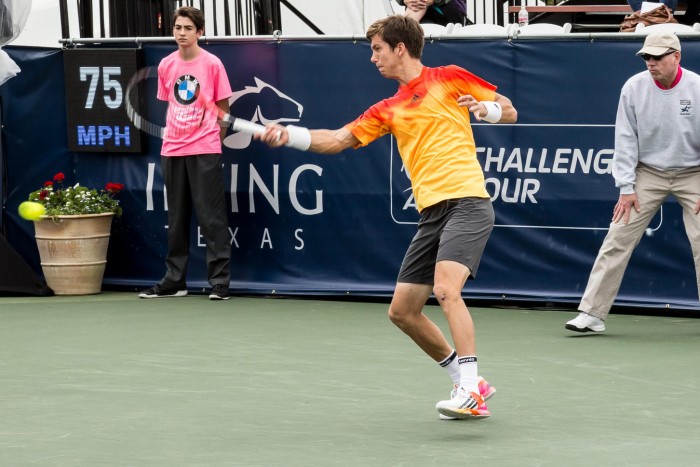 It was an action packed third day of main draw play at the Irving Tennis Classic on Thursday. The day featured eight second round singles matches and four quarterfinal doubles matches. No matches were easy, with seven of the eight singles matches going to a deciding third set.
Bedene Outlasts Tursunov in Third Set Tiebreak
It was the opening match of the day on Championship Court, but it could have been the best. Defending champion Aljaz Bedene battled Dmitry Tursunov for the third time in their careers on Thursday. The Russian had won the previous two and looked to be well on his way to number three after driving through the opening set 6-3. Tursunov saved four of four break chances and converted on the only one he saw from Bedene to get the only break in the opener.
The second set saw both men struggling to put their first serves in play. The fourth seed, Bedene, only put 48 percent in play, while Tursunov was worse at 40 percent. That left both seeing plenty of second serves from the other. Bedene would take nine of 16 points off the Russian's second serve, while Tursunov took seven of 14 from Bedene. The fourth seed converted on two breaks, while the Russian grabbed one. The end result was Bedene evening the match with a 6-4 set win.
The third set saw Bedene dig deep with first serves again problematic. He again put less than half his first serves in play, but was able to win 12 of 20 second serve points to go along with a stout 13 of 16 on first serve. He was broken once, but also nabbed one off Tursunov. Ultimately, the set went to a tiebreak. Bedene used some timely tennis to take it 7-3 with nine aces in the set aiding his cause. The Brit has now won seven straight matches in Irving.
Young Guns Victorious Again
Nineteen-year-old Jared Donaldson got the best of lucky loser Michael Venus 6-4, 6-7 (7), 6-3. The match lasted a total of two hours and 26 minutes, with the American striking eight aces in victory. The first set was fairly simple for Donaldson, as he converted on one of two break point opportunities while facing no break points on serve. The young gun closed out the first set with ease, capitalizing on short balls. In the second set, Venus improved his play on his first service points by winning a good 77 percent of his first serves. It still was not enough as his second serve got exposed by the American, leading to two breaks. Venus also got his share of breaks though, which led both players to a set tiebreak.
The 28-year-old's experience seemed to pay off as he just narrowly escaped with a 9-7 victory in the tiebreaker to bring the match to a decider. The third set was a big positive for the young American as he fought his way through every game. The key was his great play in the tough moments, as he came up big saving all three break points faced in the set. It was a not-so-simple task for him to break, but he was able to find his chance. He got the needed break to take the final set, 6-3.
In a battle of Russians, Andrey Rublev continued to fight for victories, as he came up big against compatriot Evgeny Donskoy 7-6 (6), 1-6, 6-3. It was a very close first set with both players breaking once to get it to a tiebreak. Rublev took his chances when he needed them and it ended up paying off as he edged out Donskoy in the breaker.
The second set was all Donskoy, as he got the lead early on and never looked back. Donskoy converted twice off of two break point opportunities and cruised to a 6-1 second set finish. The young gun Rublev went all-in as the decider began. He was strong on serve with a 91 percent conversion rate on first service points and an even more impressive 90 percent of second service points won. His serve put pressure on his older opponent throughout the closing set. One break was all he needed, as Rublev closed out the match 6-3 in one hour and 47 minutes.
Another ATP Next Generation young gun came up big on the day with Frances Tiafoe getting a tough 6-3, 2-6, 6-2 victory over lucky loser Giovanni Lapentti. The American struck six aces and won 77 percent of his first service points on his way to the victory in one hour and 53 minutes.
Third Seed Rosol Moves On, Second Seed Muller Ousted
Third seed Lukas Rosol was faced with a very big test, as he got the victory over veteran Denis Istomin 6-2, 1-6, 7-6 (5). The world number 50 struck five aces in a match that lasted one hour and 48 minutes. The first set two sets were complete opposite in the script, with the third seed asserting his dominance early. The Czech faced no break points and converted on both break opportunities to take a lead early. He won 84 percent of his first serve points as he took the first set 6-2.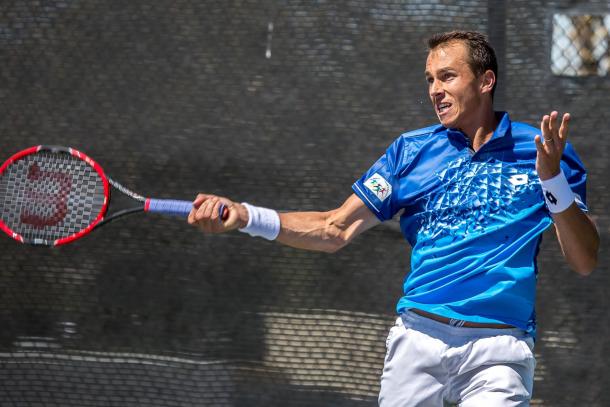 Istomin stayed in the match and brought his level up for the remainder of the tilt. The veteran turned things around, as he did not lose a second serve point in the second set and was not broken. He also worked on his return game, getting quick breaks to get a lead that did not slip. In the decider, both players held for all 12 games as they faced no break points. Rosol stood firm in an intense tiebreaker to barely escape with the win.
The biggest casualty of the day was second seed Gilles Muller, as he was not successful in a straight sets loss to Diego Schwartzman. The Argentine won 7-6 (4), 6-3. The tricky Argentine neutralized Muller's big serve and took it to him on both wings. A very close first set had a trade of breaks with up and down play. Muller seemed uncomfortable, as his opponent came up with tricky shots to keep him out of rhythm. Schwartzman would win 50 percent of the points on Muller's second serve. It was too much for Muller, as the Argentine ran away with the tiebreaker.
Schwartzman continued his focused play in the second set and he converted on two of three break point opportunities. He kept the momentum going, as he kept Muller in check to take the match in one hour and 20 minutes. Elsewhere on Thursday, Ivan Dodig took down 8th seed Illya Marchenko 6-3, 1-6, 6-3 and Marcel Granollers bounced Mischa Zverev from the tournament in another three set match. The Spaniard won 1-6, 6-2, 7-5.
Thursday's Quarterfinal Doubles Results
[1] N. Monroe-A. Qureshi def. Cecchinato-Cervantes 6-3, 6-4
[2] Guccione-Sa def. Jung-Sude 6-4, 4-6, 10-6
[3] Fleming-Skupski def. [WC] Eazor-Wood 6-0, 6-1
[4] Paes-Rosol def. J.P. Smith-Venus 6-2, 6-4