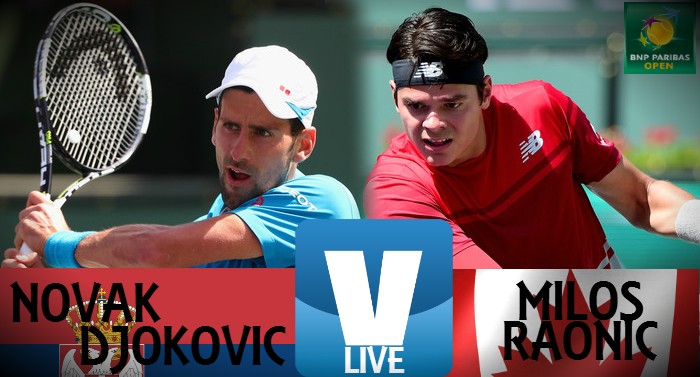 "It's a phenominal event here," Raonic said in his runner-up speech. Raonic states he hopes to be back in Indian Wells many more times.
Game, set and match, Djokovic! Two sets to love, 6-2, 6-0 in an hour and 17 minutes. With this victory, the world number one defends his 2015 title here and adds to his list of many records on the ATP World Tour.
40-15: Djokovic sets up championship point.
30-15: Raonic misses a forehand by a long margin.
15-15: Djokovic hits a forehand winner.
0-15: Canadian hits the line with a backhand volley.
Milos Raonic frames a forehand into the crowd and gives Djokovic a chance to serve for his fifth BNP Paribas Open title.
40-AD: Raonic loses his fourteenth second serve point of the second set.
-40: A Raonic shot seeps long.
Ad-40: Djokovic misses a return.
40-40: A Djokovic forehand slides wide.
40-AD: Raonic hits an error.
40-40: An ace from Raonic saves a break point.
30-40: Djokovic denies Raonic of winning another second serve point.
30-30: Another Raonic forehand sails into the net.
30-15: Raonic forces the Djokovic error.
15-15: An error seeps into Raonic's game yet again.
15-0: Big serve from the Canadian.
Djokovic leads 4-0 and all the momentum is in his favor.
40-30: Djokovic comes within a point to being only two games from the title.
30-30: Djokovic stays strong to force the Raonic error.
15-30: Raonic gets his first lead in a game in a while.
15-15: Raonic places a backhand volley into the open court.
15-0: Serve and volley play wins the point for Djokovic.
Djokovic breaks yet again to take a 3-0 lead in the second set.
40-AD: Djokovic gets a break point after a simple backhand approach miss from Raonic.
40-40: The Canadian hits a solid forehand volley winner.
30-40: Raonic struggles to win points on his second serve.
30-30: Powerful out-wide serve forces the Djokovic error.
15-30: Djokovic hits a precise volley winner.
15-15: Raonic wins his first point in a while.
0-15: Milos Raonic misses an overhead off a tough lob.
Djokovic holds and puts himself within four games of the title.
40-0: A penetrating Djokovic serve forces a wild error from his struggling opponent.
30-0: The Serbian hits his second ace of the day.
15-0: Djokovic stays strong on serve.
The number one seed takes his third break after a Raonic backhand dumps into the net.
30-40: Raonic clocks his fastest serve of the match.
15-40: Another huge serve steals the point for Raonic.
0-40: The Canadian hits a slice backhand long to go down three break points.
0-30: Raonic needs to focus on being more consistent.
0-15: Yet another forehad error from Raonic begins the second set.
Raonic calls the trainer and leaves the court for a medical time out.
Novak Djokovic closes out the opening set in 44 minutes, six games to two.
40-30: A well-placed, inside-out forehand winner from Raonic saves another set point.
40-15: Djokovic hits his first double fault.
40-0: World number one continues to add pressure with an approach.
30-0: Djokovic runs Raonic around the court to ultimately end the point at net.
15-0: Djokovic hits his first ace.
New tennis balls to start the eigth game.
Raonic holds with his third overhead winner.
40-30: Great serve sets up forehand winner down the line.
30-30: Another big serve forces a Djokovic error.
15-30: Djokovic applies pressure by moving forwards.
15-15: The net cord helps Raonic.
0-15: Deep return sparks Raonic error.
Djokovic vaults his lead to 5-1, as he is only one game away from the opening set.
40-15: Raonic sails a shot long.
30-15: Djokovic hits his only third unforced error.
30-0: Raonic's error count continues to increase.
15-0: Effortless forehand winner from Djokovic called in, that was revealed to be out but Raonic did not challenge.
Unsustainable serve from Raonic births him his first game of the match.
AD-40: Successful net play from Raonic.
40-40: Djokovic places a volley into the open court.
AD-40: Overhead winner gives Raonic a chance for his first game.
40-40: Inside-out forehand misses for Raonic's eighth forehand error.
AD-40: Streaky serving as Raonic hits his second ace.
40-40: A double fault follows his ace.
40-30: First ace of the match from the Canadian, Raonic.
30-30: Raonic counters a great return from Djokovic.
15-30: Great depth from Djokovic.
15-15: Net cord pushes a Raonic forehand wide.
15-0: Forced error comes off the Djokovic racquet.
Djokovic sails to a 4-0 lead.
40-15: Djokovic loses only his third service point.
40-0: Raonic unable to handle a deep volley.
30-0: Backhand down the line winner from the Serb.
15-0: Djokovic clips the line for a cross-court forehand winner.
WOW! Djokovic races to a double-break lead.
0-40: Raonic fails to win his seventh out of seven total second serve points.
0-30: Raonic loses his sixth second serve point.
0-15: No signs of nerves from Djokovic.
Djokovic mixes up his serve to force yet another error from his opponent and take a 2-0 lead.
Ad-40: Errors continue to come off the Raonic racquet.
40-40: Screaming winner on the run passes Djokovic.
AD-40: Beautiful passing shot out of reach for Raonic.
40-40: Djokovic makes an uncharacteristic error.
40-30: An incorrect challenge fom Raonic proves his forehand was out.
30-30: Wild error from Raonic.
15-30: Good serve forces return long.
0-30: Raonic hits inside-out forehand winner.
0-15: Djokovic fails to put away easy backhand volley.
Serbian takes the long, opening game after another Raonic error.
40-AD: Djokovic hits perfect lob.
40-40: Canadian nets forehand.
AD-40: Overhead winner from Raonic.
40-40: Huge forehand saves the first break point of the match.
40-AD: Raonic misses yet another volley
40-40: Missed backhand volley forces the game to deuce.
40-30: Raonic's body serve is too much to handle.
30-30: Raonic forces a Djokovic return error.
15-30: Huge serve gives Canadian his first point.
0-30: Signs of nerves as Raonic double faults.
0-15: A backhand slice wide starts the match.
Ready? Play!
Raonic won the toss and elected to serve.
Players walk onto Stadium 1 and are greeted with a warm welcome from the crowd.
Novak Djokovic must hold as comfortably as he could to immediately apply the pressure on his opponent who mostly relies on his serve and forehand to get him through matches. The Serbian needs to look to open up the court with angles to his opponent's backhand. He should look to lengthen points to break down his opponent's powerful shots as well as waste no time when given any opportunity on return.
The match should be expected to see the server dictate the point. Dictating points while serving will be crucial for the Canadian as he hopes to see off one of the best returners in the game. He should also seek to run around his backhand and crack forehands aggressively. Raonic's return will be just as important as his serve as a single break of serve can decide the set. The twelfth seed should look to angle his opponent off the court and follow to the net to close out the points; because the longer the point goes, the point will be more likely to go in the Djokovic's favor. A strong serving performance and smart return games are essential for Raonic if he stands any chance of winning his first BNP Paribas Open title.
The big-serving Raonic went into his fourth round match leading the head to head 3-2 against, sixth seed, Tomas Berdych. Milos Raonic extended their series lead to 4-2 with a grueling, 6-4, 7-6(7) victory over the Czech. The Canadian would then set up a quarterfinal clash against the Gael Monfils, the French showman. The 25-year-old, Raonic, had won their recent meeting in Australia earlier this year. He carried that confidence and his previous match momentum to win 7-5, 6-3 in an hour and a half. This year's Brisbane International champion booked a spot in the semifinals against David Goffin. Raonic was broken twice, but took the match 6-3, 3-6, 6-3 in a two hour battle on Stadium 1.
Milos Raonic has had a tough path as well, but he was able to avoid a match with either Stan Wawrinka or Andy Murray who stood in his half of the draw. His first round match against, Spaniard, Inigo Cervantes was completed in less than an hour in 6-1, 6-3 fashion. His third round match seemed as if the twelfth seed would be tested. But he led the Aussie, Bernard Tomic, 6-2, 3-0 when his opponent retired from the match, moving him into the fourth round.
Despite not losing a set in his last four matches, Novak Djokovic's road to the final has not been simplistic. He faced four seeds, including Kohlschreiber, Lopez, Tsonga, and Nadal. His third round against Kohlschreiber went the distance in both sets, but the Serb was able to perform better in the late parts of each of the sets, winning 7-5, 7-5. His round of 16 opponent was to be against Feliciano Lopez who is the only player to have beaten the number one seed this year because of Djokovic' eye problem in Dubai. But this time around it was all Djokovic as he tallied his easiest win of the tournament, 6-3, 6-3. His next two opponents were familiar, as the Serb led both of them in a combined 38 to 29 head-to-head. The trend continued and Tsonga and Nadal exited at the hands of last year's champion in straight sets.
Novak Djokovic's road to the final has been an up and down journey. He started his Indian Wells campaign with a match that was anticipated to be straight-forward. But his young, talented opponent, American Bjorn Fratangelo, came out of the gates on fire and led the match 6-2. As expected, the world number one dominated the remainder of the match, only dropping three games. This year's Australian Open champion has not dropped a set since his second round surprise test.
This championship encounter will be the sixth meeting between the Serbian and the Canadian. All of their previous five meetings have gone in the way of Djokovic. Raonic has only taken one set off the Belgrade native in their total 14 sets played. This year's two Indian Wells finalists' most recent match-up happened at the 2015 Australian Open, with the Serb taking the match in three straight sets. All of their matches on hard court have been one-sided, but the recent form of the world number 14 could trouble the three-time defending champion.
Hello and welcome to live coverage the BNP Paribas Open men's singles final between, world number one,