 Tennis' March Madness concludes after the Miami Open, which starts this upcoming week. What did some of the VAVEL USA Tennis writers think of the draw? Read this article to find out.
Who is the favorite? After looking at the draw, who are they most likely to lose to and why?
Brooks Giardina: The favorite for this year's Miami Open is world number one Serena Williams. Although she is coming off a loss in the finals of Indian Wells, she has had so many winning experiences in the Florida heat and she will be full of confidence. The American is going for her ninth crown in Miami, as well as a four-peat which has never been done in the tournament's history. If she is to lose, it would be against Azarenka or Radwanska because they have been able to challenge Serena consistently.
Thomas Cluck: Without a doubt the favorite is eight time Miami Open champion and world number one Serena Williams. Williams has been absolutely dominant in Miami over the past 15 years, winning eight of the past 15 years. Williams is the three-time defending champion and though the American has lost in two huge finals this year, Williams looks poised to take a ninth Miami title. The 21-time Grand Slam champion's biggest opposition might be the player she defeated in the semifinals last week in Indian Wells, Agnieszka Radwanska. Though Radwanska's variety could trouble the American, Williams is the heavy favorite none the less in South Florida.
Aidan Mahoney: Serena Williams is definitely the favorite of the tournament. This is her home ground and after losing in Indian Wells, she is looking for another title. I think she is most likely going to lose to Daria Gavrilova, as Daria has upset many former world number ones. And as Serena plays her worst matches at the beginning of the tournament, the Aussie has a chance of surprising her.
Quentin Gaspard: I would definitely say that Serena Williams is the favorite. She has already won this tournament eight times and she is also the defending champion. By looking at the draw, I would say that the American will easily reach the semifinals where Radwanska could cause her some trouble. In the other part of the draw, her current number one rival, Victoria Azarenka, will be a big threat for her too.
James Froud: Despite losing back-to-back finals in Melbourne and more recently Indian Wells, Serena Williams has to be the favorite at nearly every event she enters, and is my player to beat in Miami. The player most likely to stop her in the quest for a fourth consecutive Miami title is most probably going to be in the final, with Angelique Kerber, Victoria Azarenka and Garbine Muguruza all potential final opponents. Before that, Petra Kvitova and Caroline Wozniacki could threaten her in the semifinals.
Pavitra Ganesan: Having come off fresh off her win at Indian Wells, I would say Victoria Azarenka is the favorite. She has been the world number one and would be riding on confidence. A tasty clash between Muguruza could be interesting but the form she is in I don't think Azarenka would be too troubled until perhaps the semifinals where she could face either Bencic or Kerber, The latter being the only one to whom Azarenka has lost to this year.
Oliver Jefford: Serena Williams is the favorite for every tournament she enters and that is not different here, especially at a tournament she has won eight times. Victoria Azarenka caused an upset by beating Williams on Sunday and, with Azarenka on the other side of the draw, it is probably the Belarusian who is the biggest threat to the American here.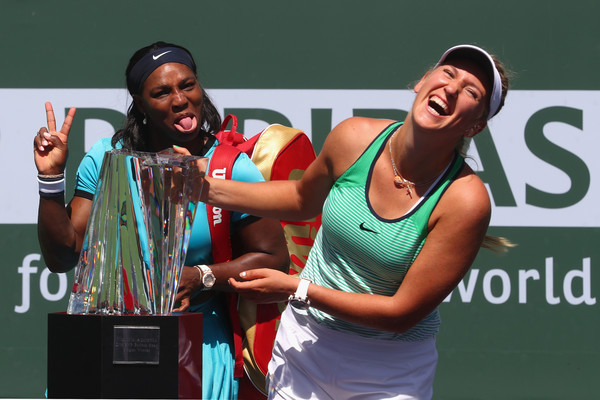 Who is the dark horse for the title and why?
BG: The dark horse for the title is the 24th seeded Johanna Konta. Her second round match will be a tester as she will face either Danka Kovinic or Denisa Allertova, who upset Angelique Kerber last week. Konta would most likely set up a match against Venus Williams, whom the Brit beat in Australia this January. Her next match would be a tricky one, but the in-form British number one could power through it. Although she avoided Serena Williams' half, her quarterfinal could be against Azarenka. High quality tennis will be essential for world number 26 if she wishes to make a deep run.
TC: After an impressive run to the semifinals last week in Indian Wells, Agnieszka Radwanska looks poised to keep up her good form in Miami. The Pole won the title in South Florida in 2012 and has consistently played well in the humid conditions in Miami. With a fairly easy draw up to the semis, expect the 2012 champion to keep up her good form in Miami
AM: I think the dark horse for the title is Venus Williams. She hasn't been playing her best lately, but she has a chance of winning the tournament if she plays good and stays consistent. And remember, this is on her home ground as well.
QG: I don't know if she can still be considered as a dark horse but Victoria Azarenka will be a big danger for the top seeds of the bottom half of the draw. Both Angelique Kerber and Garbine Muguruza have struggled to go far in a tournament since January so Azarenka could definitely down them en route to the final.
JF: Azarenka cannot be deemed a dark horse anymore, so Belinda Bencic gets the nod here. Avoided Serena Williams in the second half of the draw, and will be pretty pleased with her route to the quarterfinals.
PG: For me, Kerber is the dark horse for the title. She may have lost her matches since winning the Australian Open, but she would be looking forward to coming back strongly and making a deep run. The number two seed could meet Azarenka along the way and eventually Serena in the final if she makes it that far. And having beaten Serena just this year, she could have a shot.
OJ: I would say that Carla Suarez Navarro is the dark horse for the title. She unfortunately had to pull out of Indian Wells but was a finalist in Miami last year and has had a strong season so far. She's also on the opposite side of the draw to Serena; considering how one-sided their previous meetings have been, that will help the Spaniard.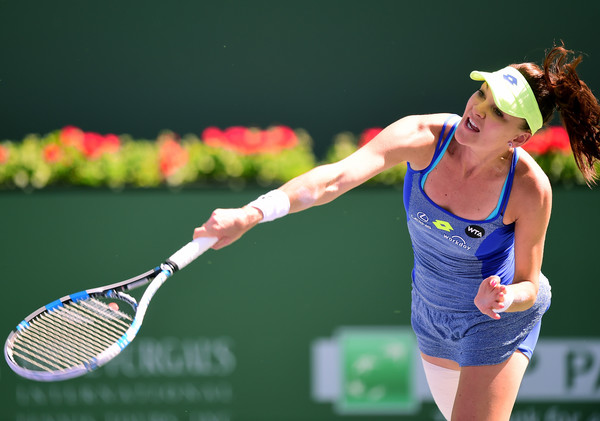 Based on last week's BNP Paribas Open, who do you expect to crack under pressure?
BG: I expect Kerber to crack under pressure. After a disappointing second round loss last week in the desert, the German lost her world number two ranking. This week she is faced with a challenge as she awaits Friedsam and Strycova, who are both playing great tennis at the moment. Also lurking nearby is powerhouse Anastasia Pavlyuchenkova and the lady who knocked Kerber out of Doha, Saisai Zheng.
TC: After finally getting her season back on track last week in Indian Wells, Simona Halep could put up another disappointing result this season in Miami. Halep, who made the semifinals here last year, has a tough draw, with a potential matchup with Russian rising star Daria Kasatkina in the second round and a potential third round with the always dangerous 2011 US Open champion Samantha Stosur. The Romanian could also face American talent Sloane Stephens, who has already won two titles in 2016, in the fourth round.
AM: I expect Angelique Kerber to crack under pressure, as we have seen at her last two tournaments. Ever since she has won the Australian Open, she definitely hasn't played her best and will most likely not here either.
QG: In my view, I think that Karolina Pliskova is not saved from an early exit. She has made tremendous results at the BNP Paribas Open, reaching the semifinals in singles and the final in doubles alongside Julia Goerges. She is still quite young and still lacks experience. I think she could crack under pressure coming into this new week.
JF: Given she desperately needs some form going into the clay season, Garbine Muguruza will not be pleased to see Dominika Cibulkova as a potential second round opponent. The Slovakian is always a player to avoid in the early stages of tournaments, and reached the semifinal here in 2014. The fourth seed will have her work cut-out early.
PG: Last week we saw top players losing in the earlier rounds, and based on that I feel Muguruza could crack under pressure. She seemed down in her match then and if she still let it weigh on her mind, she might crack.
OJ: Angelique Kerber has lost both her matches since her Australian Open triumph and both those matches were winnable for her, so there is a bit of pressure on her. Neither, Anna-Lena Friedsam or Barbora Strycova will provide an easy second round clash; another early loss could await the German.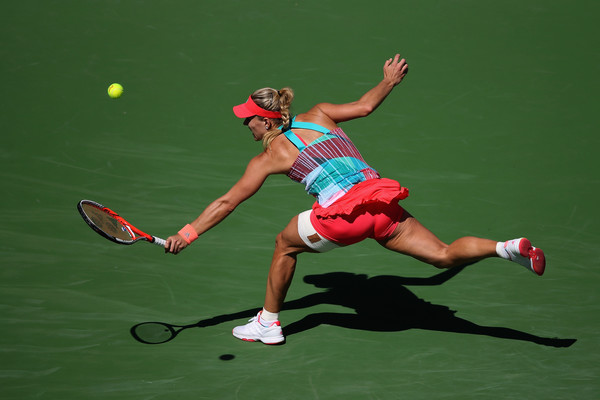 Which top 10 seed has the most difficult draw and why?
BG: Considering Muguruza's recent struggles, she is given the worst as she will most likely face Dominika Cibulkova in the second round.
TC: After struggling mightily so far in 2016, Garbine Muguruza has another extremely difficult draw, with a possible second round match against 2014 Australian Open finalist Dominika Cibulkova looming early. If Muguruza makes it past that, the Spaniard could then play Frenchwomen Kristina Mladenovic in the third round, before possibly meeting last week's Indian Wells champion and two-time grand slam champion Victoria Azarenka. With land mine matches all over the Wimbledon finalist's draw, expect Muguruza to keep up the bad form in 2016 and crash out early.
AM: I think fifth-seeded Simona Halep will have the most difficult draw. In her second round, she will either have to play WTA Rising Star Daria Kasatkina, or the experienced Kateryna Bondarenko. She could then play in the future Samantha Stosur, a tricky and powerful opponent, and Lucie Safarova, who had one of the best seasons of her career as she made the French Open final and the WTA Championships. She will have to play her best to advance to the later stages of the tournament.
QG: Garbine Muguruza has a very tough draw. She lost more than she won this year and she could potentially face Dominika Cibulkova straight from the second round. If she gets past her Azarenka awaits in the last 16, which could be very dangerous for the 4th seed. I do not think she will make a good run in Miami.
JF: Although Muguruza could face Cilbulkova early, her potential draw looks comfortable if she progresses. Instead, Roberta Vinci has been given the most difficult draw, with back-to-back clashes against Eugenie Bouchard and Madison Keys likely just to get into the second week! Bencic could be a fourth round opponent too. If the Italian wins all of the matches, she'll only be into the last eight…
PG: Muguruza looks to have the most difficult draw. She has a potential clash with either Cibulkova or Larsson in the second round. If she faces Cibulkova, the tough Slovakian could trouble her. A third round sees a possible match with Mladenovic or Putintseva. Mladenovic has won against the Spaniard before and feisty Putintseva did bring the fight to Serena last week. And then there's a tantalizing clash with Azarenka in the fourth round who has a 16-1 record this year. It only gets harder from there.
OJ: Fourth-seeded Garbine Muguruza has a tough draw. She'll have a tough opener against Johanna Larsson or Dominika Cibulkova and with 27th seed Kristina Mladenovic, 13th seed Victoria Azarenka and 18th seed Jelena Jankovic in her section, as well as Carla Suarez Navarro, Venus Williams and Johanna Konta in her quarter, the struggling Spaniard will not find it easy.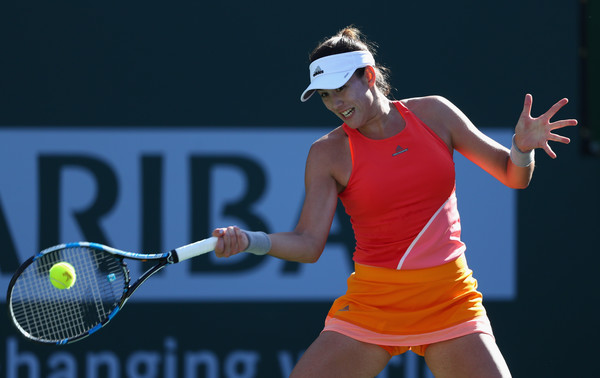 Which non-seeded player could make a run into the second week and why?
BG: Naomi Osaka could make a deep run into the Miami Open. Her first match is against a qualifier. If she is to win, her second round would be against a beatable seed in Sara Errani as her streaky on and off days cause her to lose to lower ranked players. The in-form Japanese wild card will hope to use her serve and hard-hitting game style to maneuver herself into the later rounds.
TC: Yulia Putintseva has enjoyed a terrific start to 2016, making the third round in Indian Wells where she pushed Serena Williams to a tiebreak and making the semifinals in Kaohsiung a month ago. Putintseva played well in her defeat to Williams last week and will look to keep up her impressive form in her Miami debut. The Kazakh opens up against American wildcard Nicole Gibbs, but would play 27th seed Kristina Mladenovic in the second round, who she beat last week in Indian Wells. Putintseva could then play the struggling Muguruza, so with good play the Kazakh could be set for a deep run in South Florida.
AM: I think that the unseeded Shuai Zhang could make a run to the second week. The Chinese player made a run to the Australian Open quarterfinals and beat Simona Halep in the process. And just this past week, she beat Caroline Wozniacki in three tight sets at Indian Wells.
QG: I truly think that more than one non-seeded player will make it to the second week of the Miami Open but Nicole Gibbs could surprise more than one person. She was off to a very good start in 2016 and played some good matches last week at the BNP Paribas Open, where she reached the last 16 after qualifying for the main draw. She could repeat the same run here in Florida as Muguruza is not at her best.
JF: Dominika Cibulkova, if she sees off Muguruza in the second round. Has had strong performances previously in Miami, and Kristina Mladenovic is the next seed in her draw. A last-sixteen match with Azarenka could be very intriguing.
PG: Garcia could make a run into a second week if she is fit and healthy. Looking at her draw, if she gets past the first round she has a winnable match against Petkovic in round two, the same player she beat en route to the Dubai semifinals. She could then meet Kuznetsova who is struggling herself. She could make it as far the fourth round before she meets Serena.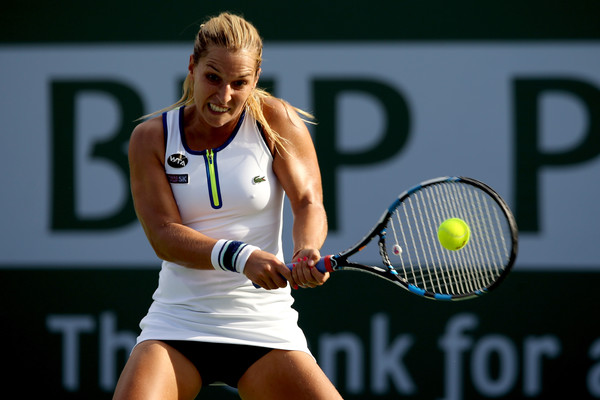 Which first round matchup intrigues you the most and why?
BG: I am intrigued in the face-off between Nicole Gibbs and Yulia Putintseva. Both players are coming off great showings at the BNP Paribas Open, as they both tallied wins over seeds. The consistent, composed American will be up against a fearless, feisty Kazakh in a must-watch first round. I expect to hear many 'Come on!'s and extraordinary intensity .
TC: 16 year old Cici Bellis will face off against Puerto Rican Monica Puig in the opening round with this match bound to have some fireworks. With Bellis being one of America's most highly touted young stars, the 16 year old has immense potential. Bellis burst onto the national scene in 2014 when she made the second round at the US Open, stunning at the time 10th seed Dominika Cibulkova. Bellis made the third round last year in Miami where she fell to eventual champion Serena Williams in straight sets. On the other hand, Puig is one of the biggest hitting rising stars on tour, also with great potential. With the amazing support the American contingent in Miami should give Bellis combined with the strong Puerto Rican support Puig should enjoy in the Latin capital of the world, this match should be full of big hitting tennis and passionate fans.
AM: One of the intriguing first round matches for me is the Eugenie Bouchard against Lucie Hradecka at this week's Miami Open. Bouchard is trying to get her form back after a poor season last year, but has been doing great this year, already getting to two finals. Lucie Hradecka, a big hitter with a huge serve, has been known to defeat some great players when her game is on. And if it is, this should be a great first round encounter.
QG: The first round encounter between Shuai Zhang and Sofya Zhuk intrigues me a lot. On the first hand, Zhang has been playing the best tennis of her career lately. On the other hand, Wimbledon Girls champion Sofya Zhuk is entering her first ever WTA main draw thanks to a wild card. She also played her two first ever ITF tournaments earlier this year where she reached the final at the two events, but winning only one of them. I'm very curious to see how the youngster will handle the pressure. This first round match is a must to me.
JF: Laura Robson against Kirsten Flipkens – Robson has only just returned from a wrist injury, and a first clash match again veteran Flipkens is very tough to call. Madison Keys will play the winner in the second round, but both players will be firmly focused on getting the job done here.
PG: The match between Begu and Garcia intrigues me the most. Both are good players and it would be interesting to see who comes up on top.
OJ: I'm looking forward to the first round clash between Yulia Putintseva and Nicole Gibbs. Both have had decent starts to the season and both would have taken several positives from Indian Wells, meaning this will be a battle between two confident, young players. Furthermore, the winner faces Kristina Mladenovic in the second round- a potentially winnable match for both.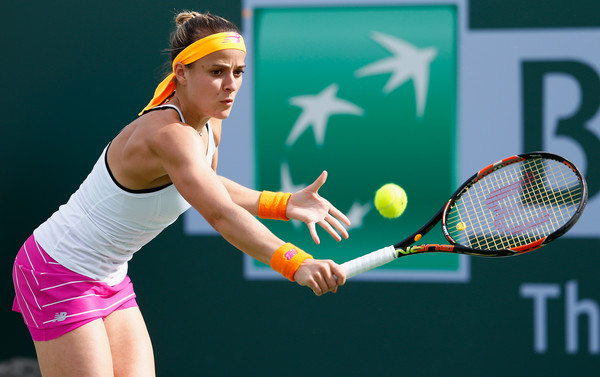 Which young gun/rising star puts their name on the map or proves they are the real deal and why?
BG: Seventh seed, Belinda Bencic, looks to redeem herself after a heart-breaking loss to Rybarikova last week. She is 1-3 since her runner-up finish in St. Petersburg in February. With Serena Williams, Simona Halep, and Agnieszka Radwanska on the other side of the draw, she has a tough, but yet winnable, route to the semifinal.
TC: After having enjoyed a terrific start to 2016 so far, winning two titles, Sloane Stephens looks destined to put her name back on the map at another big event. Stephens has a great draw and with her power game and home crowd support, Stephens looks destined for a big run in Miami.
AM: Daria Gavrilova's name is definitely out there and she proves she's the real deal. Just a couple months ago, she made a run to the Australian Open Round of 16 with wins over Petra Kvitova and Kristina Mladenovic to get there. And at this tournament last year, she beat Maria Sharapova in straight sets.
QG: I will take a risk on this one. I think that Danka Kovinic could prove during this fortnight that she must be counted among the bests. She has a very decent draw and has improved a lot recently. Last week, we saw that she was not scared to play on a big stadium against a top player like Petra Kvitova. She almost snatched the win but maybe lacked of experience, which made the difference in the end. I have the feeling that she could do well in Miami.
JF: Much has been said for Caroline Garcia in recent months, but her form has been patchy in 2016 thus far. Her draw is challenging, but negotiable, so don't be surprised to see face-off against Serena Williams in the fourth round, and cause her a few problems.
PG: Kasatkina has started to impress lately reaching quarterfinals of the recently concluded BNP Paribas Open. She is starting to show she can compete amongst the top players and is capable of stringing some good wins too.
OJ: The resurgent Eugenie Bouchard has had a good start to the year and I can see her potentially having a decent run in Miami. Lucie Hradecka isn't the most difficult player for Bouchard to start against and she'd then contest an interesting second round against ninth seed Roberta Vinci. Several inconsistent players are around in this section; Bouchard needs to try to take advantage of this.
Which top 10 seed gets upset first and why?
BG: Garbine Muguruza will be upset by Slovakian, Dominika Cibulkova in the second round. The Slovaks intensity and aggression will be too much for the Spaniard's not-so-good tennis so far this year.
TC: With Roberta Vinci having struggled since breaking into the top 10 a month ago, the Italian is vulnerable early especially with Eugenie Bouchard looming in the second round.
AM: I think Roberta Vinci, the number nine seed, will get upset first because she has not been playing her best, and she does not have that good of a draw, possibly having to play Eugenie Bouchard in the second round.
QG: I think that the two Spanish players could make an early exit this week. Garbine Muguruza will certainly take on former Australian Open finalist, Dominika Cibulkova, in the second round and if we take a look at Muguruza's start of the season, it would not be a surprise to see her leave the tournament early. As for Carla Suarez Navarro, she did not play in Indian Wells and thus lacks marks. She could take on recent BNP Paribas Open doubles champion Coco Vandeweghe in the second round, which could be lethal for her. Moreover, we all know that Carla can easily crack under pressure and since she has a final to defend here, she could leave the Floridian sun quite quickly.
JF: Cibulkova has been highlighted already as a player to watch, and she will definitely fancy her chances against the out-of-form Muguruza. Australian Open champion Angelique Kerber will have her work cut-out against Strycova in a possible second round match, and Vinci will do well to string a few wins together here.
PG: As mentioned previously, Muguruza looks to have the hardest draw and might be upset first.
OJ: I would say ninth seed Roberta Vinci. Kerber and Muguruza should also be tested, but Vinci will probably face Bouchard and the Canadian will have a good opportunity of pulling off the upset.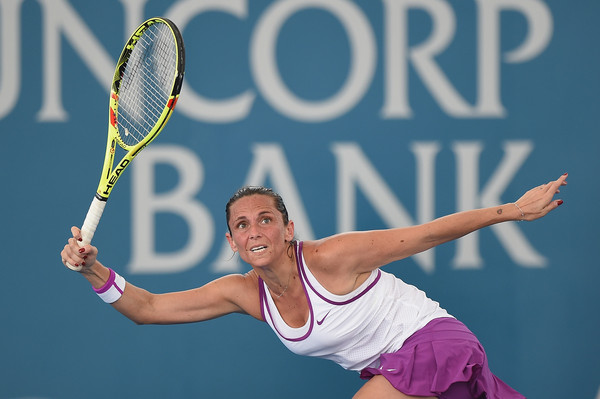 Who are your finalist and champion? Why?
BG: Serena Williams will surely capture her ninth Miami Open title if she plays well. The finalist will come down to the wire as Victoria Azarenka, Belinda Bencic, and Johanna Konta are my top picks to come through in the bottom section.
TC: With Serena Williams and Angelique Kerber being arugably the two best players this year so far, the two seem on a collision course for a rematch of their epic Australian Open final. Though Kerber came out on top in the pair's Aussie Open final, Serena has been unstoppable in Miami lately and expect the eight-time champ to add to that tally and get to number nine.
AM: My champion for Miami is Serena Williams. She has been playing too good at the moment. Despite losing to Victoria Azarenka in the Indian Wells final, she still played some of her best tennis this year at that tournament. Plus, it's her home ground, and I don't think she will lose again. The runner up I pick is Belinda Bencic. She also has been playing some of her best tennis, only some unfortunate losses this year. She shows the fight and the spirit of a champion, but I think she is a little inexperienced to beat Serena Williams twice in a row.
QG: It sounds a bit corny but I would say that we are going for a new Serena-Vika final again. They have both won this tournament more than once before and they are both in a great shape. It would hence not be a surprise to see them again in the final. But this time, I think that Serena will starve for revenge and will grab the final win.
JF: Serena Williams will overcome the recent doubters about her two losses in finals this year, by beating Belinda Bencic in straight sets. Bencic may have to overcome Azarenka in the semifinals, but it's unclear whether the Belarussian will be feeling anything after her success in Indian Wells.
PG: My finalists would be Halep and Azarenka with Azarenka as the champion. Halep looks to be coming back to her best and only fell short when she came up against Serena recently. I feel she can go all the way again and this time would be betting on her to upset Serena to reach the finals. As for Azarenka, if she can keep up her level, I see her once again reaching the finals and winning it over Halep.
OJ: It's hard to argue against Serena Williams taking the title. She has lost both her finals this year and whilst that will frustrate her, it will make her more determined to succeed, especially at what she considers her 'home' tournament and one she has won on eight previous occasions. I dare say it will be a repeat of the Indian Wells final with Victoria Azarenka making the final; if the 13th seed does make it, it will make Serena more determined to win- assuming she herself makes it to the final two.