 As the tennis world waited in anticipation for the tantalising clash between Roger Federer and Juan Martin Del Potro, Federer pulled out at the eleventh hour due to a stomach virus. That resulted in del Potro having to face another Argentine, this time in lucky loser Horacio Zeballos.
It looked like del Potro had the advantage after the withdrawal, but Zeballos had other plans. He was aiming at the backhand a lot as expected and it bothered del Potro who had to take painkillers to suppress the pain. He hung on though, but in the end just fell short right at the end of both sets as Zeballos went on to seal a 6-4, 6-4 straight sets victory.
Wrist Bothers Del Potro As Zeballos Capitalized On Lone Break Point
Zeballos started off brightly, holding both his first games without dropping a point. Del Potro was also holding his serves comfortably. As del Potro held his service game for 1-2, he finally won a couple of points off Zeballos' serve, but was not able to do any real damage as the set remained on serves at 3-2.
Zeballos survived a small scare going down 0-30 in the seventh game, but he backed it up with two good serves. He was using his tactic of going for the backhand time after time to great effect and it was forcing del Potro to hit more one-handed slices on his left side instead. Zeballos earned himself game point after a long rally as del Potro looked to be grimacing in pain after the backhand abuse. Zeballos though hung on once again and del Potro managed to follow it up with a hold of his own for 4-4.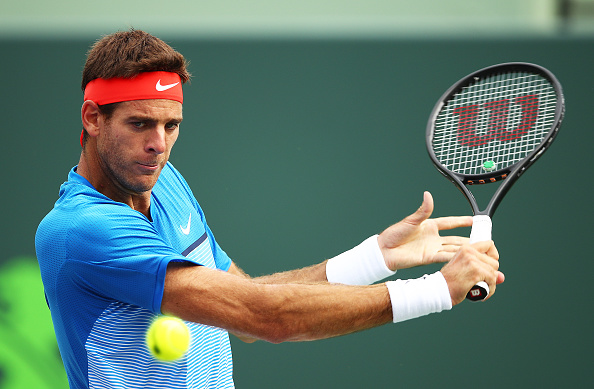 As the set continued on serves, it was del Potro who was serving to stay in the set at 4-5. And for the first time in the set, del Potro played a really poor game. Zeballos needed no second invitation as he pounced on his only break point opportunity in the entire set to grab the first set 6-4.
At the sitdown, it looked worrying for a moment as del Potro had the physio out to take a look at his left wrist. However, he continued on with the second set.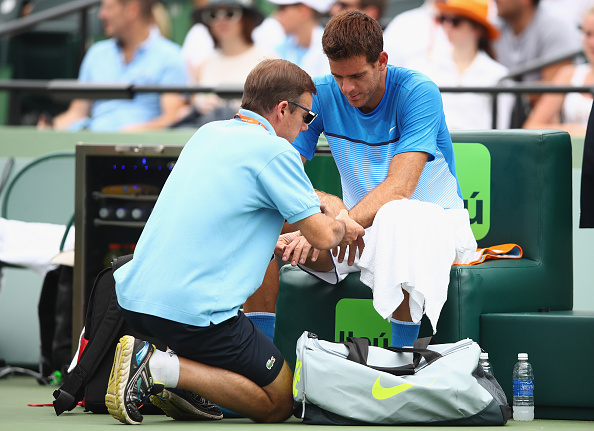 Del Potro Hangs On, But Is Unable To Fend Off Consistent Zeballos
Like in the first set, del Potro hit a lot of slices whenever the ball came towards his backhand side. He was still hanging on though holding his service games with the aid of his huge serves and unleashing his massive forehands whenever chances rose. Del Potro downed some painkillers at the sitdown and that seemed to help him as he hit a couple of backhands with both hands to level the set 3-3. Zeballos, on the other hand, was rarely troubled as he remained consistent on his own service games coming forward at times to finish off points nicely.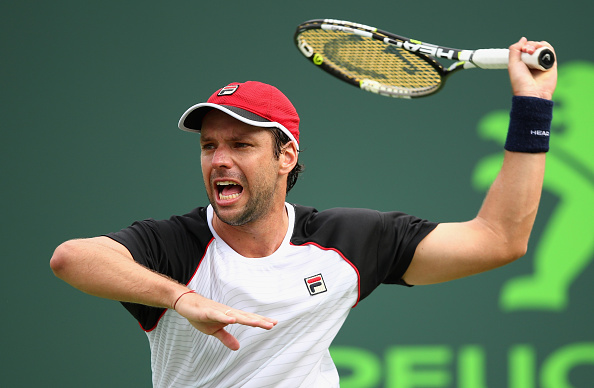 Soon del Potro found himself once again having to serve to stay in the match at 4-5 like in the first set. It was looking like a repeat of the first set as he handed his opponent match point, this time unable to get onto the lobbed ball for a smash. Zeballos needed just that one chance as del Potro fired his forehand long to hand the set and match to his compatriot.
Match Statistics
It was a close match as both rarely gave either any chances except for those two break points at the end of each set that Zeballos was able to capitalize on. Del Potro on the other hand was not able to penetrate his compatriot's service games.
Zeballos was clinical with his serves getting in 80 percent of first serves and winning 85 percent of them. He was also winning 70 percent of his second serves which made it a lot harder for del Potro to find a way. In comparison, del Potro got in 62 percent of first serves, winning 71 percent of them and won just 62 percent of second serves.
Del Potro's negative winners to errors ratio was a difference in the match as well as Zeballos hit more winners than errors.