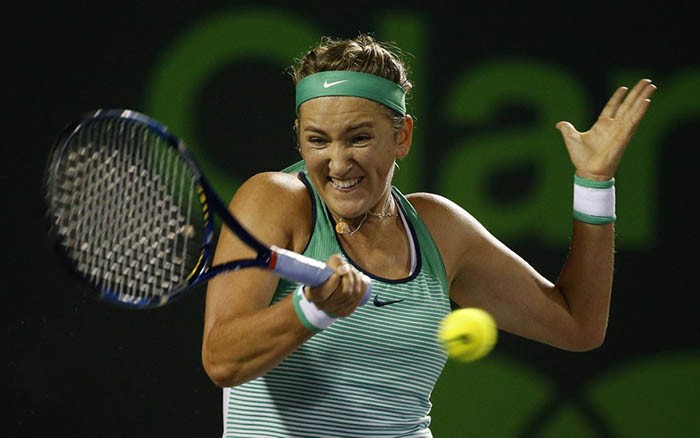 13th-seeded Victoria Azarenka came into the match with incredible confidence, with a 16-1 record and two titles in 2016, most recently defeating Serena Williams in straight sets in the final of Indian Wells. After having a breakout year last year by reaching the final of Wimbledon, fourth-seeded Muguruza came in with a lackluster 6-5 2016, with early exits to lower ranked players in previous tournaments.
Although it was their first ever meeting, the two players do not lack history; Muguruza's current coach Sam Sumyk coached Azarenka from 2009 to 2015, a period in which she won two Australian Open titles and reached the number one ranking.
Azarenka Saves Two Set Points To Grab First Set
Azarenka got out to an early lead in the first set, breaking the Muguruza serve. However, the young Spaniard was able to break back and consolidate, with roaring down-the-line forehand winners to go up 3-2. Both players continued to serve impressively, firing aces and winners, both holding to go into a tiebreak.
A costly double fault gave Azarenka a mini-break, but the bold hitting from Muguruza brought her to 6-4, giving her two set points. Azarenka responded like a champion, firing an ace and grinding her way to give herself her own set point at 7-6. A wild forehand into the net from the Spaniard gave Azarenka the first set.
Muguruza Battles But Falls Short
Muguruza returned from a much-needed bathroom break after the first set, and unfortunately it did her no good. Azarenka roared to a 3-0 lead. Muguruza seeming sluggish and spraying errors from the forehand wing. The Belarusian continued to serve tremendously, building a 5-2 lead.
Down 5-3, and Azarenka serving for the match, the young Spaniard played inspiring tennis to save two match points. Mostly a baseline battle between the two power hitters, Muguruza boldly approached the net to put herself back into the match. Similar to the first set, Muguruza began blasting winners while Azarenka continued serving well heading into the second set tiebreak. Like deja vu, a costly double fault from Muguruza gave Azarenka the mini-break to take the second set tiebreak 7-4, giving her another inspiring victory, winning 7-6, 7-6.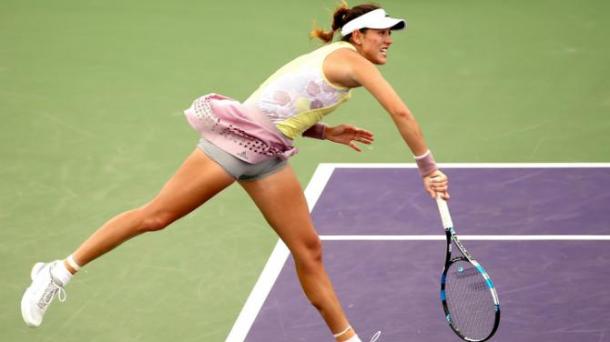 Overall, it was a match of incredible intensity and quality. Both players finished the match with a positive winners-unforced errors differential; Azarenka with 25 winners to 19 errors, and Muguruza with 42 winners to 40 errors. The first serve percentage of Azarenka was very impressive, at 73% for the match, compared to 61% for Muguruza. Both players lost just one point when approaching the net, Azarenka winning 4 out of 5 points while Muguruza won 11 out of 12.
Azarenka Heads Into Quarterfinals As Favorite
The two-time Australian Open champion plays rising star and 24th seed Johanna Konta in the quarterfinals, who swiftly put away Monica Niculescu in straight sets 6-2, 6-2. Their only previous meeting was last year in Wuhan, where Azarenka retired after dropping the first set due to injury.
Azarenka has to be the clear favorite for the match, and possibly for the tournament, due to the shocking upset of Serena Williams by Svetlana Kuznetsova. The Belarusian has appeared to be in similar form of when she was ranked number one, possibly even better.