 Swiss number one Roger Federer is finally ready to make his return to the ATP World Tour at the 2016 Monte Carlo Rolex Masters. The 17-time Grand Slam champion has yet to play a match following his knee surgery to repair a torn meniscus, an injury suffered in Australia in late January. The injury can be best be described as a freak-accident, as the dad of four tore his meniscus in his left knee as he was simply preparing a bath for his twin daughters.
After originally planning to make his return at the 2016 BNP Paribas Open in Indian Wells, Federer pushed the return back to Monte Carlo. However, only a week before the event in Miami was set to commence, the Swiss Maestro surprised his fans by announcing that he would return early for 2016 Miami Open.
However, the 34-year old was forced to uncharacteristically pull-out of his opening match in Miami only hours before his second round clash with Juan Martín del Potro due to a stomach virus. Now, however, the Swiss superstar and four-time Monte Carlo finalist is feeling fresh and ready to take the court in Monaco.
Federer: "I've Recovered Well from the Virus in Miami"
The 17-time Grand Slam champion excited the tennis world by announcing his early return to tennis under the bright sun in Miami, but unfortunately, a stomach bug decided to push his return back even further. At his pre-tournament press conference in Monte Carlo, the Swiss number one made it clear that he has fully recovered from that virus.
"I'm happy to say that I've recovered well from the virus in Miami," Federer said. "At first, I was concerned that it might be something that would last a while, but I was feeling better three days later."
"I arrived in Monte Carlo nine or 10 days ago and I've been training on centre court for the past eight or nine days," Federer said. "Things are going well. I'm happy with how I move; how I'm hitting the ball. I've played a lot of practice sets."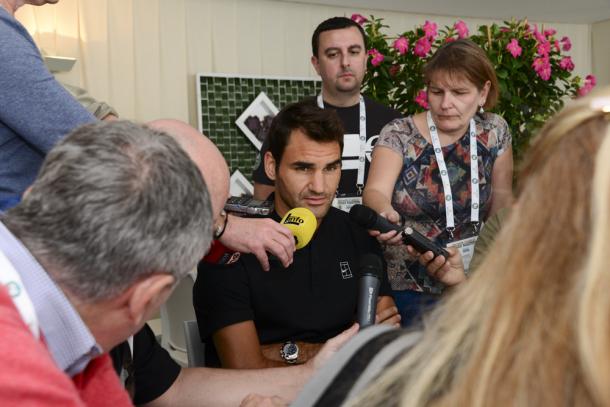 Swiss Maestro Sees the Silver Lining of the Knee Injury
Despite being forced to be away from match play for nearly three months, Federer took the glass-half-full approach to his time off, describing how as he gets to the back-end of his career, any opportunity to gain extra rest can help him out later in the year.
"I am rested mentally and physically," Federer said. "I believe you can add everything to the back end of your career, in terms of being fresher mentally and being able to train harder. Whatever rest it is, it ends up in a canister you can draw from. Tommy Haas, for instance, has been injured for more than three years in his career, and he is still on tour because mentally he is fresh and he still loves it."
Federer: There is Less Pressure in Monte Carlo
The four-time Monte Carlo finalist believes that Monte Carlo puts less pressure on all of the top players, as everyone is making the transition from the hard courts to the clay courts of Europe. In other words, no one has a large advantage.
"[Monte Carlo] is an opportunity for top guys to play more freely, since there is less pressure and it's a change of surface for everyone," Federer said. "I've played very well in Monaco in the past, but for now my objective is to make my return to play, gain a good feel and go from there.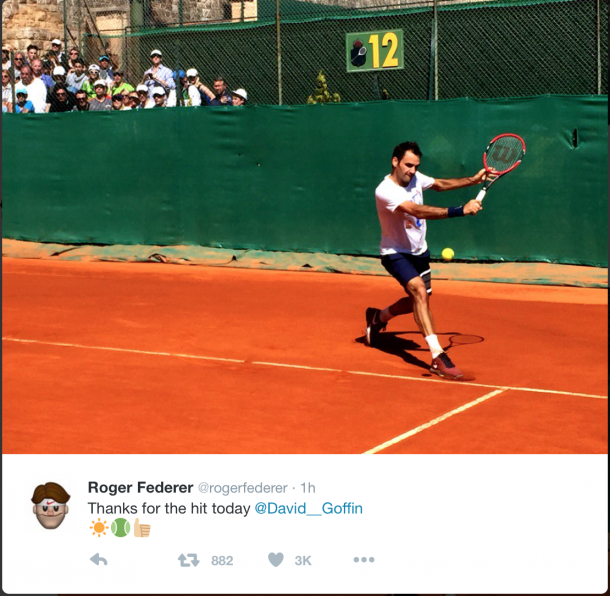 The world number three said that his knee hasn't bothered him recently, but the real test will come when he tests it in match play. The former world number one knows that the level of talent in any Masters 1000 Series event is extremely high, so he is not underestimating anyone. At the same time, the superstar made it clear that he hopes no one would underestimate him simply because he was injured.
Federer, a four-time finalist in Monte Carlo, will be seeking his first title. This is one of two Masters 1000 Series events that the Swiss superstar has yet to win, the other being the Italian Open in Rome.
The Swiss Maestro has a first round bye in Monte Carlo, as all of the top seeds do. He will face the winner of Guillermo Garcia-Lopez and Thomaz Bellucci in the second round.