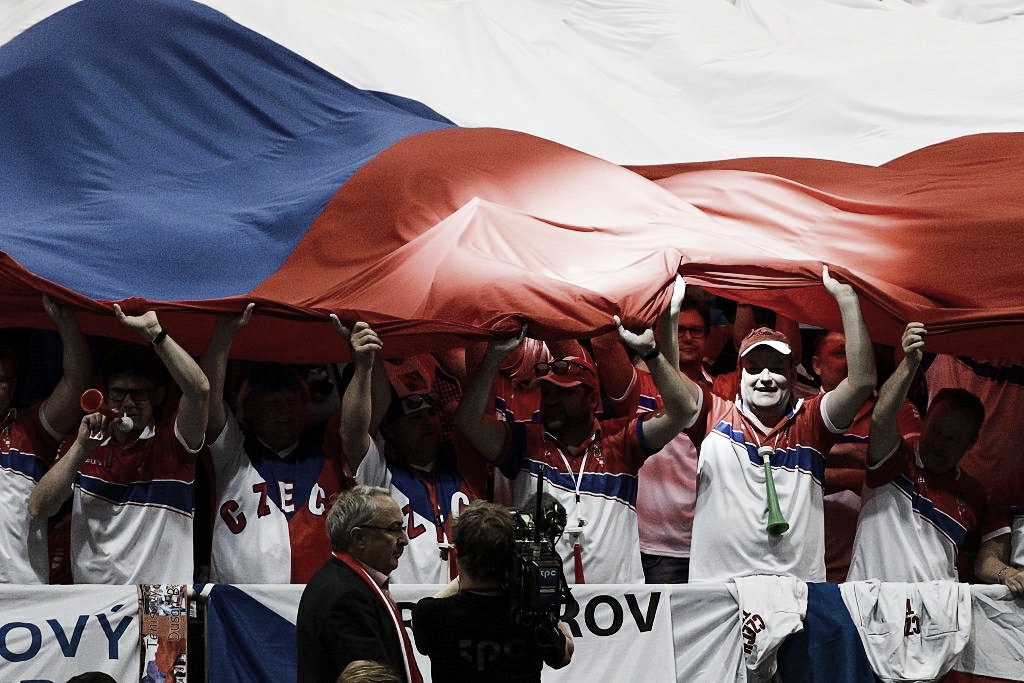 First day of action of the Fed Cup semifinal tie in Lucerne, Switzerland between defending champions Czech Republic and Switzerland saw the tie leveled at 1-1. Final day action saw the reverse singles rubbers played with Karolina Pliskova taking on Timea Bacsinszky and Barbora Strycova going head-to-head with Viktorija Golubic. Both teams were drew leveled once again which brought forth the decisive doubles match to see which nation will make the final.
Pliskova puts Czechs in winning position
Pliskova secures tight opening set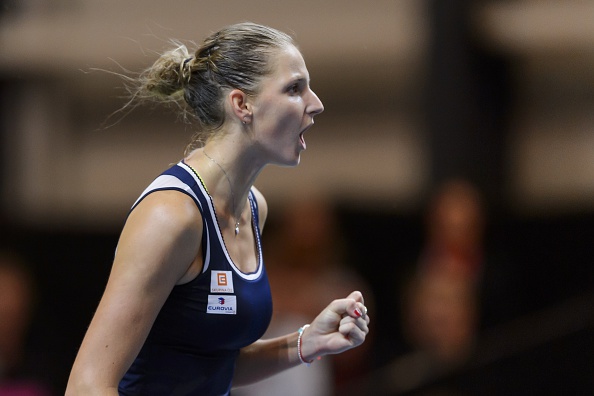 Karolina Pliskova lost her first Fed Cup match of 2016 when she fell to Viktorija Golubic in three sets the day before. Coming into this third rubber, a ranking spot separated her and her opponent Timea Bacsinszky who also dropped her first match to Barbora Strycova. One of them will leave this tie winless in singles.
The opening set started out pretty much routinely with no breaks of serve. Pliskova however did face three break points in both her first two service games but saved them all. She then took the first lead by breaking Bacsinszky for 5-4 and a chance to serve out the set. The 17th-ranked Pliskova did so without much fuss, converting her first set point to take the set 6-4 in 41 minutes.
Pliskova rolls on to victory
The second set kicked off with a break of the Bacsinszky serve followed by a love hold from Pliskova. The same pattern followed with Pliskova breaking her opponent's serve once again and then held her serve comfortably for a 4-0 lead. Bacsinszky then scored her first game of the set and had a break point in the following game but could not convert it. Pliskova comfortably served out the match two games later to win 6-4, 6-2 in 75 minutes. The Czech team regained their lead in the tie.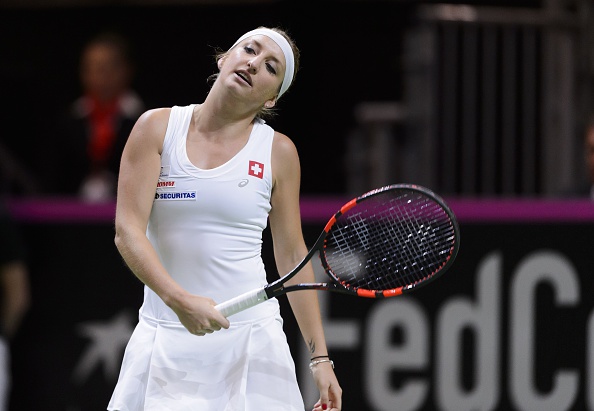 Both players finished with positive winner-unforced error differentials, +2 for Bacsinszky and +6 for Pliskova. Although Pliskova served 14 aces lesser than her first match, she won 90% of her first serve points and 88% of her net points which indicated her domination of the whole match.
Golubic resurrects Swiss hopes once again
Strycova begins on a high note
Barbora Strycova had her nation's hopes on her shoulders when she stepped out on court for her match against Viktorija Golubic. A win here would send the defending champions into the final. Both players held their first two service games. Golubic had her sights on a break of her opponent's serve in the fourth game but could not convert it.
Strycova then grabbed her second break opportunity in the following game to go up 3-2 and then held her serve to love for a 4-2 lead. She then found herself a game away from taking the opening set up 5-3 with Golubic now serving to stay in the set. On her fifth opportunity, she converted set point to take the set after 50 minutes of play.
Golubic hangs in to steal the second set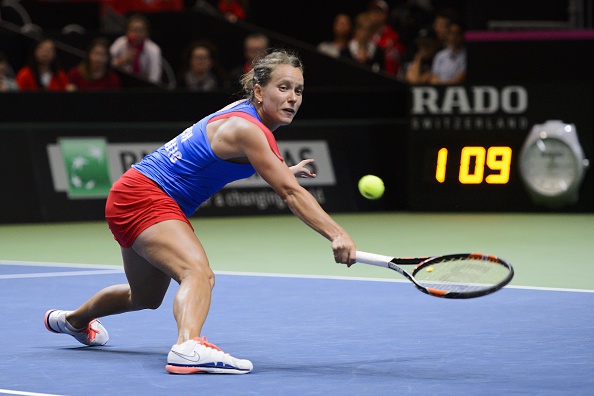 The tight second set which went to a tiebreaker started with two consecutive breaks. Strycova then staved of a couple of break points in the following game for a 2-1 lead. The next four games were routine ones that did not feature any break points. Golubic then broke Strycova for a 5-4 lead and a chance to serve out the set but faltered. This pattern followed in the successive two games which led to a tiebreak. Golubic held her nerve to seal the set on her second set point to win the tiebreak eight points to six.
Golubic rides high on confidence to victory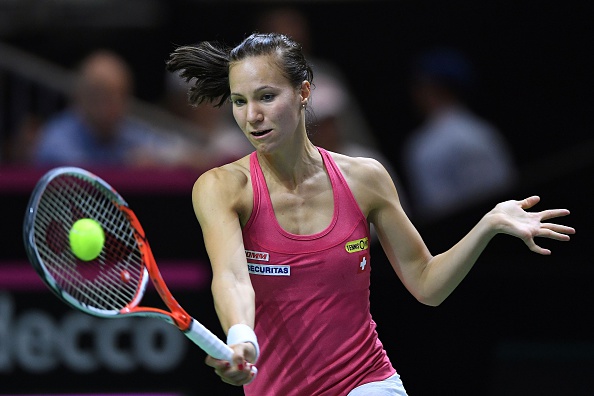 The decider was all about the 23-year-old Golubic who was in the zone. It did not feature any deuces with Golubic needing just two breaks of the Strycova serve and four holds of her own serve (she only dropped one point in all her service games) to steamroll to a 3-6, 7-6(6), 6-1 win in two and a half hours. Coincidentally, Golubic produced a backhand down the line shot on her match point, similar to her match yesterday when she had match point against Pliskova to secure the victory.
Strycova's unforced errors ultimately cost her the match. She made a wild 46 of them compared to Golubic's clean tally of just 19. This masked the fact that the Czech hit 8 winners more than her Swiss opponent. Ten of Golubic's unforced errors came in the opening set and she made just two of such errors in the decider, affirming the fact that she was in control throughout the latter stages of the match.
Czech domination secures final berth
Golubic who was clearly high on confidence was chosen to partner Martina Hingis against Lucie Hradecka and Pliskova in the decisive doubles rubber. The Czechs never gave the Swiss team a chance to settle in and put up an opposition. The match was all about the overwhelming power coming off the rackets of Hradecka and Pliskova.
The only time the Swiss team looked to have settled in was during the sixth game of the second set where they had two break points on the Pliskova serve but were fought off by the Czechs with much ease. Pliskova and Hradecka cruised to a 6-2, 6-2 win in an exactly an hour to send their nation into its fifth Fed Cup final in six years.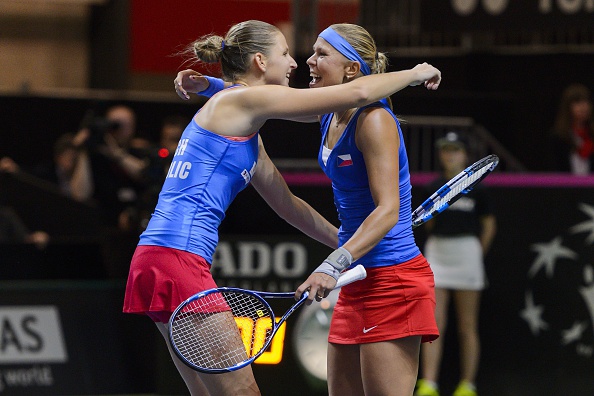 Statistically, the numbers favored the Czechs. Although they hit three unforced errors more than their opponents, they had a higher winner count and four aces compared to none for the Swiss team. Their first serve percentage stood at an excellent 82% and they converted 80% of their break points. The Czechs also managed just six forced errors as opposed to their opponent's 21, accounting for their brilliant performance as well.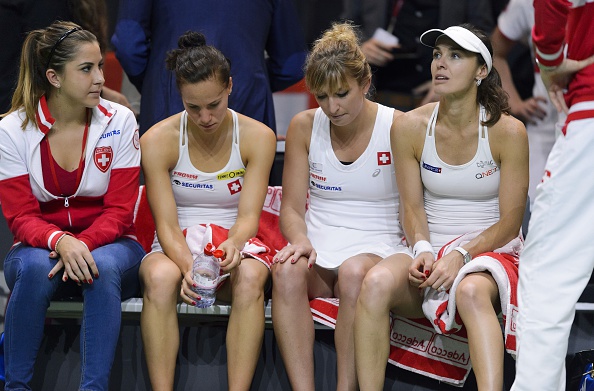 Up next
The two-time defending champions Czech Republic will face France in the final scheduled for November.